Samsung OmniaPRO B7610 Review
9

This is a global GSM phone. It can be used with AT&T and T-Mobile USA, but without 3G.

Introduction:
Business-oriented handsets are not what they used to be. An increasing number of manufacturers are shifting their focus to more intuitive interface and appealing design. And the
Samsung OmniaPRO B7610
is an attempt at the very same things – enjoyable overall look and improved usability. Just like the
Omnia II
, it is a Windows phone personalized with Samsung´s TouchWiz 2.0 interface. Initially, the cell phone rolled out running Windows Mobile 6.1, but the manufacturer released a software update to version 6.5, plus recent units get cranked out featuring the latest OS edition. The Samsung OmniaPRO B7610 is a side-sliding device that sports full QWERTY keyboard, 3.5-inch high-resolution, touch-sensitive screen utilizing AMOLED technology, 5-megapixel camera with double LED flash, DivX and Xvid support, 800MHz processor and the mandatory (for all high-end devices) Wi-Fi, 3G, GPS etc. Samsung´s handset does have a lot to offer to people on the lookout for rich functionality and throws the gauntlet to the
HTC Touch Pro2
, its major and fiercest rival.
What´s in the box of the Samsung OmniaPRO B7610:
• The Samsung OmniaPRO B7610
• Stylus
• microUSB charger
• microUSB cable
• Stereo headset
• User guide
• Software CD
Design:
It´s been a while since business customers became demanding towards of not only functionality, but the overall appeal of their future smartphone. More than ever, they are interested in aspects like eye-riveting design and whether or not the handset fits their clothing and style etc. The Samsung OmniaPRO B7610 looks quite dainty and shiny and design-wise, follows in the footsteps of the
Jet
, Omnia II and other latest models of the manufacturer. No one would call the front side extremely attractive, but the back side is completely different cup of tea, the other face of the handset.
The back panel
is spectacular and features beautiful red, light-reflecting elements... it just looks awesome!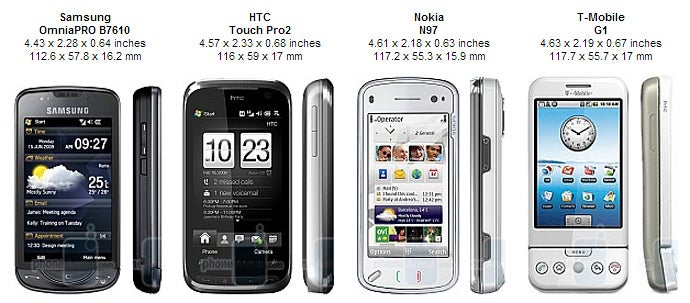 You can compare the Samsung OmniaPRO B7610 with many other phones using our
Size Visualization Tool
.
The Samsung OmniaPRO B7610 is predominantly made of plastic that feels pleasing to touch, although we would have liked to see more metal elements than the single framing on the front side. Samsung´s device is slightly more compact than the HTC Touch Pro2, both in terms of overall size and weight. This is partly due to the nominally smaller
display
– it measures 3.5 inches as compared to the 3.6 inches of its rival (both utilize resistive technology and come with the same native resolution of 480x800 pixels). However, the AMOLED screen of the Samsung OmniaPRO B7610 delivers much more saturated and vivid colors than the TFT display of the HTC TouchPro2. It´s extremely bright in the dark and we do recommend that you not switch off the light sensitivity sensor unless you want to end up with severe headache and we mean literally. Unfortunately, however, the screen is almost unusable in direct sunlight. As a whole, it´s sensitivity is proper, although it sometimes fails to register your touch when you press its corners. The
front side
hosts other components as well - proximity sensor, video call camera and three large buttons that feel comfortable to press. Actually, that´s what we think about the
keys on either side
of the device as well.
We haven't forgotten the Samsung OmniaPRO B7610 is equipped with
full QWERTY keyboard
. Its mechanism is tight and the phone opens and closes smoothly and easily. The keys are arranged in four rows, are large enough, have bright, white backlighting and pronounced travel. Everything seems at first glance, but we happen to have a gripe relating to the fact that pressing keys fails to get registered at times, especially when you type away fast. You can avoid the problem by slowing down and being more careful, but still, this spoils the good impression of the keyboard of the Samsung OmniaPRO B7610. We expected more from a high-end device like this and ultimately, we do prefer the HTC Touch Pro2 when it comes to texting.
Samsung OmniaPRO B7610 360 Degrees View: Recommended Stories