Samsung Galaxy S21 vs Galaxy S20
11
We may earn a commission if you make a purchase from the links on this page.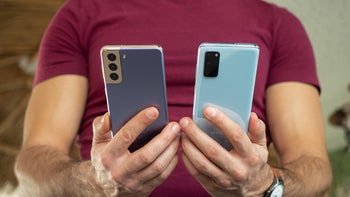 With the
Samsung Galaxy S21
series now released, you may be curious whether there are any solid reasons to upgrade to the new Galaxy S21 from your
Galaxy S20
. We can help with your decision by comparing the two
Samsung
flagship phones side-by-side, in order to show you exactly what the Galaxy S21 is bringing over the S20 and how the S20 holds up next to its successor.
You may also find interesting:
Samsung Galaxy S21 vs Galaxy S20 price and color options
The price of the Galaxy S21 is $799, significantly less than what the Galaxy S20 launched at – $999. So if you're currently choosing between last year's S20 and the Galaxy S21 – picking up the newer one is both the more future-proof option and will actually save you $200!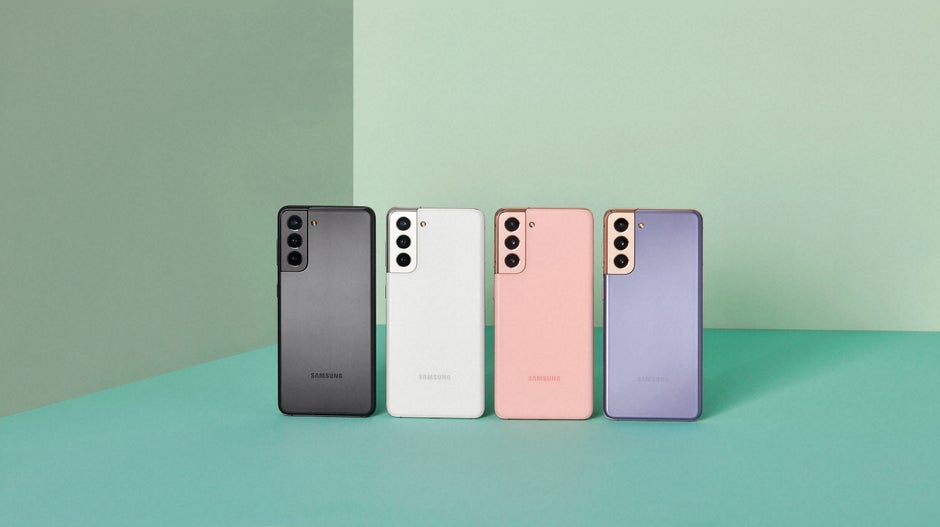 Samsung Galaxy S21 color options
Phantom Gray
Phantom Violet
Phantom Pink
Phantom White
Samsung Galaxy S20 color options
Cosmic Grey
Cloud Blue
Cloud Pink
Cloud White
Samsung Galaxy S21 vs Galaxy S20 design and storage options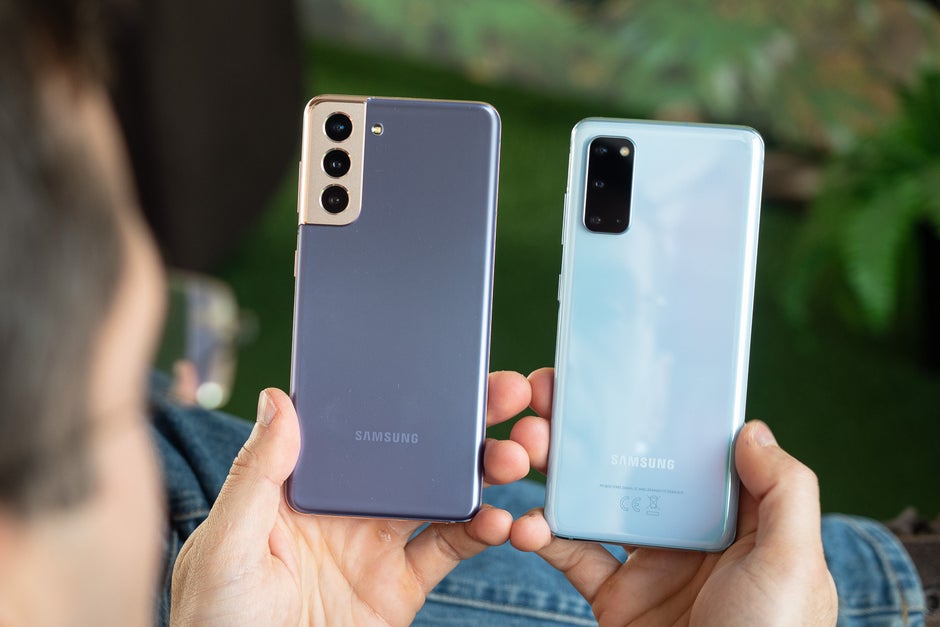 The new Galaxy S21 has about the same dimensions as last year's Galaxy S20, but sports a different design, especially noticeable with the camera module. The S21 also features a smooth matte finish that does better against fingerprints. In terms of weight, the S21 is slightly heavier at 171 grams over the S20's 163 grams.
When it comes to storage options, the Galaxy S21 and S20 share the exact same numbers.
Samsung Galaxy S21 and S20 storage options
However, while the S20 additionally has an SD Card slot (microSDXC), allowing the user to add up to 1000 GB of expandable storage, the S21 does not have that option.
Samsung Galaxy S21 vs Galaxy S20 display size and specs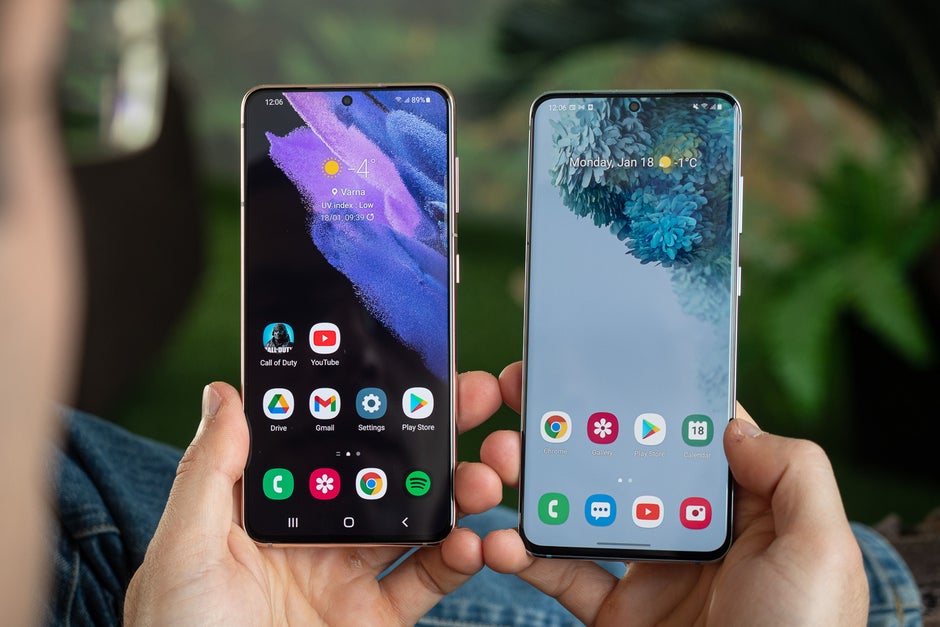 The Galaxy S21's display size is 6.2 inches in size, just like the S20. It is again an AMOLED display, capable of super-smooth 120Hz refresh rate. However, the S21's display resolution has been downgraded to 2400 x 1080 pixels (Full HD+). For a cleaner comparison, below are the Galaxy S21 specs against the Galaxy S20's specs.
Samsung Galaxy S21 specs:
6.2-inch 120Hz AMOLED display, 2400 x 1080
Snapdragon 888 chipset / Exynos 2100 chipset
8 GB of RAM
12 MP + 64 MP + 12 MP cameras
10 MP punch-hole selfie camera
128 GB / 256 GB / 512 GB of storage, no microSD card slot
4,000 mAh battery, fast 30W wired charging, no charger in the box
No headphone jack
5G connectivity
Samsung Galaxy S20 specs:
6.2-inch 120Hz AMOLED display, 3200 x 1440
Snapdragon 865 chipset / Exynos 990 chipset
8 GB of RAM
12 MP + 64 MP + 12 MP cameras
10 MP punch-hole selfie camera
128 GB / 256 GB / 512 GB of storage, microSD card slot
4,000 mAh battery, fast 25W wired charging, charger included
No headphone jack
5G connectivity
Display measurements and quality
In terms of display improvements on the Galaxy S21 over the Galaxy S20, we have higher maximum brightness, lower minimum brightness and better color temperature.
*Note that we tested the Exynos versions.
Samsung Galaxy S21 vs Galaxy S20 battery life and charging speeds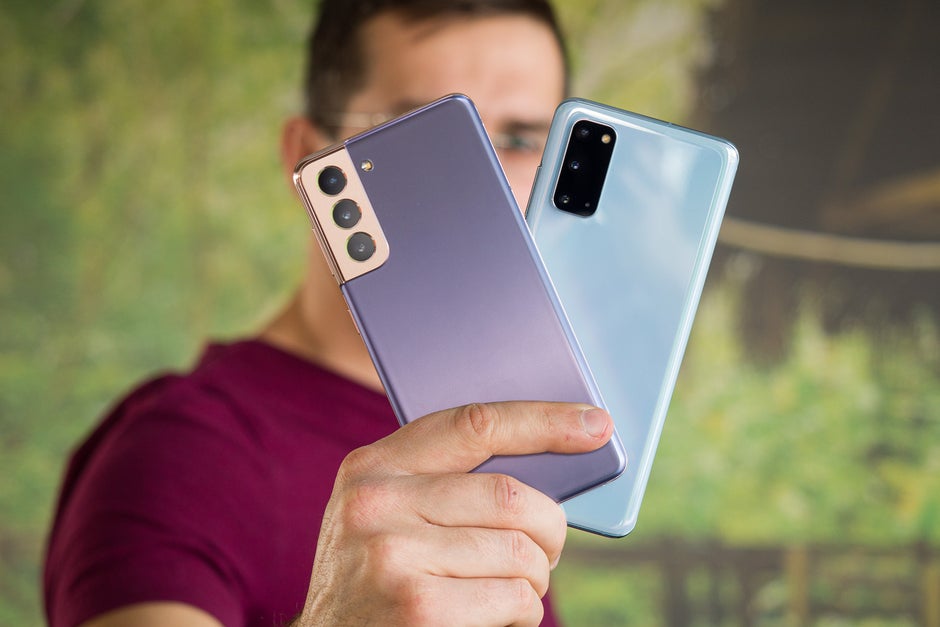 In our
Galaxy S20 review
, the phone proved to feature solid battery life, lasting about 12 hours in our internet browsing test, with the display set to 60Hz. However, when the S20's display was set to its maximum of 120Hz, that same test gave significantly lower results – it took about 7 hours and 45 minutes for the phone to run out of battery.
The Galaxy S21 has the exact same battery capacity as its predecessor (4000 mAh), although the S21's chipset is more energy efficient, which in theory should help with its battery life performance.
Web browsing battery life test results
YouTube playback battery life test results
3D gaming battery life test results
As is evident by our battery life tests above, the new Galaxy S21 has lower, but still great battery life performance, when compared to last year's S20. Even with the screen set to 120Hz refresh rate, it lasted nearly 8 hours of constant web browsing. In our
Galaxy S21 review
, we concluded that most users should realistically expect anywhere between 5 and 9 hours of screen-on usage time between charges.
Samsung Galaxy S21 vs Galaxy S20 camera comparison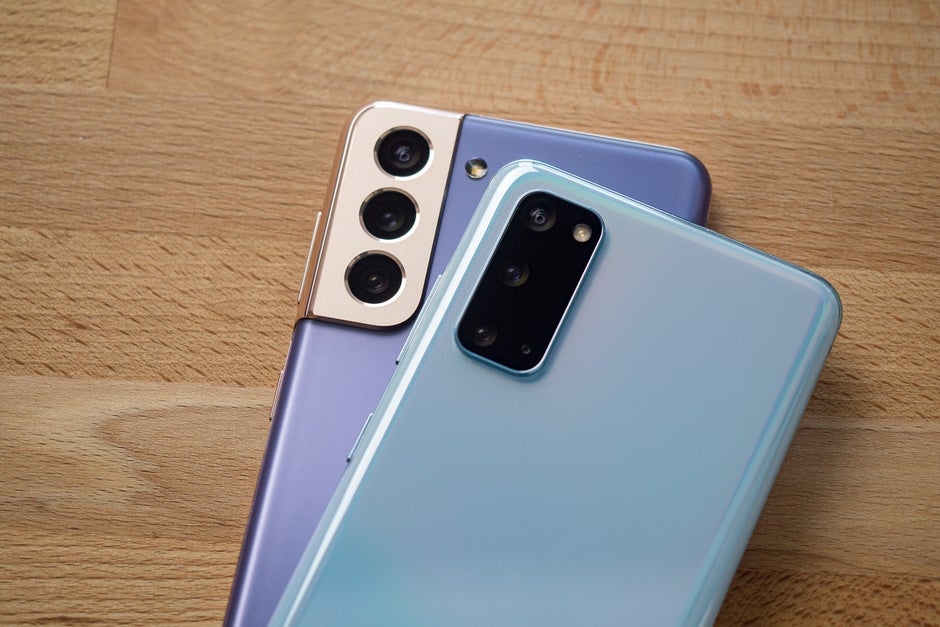 The Galaxy S21 sports 12MP main, 64MP zoom and 12MP ultra-wide camera sensors on the back. New camera features include brighter Night mode, Portrait mode with improved separation for selfies and Zoom Lock for clear shots at 30x. The phone can also shoot Super Steady video at 60fps and gets 8K Snap, Director's View and Single Take with Dynamic Slow-mo.
The Galaxy S20 has a 12MP main, 64MP telephoto and 12MP ultra-wide cameras. It can shoot 8K video, too. Both phones have 10MP punch-hole selfie cameras.
As expected, the camera performance hasn't changed much on the S21, if at all, although the two phones process photos in a noticeably different way. While the S21 produces fairly realistic and clean shots, the S20 seems to do a lot more post-sharpening, with stronger contrast. This is especially visible in the zoom comparisons below.
Whether the sharper and more contrasty appearance of the S20 photos is better than what we see from the S21 is down to personal preference. Regardless, as we covered earlier, the difference appears to exist only due to the stronger image post-processing of the S20 and doesn't necessarily mean that either phone captures more detail than the other.