Samsung Galaxy S21 vs Apple iPhone 11 Pro
9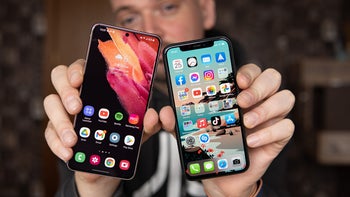 So, the
Galaxy S21
just hit the ground early — a full two months before the Galaxy S20 turns a year old.
Samsung
's latest flagship has the fastest possible processor for an Android phone and a camera system that adds slight improvements to an already stellar performer in the S20.
What's even more exciting is that the S21 is dropping its entry-level price to $799.99. Yes, that's a hefty lump of money, but let me remind you that 2020's Galaxy S20 started at $999 as a baseline, which — come on — it's overkill.
Anyway, you know what else is in the same ballpark?
Apple
's
iPhone 11 Pro
. The 2019 iPhone is still available at carriers, sometimes heavily discounted, and is still a perfectly good flagship-grade smartphone.

So… What to do in 2021? Grab a shiny new Galaxy S21 or a tried and true iPhone 11 Pro?
Well, the iPhone 11 Pro is about 18 months now, at the time of writing this, which is "old" in smartphone years. It's still fast and reliable, but its camera features are lagging a bit behind. It also comes with a base storage of 64 GB and forget about 5G.
All the while, the Galaxy S21 will cost you about the same as an iPhone 11 Pro, but comes with 128 GB base storage, a modern, fresh design, a fantastic camera setup, and 5G connectivity.
Galaxy S21 vs iPhone 11 Pro design
Apple's iPhones are well known for sticking to the same formula for years on end and the iPhone 11 Pro looks a lot like the
iPhone X
, which was introduced way back in 2017. If you are looking for something fresh and exciting, this is probably not the phone for you.
But if you want a shape that feels instantly familiar, recognizable, and has a ton of 3rd party cases and accessories available for it — that's a bingo right there.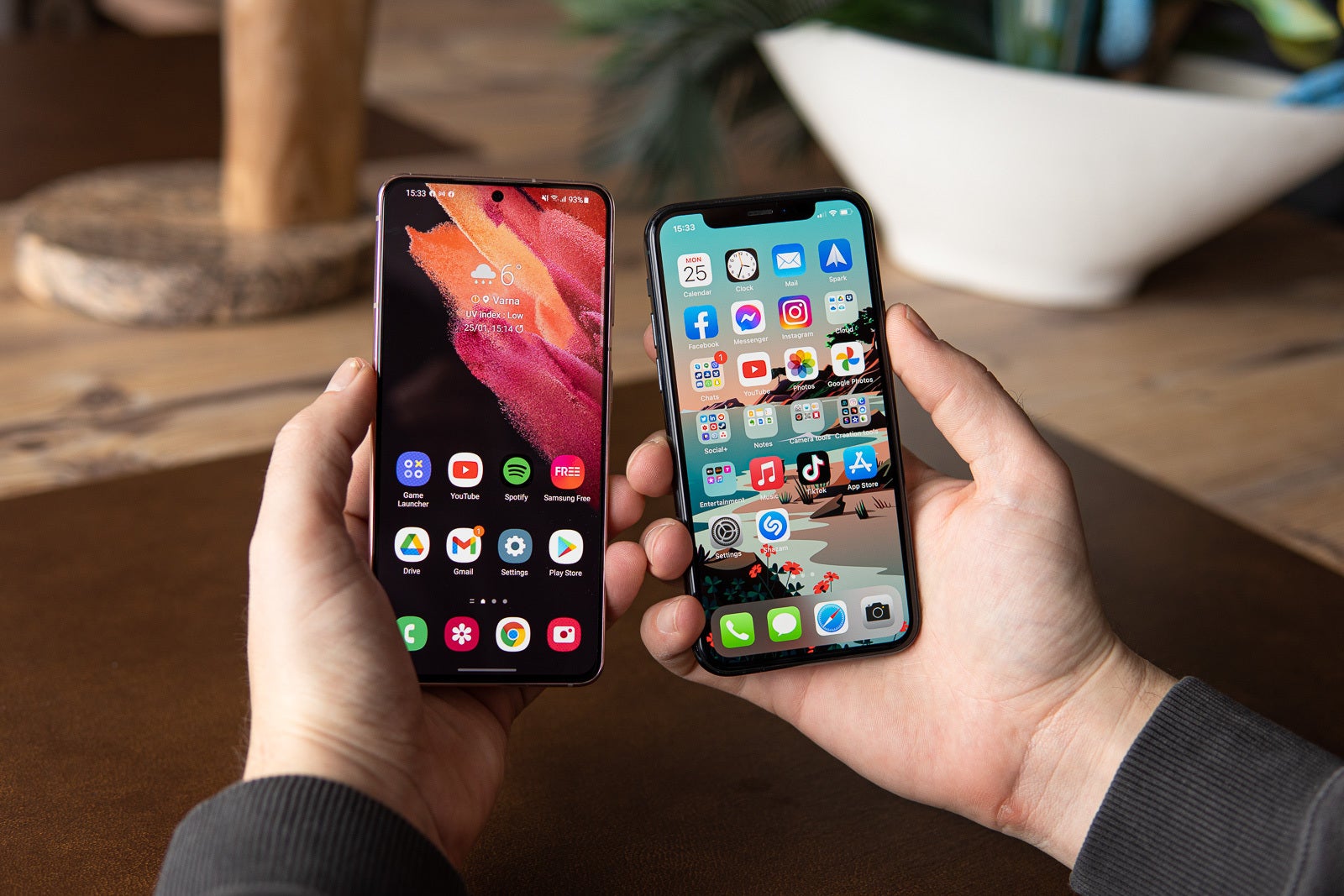 There's no tip-toeing around the fact that the iPhone 11 Pro has that huge notch on top of its screen, which irks some while it doesn't bother others. The upside is that there is a reason for it — Face ID is still a fantastic way of unlocking your phone just by looking at it.
It has a uniform bezel all around the screen, which may be just a bit on the thick side, but at least provides good protection from accidental touches. Then again, if you slap a case on it, that bezel thickness adds up.
The Galaxy S21 still has a bit of a chin on the bottom. Otherwise, its frame is noticeably thinner than on the iPhones for sure, which will give you bragging points. The S21 also did away with the curved Edge display, which some will be happy about, while others will miss.
There's no notch here, just a tiny cutout for the selfie camera up top, which looks elegant, sophisticated, and high-tech. The Galaxy S21 relies on an under-the-screen fingerprint scanner for unlocking — a tech that some like, while others find a bit slow and cumbersome.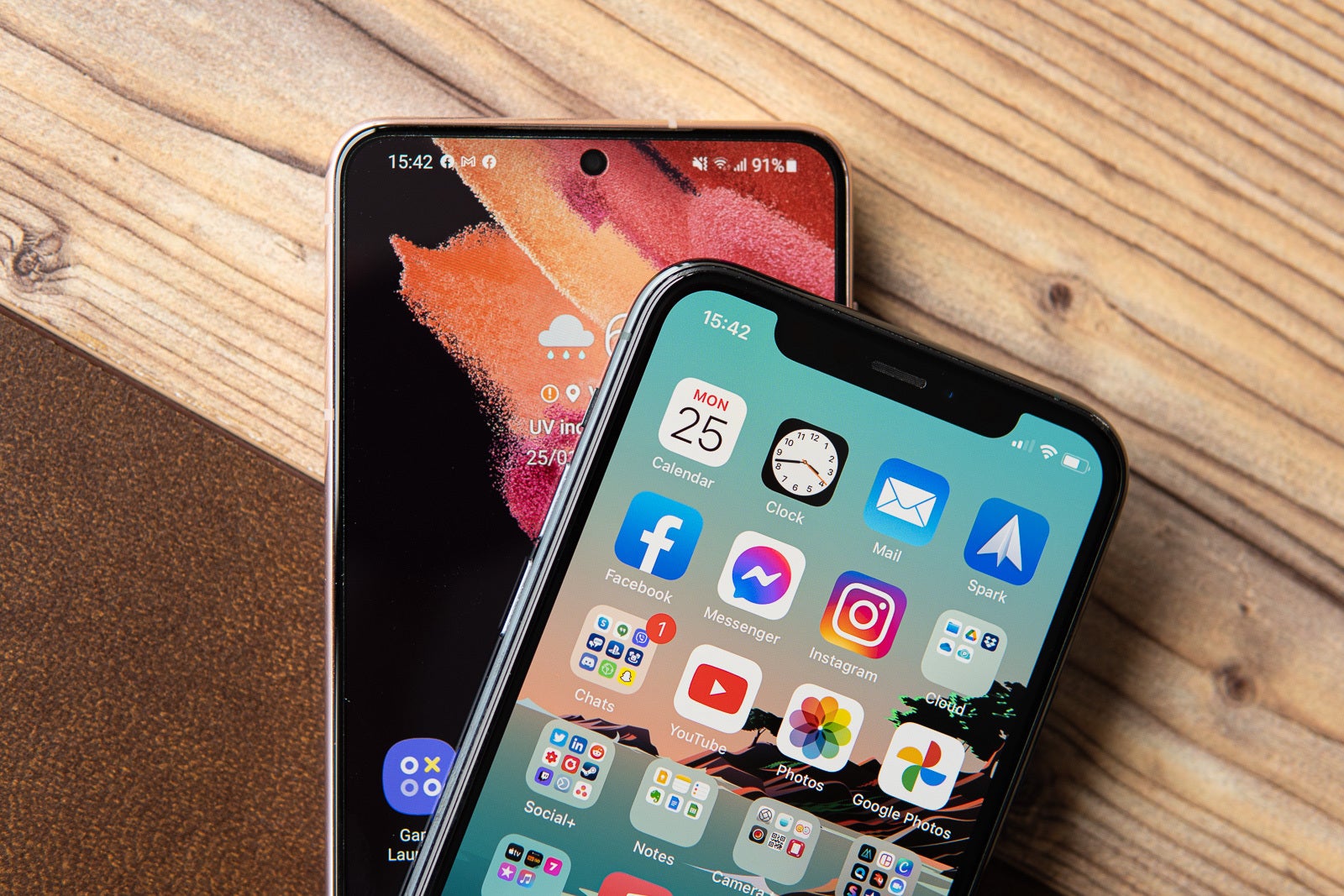 And, of course, we get a new-ish design. Samsung keeps it fresh by remixing the look of its phones every year — the company does stick to a base "industrial design" look, but always adds something new. Well, sometimes the risk isn't worth it, but in the case of the Galaxy S21 — I think it looks pretty sleek. The camera bump is integrated into the phone's frame, which gives it that duo-tone, high-tech look.
Sadly, the Galaxy S21 has a plastic back, which will add that warm, cheap-ish feel. The frame is still metal though, so... make of that what you will.


Galaxy S21 vs iPhone 11 Pro display
In terms of screen size, the Galaxy S21 sounds like it provides a bit more with its 6.2-inch diagonal over the iPhone 11 Pro's 5.8 inches. But keep in mind that the S21 has a slightly "taller" screen — its aspect ratio is 20:9, against 19.5:9 on the iPhone. So, they much closer in size than you'd imagine, but the S21 has some extra verticality to it.
We've got OLED screens on both phones and the panels are conveniently made by Samsung anyway, so... Yeah — they are fantastic. The Samsung does offer you a bit more choice in color calibration — you can have the punchy OLED vividness, where colors just pop out and pierce your eyeballs, or you can choose a more subdued, basic mode. On the iPhone — there is no choice, you get the Apple calibration out of the box. Which is to say — it's still pretty great, if only a bit on the yellow-greenish side (
but we do have a fix for that!
)
Of course, the major difference is that the Samsung display can go up to a 120 Hz refresh rate, which is definitely noticeable. Scrolling and animations are so, so smooth, you will never want to go back. Apple has yet to introduce a high refresh rate screen, so obviously — the 2019 iPhone 11 Pro doesn't have this feature.
Display measurements and quality
Galaxy S21 vs iPhone 11 Pro specs
The Galaxy S21 is an absolute powerhouse, no doubt about that. It's powered by Qualcomm's brand-new Snapdragon 888 chipset in the US or Samsung's Exynos 2100 processor for international markets. Both of these chips are built on a 5 nm process, meaning they are more energy-efficient yet faster than the previous generation. They do great in benchmark tests and, of course, plow through any app or game you throw at them.
The iPhone 11 Pro has Apple's A13 Bionic inside, built on a 7 nm process. The chip is still pretty fast and doesn't have trouble whether it comes to gaming, video editing on the phone, or just casually browsing. That is to say — the A13 may be getting old in smartphone age standards, but it's in no way getting slow.
The Galaxy S21 has 8 GB of RAM as multi-tasking is often on the high-priority list for Samsung devices and comes with a minimum of 128 GB of storage. That's quite a bit of room for games, videos, and files.
The iPhone 11 Pro starts at 64 GB of storage, which is OK for most use cases, but feels kind of stingy in 2021. Also, the iPhone has 4 GB of RAM, since iOS loves to freeze background apps and doesn't need the extra RAM to provide the illusion of multi-tasking.
Galaxy S21 vs iPhone 11 Pro camera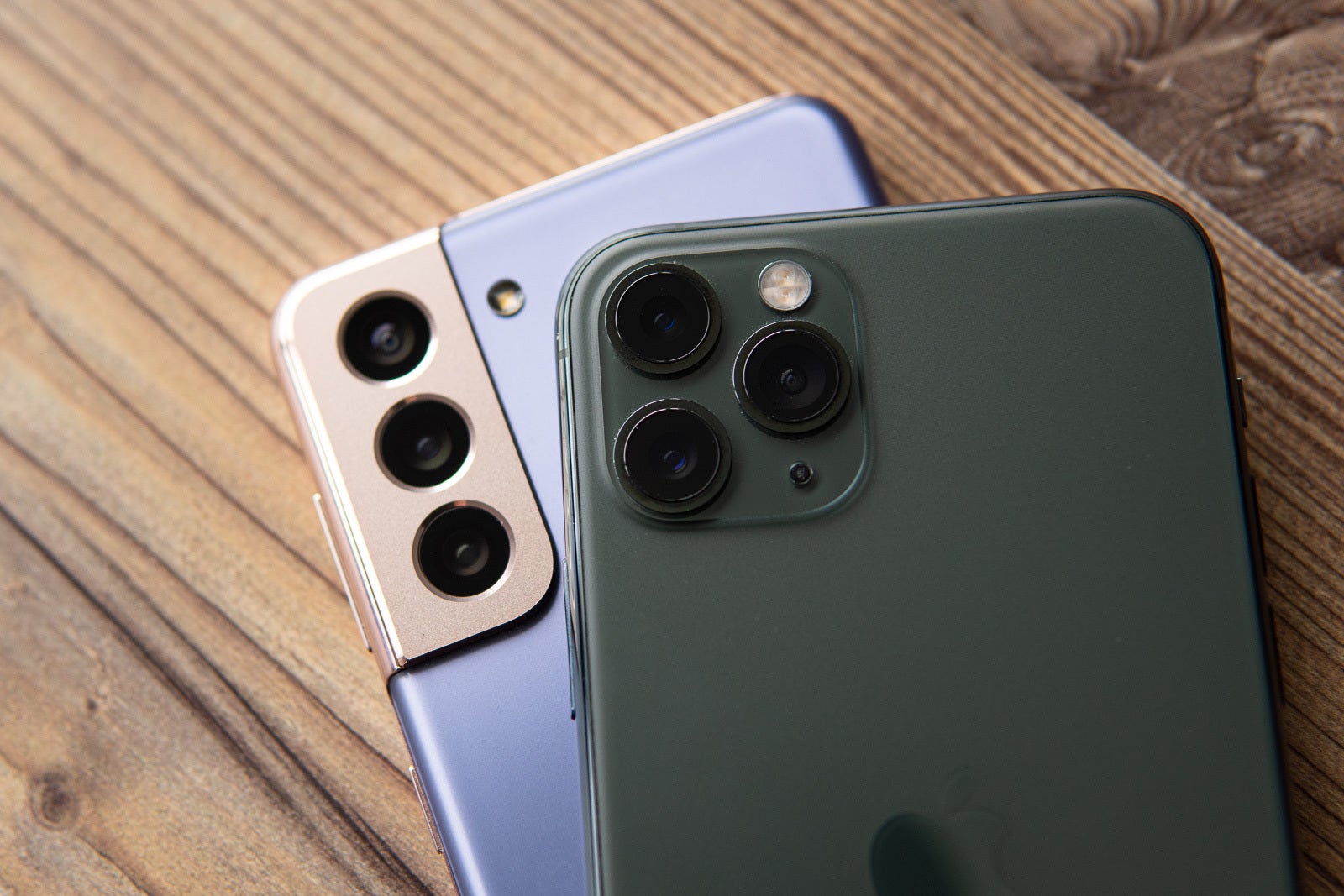 The Galaxy S21 is borrowing the camera system of its predecessor — the Galaxy S20. This means a 12 MP main wide-angle camera, a 12 MP ultrawide camera, and a 64 MP camera with 3x hybrid zoom for those "telephoto-esque" portrait shots.
That's not a bad thing — the Galaxy S20 had a fantastic camera overall, with a good Portrait Mode, Night Mode available for all cameras, and great audio recording.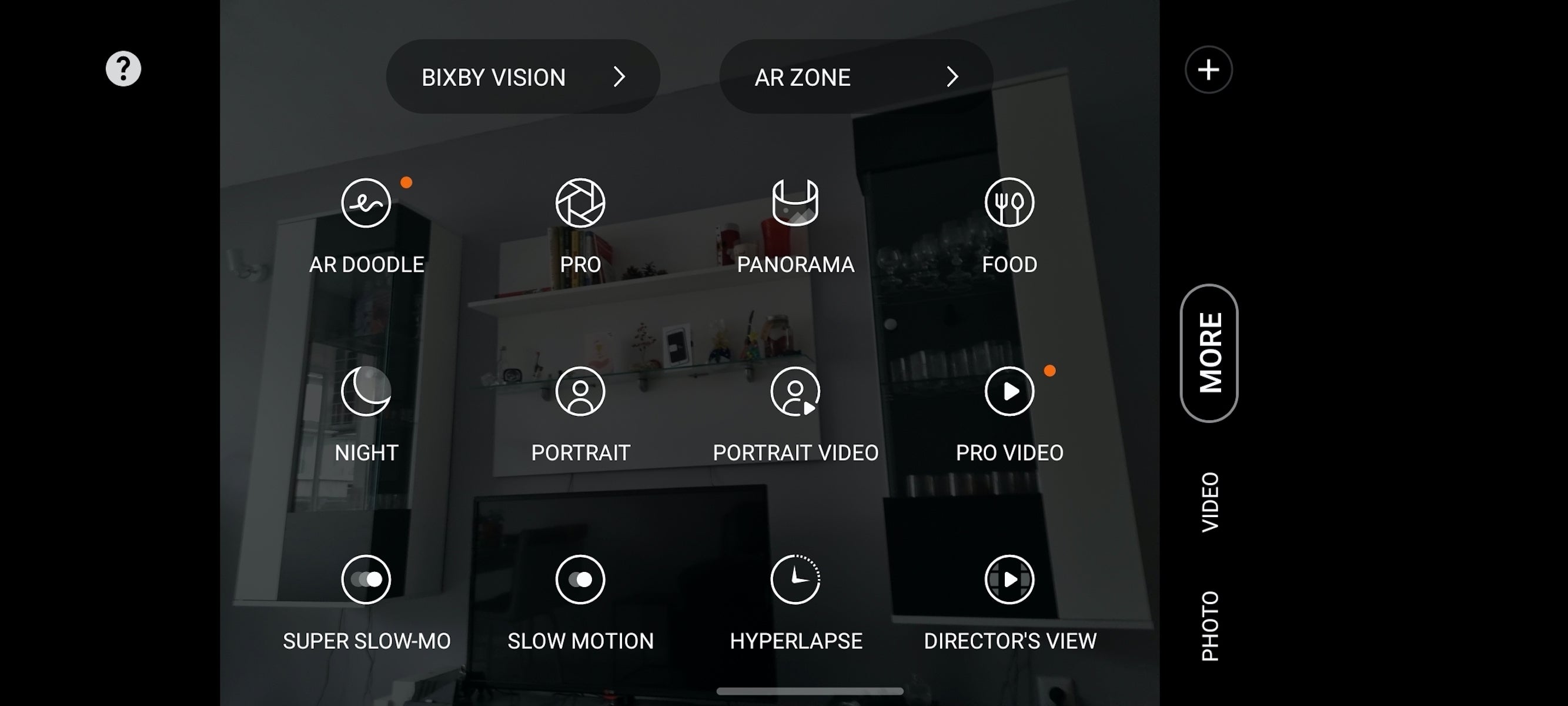 The Galaxy S21 is rich on camera modes and options
The iPhone 11 Pro's camera is still stellar and dependable, but its features feel a bit outdated. Night Mode is only available on the main wide-angle camera, not the telephoto, ultra-wide, or selfie shooter. Also, it doesn't have nearly the amount of modes the S21 has — the iPhone Camera app is basically just Auto Mode with a couple of toggles.
But hey, at least it has an actual telephoto lens. Features like Deep Fusion and Smart HDR help it stay afloat and produce some fantastic pictures. It may hail from 2019, but the iPhone 11 Pro is still a great camera phone.
When we look at samples from the main cameras, we can see they go blow for blow when it comes to detail, dynamics, and contrast. Sometimes the S21 is a bit softer, sometimes the iPhone 11 Pro is. Their main difference comes in color calibration, where the iPhone clings to that slightly yellow-ish, warm color reproduction, while the S21 stays on the colder side. And, for these samples, I'd say the S21 is closer to the colors I was witnessing in real life.
The two ultra-wide cameras come into play when you want to take some landscape pictures or artistic shots. The Galaxy S21's ultra-wide shooter has auto focus, which should help, in theory, but in reality — I couldn't get any meaningful change in its focus points. But it is definitely sharper to boot — hands down, the S21 has the better ultra-wide camera.
But when it comes to zoom, the iPhone 11 Pro really benefits from that telephoto lens. Even at 3x zoom, which is the default magnification for the S21's zoom camera, the iPhone 11 Pro is much sharper. At 10x, which is the iPhone's limit, we get less-than-good images from both cameras, but the iPhone holds it together a bit better, whereas the S21 starts to deteriorate into a blurred mess.
On the selfie side, with the right lighting, both phones can give you identical selfies — detailed, skintone on point, nice dynamics. However, when you take selfies under direct sunlight, the iPhone's HDR can sometimes go absolutely haywire and give you a very, very weird skin color, as can be seen in the second selfie here.
Long story short — main cameras are fantastic on both. The Galaxy S21 has the better ultra-wide camera. The iPhone 11 Pro has the better zoom. iPhone selfies can look really awkward under direct sunlight.
Galaxy S21 vs iPhone 11 Pro 5G connectivity

Well, this one is simple. The iPhone 11 Pro does not support 5G, period. The Galaxy S21 has support for both mmWave and Sub-6Ghz signals, so if the future of connectivity is what you are after, that's a pretty simple decision right here.


Galaxy S21 vs iPhone 11 Pro battery life
For all the improvements the 5 nm processors of the Galaxy S21 were supposed to bring about, we were hoping to see an extended battery life. However, this is not the case — in fact, in some scenarios, the S21 does slightly worse than the S20.
Still, its 4,000 mAh battery is good enough to last you a day + more with your regular, average use. It's dependable for sure.
The iPhone 11 Pro is also up there in dependability, mainly thanks to iOS' stellar standby time — this thing refuses to drain battery while the screen is asleep and that's that. However, it's worth noting that the iPhone burns through battery percentages much faster while you are gaming, so keep that in mind, Fortnite players. Oh, nevermind, Fortnite is banned from Apple's App Store anyway.