Samsung Galaxy S20 and S20 Plus Review
29
The Samsung Galaxy S20 and S20 Plus might not quite have all the bells and whistles of the S20 Ultra, but they have two key advantages: they are not as gigantic as the Ultra and while expensive as well, their price is not quite as excessive as the $1400 price of the Ultra.
With these two key factors in mind, it's time to take a closer look at the S20 and the S20 Plus, two phones that will not get as much press as the Ultra, but phones that are likely to end up in a lot more pockets.
First, these are the major differences between the flagship S20 Ultra and the other two:
S20 Ultra has a 108MP main camera, while the other two have 12MP main snappers
S20 Ultra has 100X Space Zoom, while S20 and S20 Plus max out at 30X
S20 Ultra has a massive 6.9" screen size compared to a 6.7" display on the S20 Plus and a 6.2" screen on the S20
S20 Ultra has a gigantic 5,000mAh battery, while the other have smaller sized cells: 4,500mAh on the S20 Plus and 4,000mAh on the S20
S20 Ultra and S20 Plus have support for 5G mmWave, while S20 only supports 5G sub6
Apart from those few differences, all three phones share the same processor, the same amount of storage, the same awesome 120Hz refresh rate option, the same interface and the differences really mostly boil down to the size and their capabilities to zoom.
As to our thoughts on the S20 and the S20 Plus, we found them to be awesome devices. The one feature that impressed us most was the 120Hz refresh rate that makes everything run buttery smoothly. It's hard to switch back to 60Hz once you've tried 120Hz on the S20 series. Unfortunately, we also found that it takes a heavy toll on battery life, decreasing it by as much as 37% on the S20 series.
The cameras have changed from the S10 series and can now zoom further than most other phones which is awesome. Images turn out with a lot more contrast. They are not perfect, though, as we noticed issues with oversharpening and the lack of a 2X zoom camera actually made Live Focus images a bit worse. We also noticed a nasty bug with selfies that we hope Samsung fixes soon. Some of the new options like the 8K video recording we found to be cool more in theory than in practice: 8K videos are gigantic in size, but worse than that, the phones themselves don't have enough power to play them without dropping frames. Our Intel i5-powered desktop computer also couldn't handle the task of 8K videos.
These shortcomings are not dealbreakers by any means and the S20 series are perfectly fine even with them. The S20 are the Android flagship to beat in 2020 even with those shortcomings. And for more details, jump right to our full review below...
Design and Display
Nothing short of amazing, and you'll never want to go back to a 60Hz screen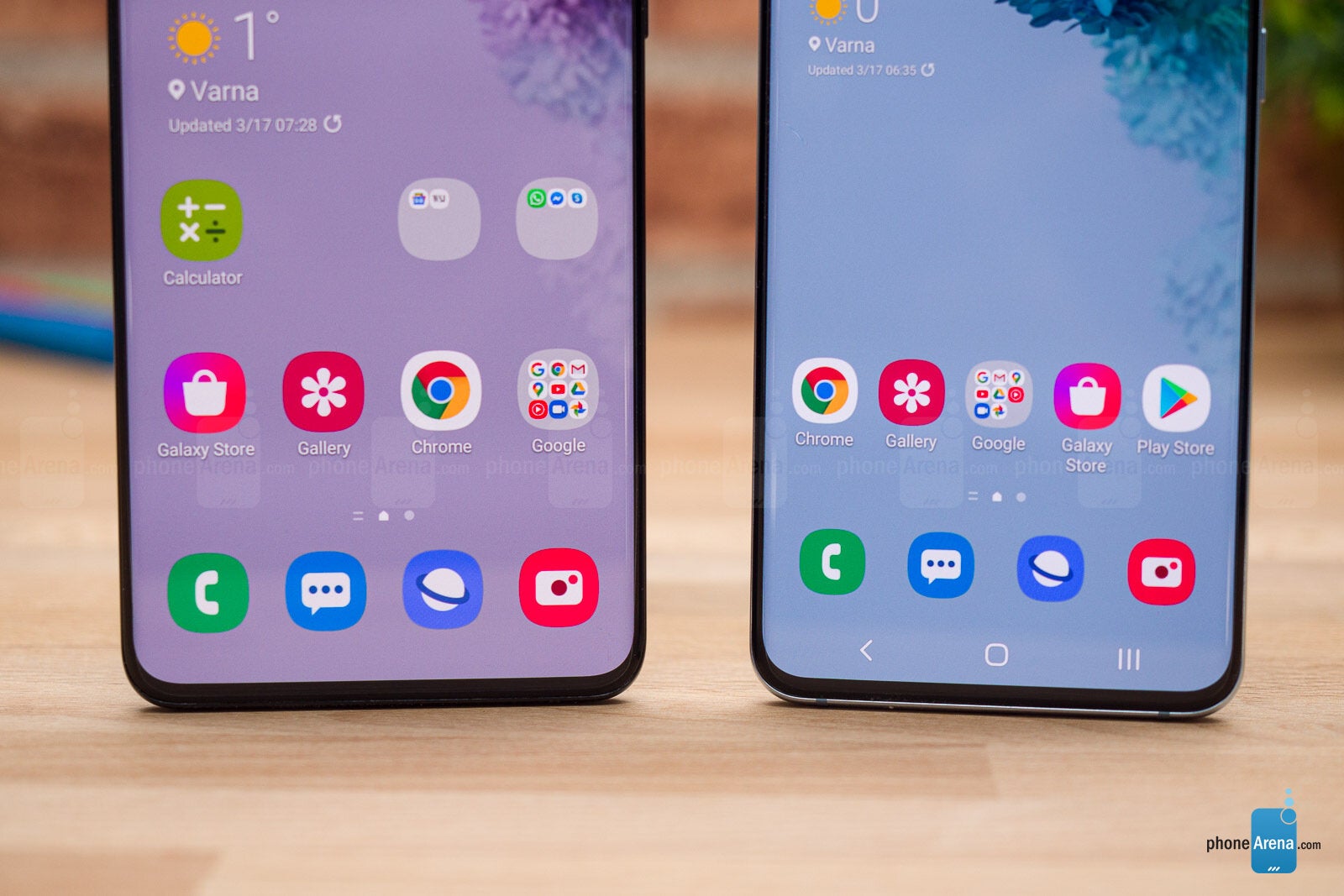 We remember the first time we saw a phone with an AMOLED screen. It was the
Samsung Wave
in 2010, and we were impressed with the new technology. Back then, it was a 3.3" display that looks miniscule by today's standards and looking in retrospect, one would consider those screens still had quite a few issues like a very noticeable green-ish tint. In the last few years, Samsung has truly mastered the AMOLED technology and the screens now feature rich and vibrant colors with a very nice balance of the RGB range.
And the screens on the S20 series are the best so far: they have only a tiny punch hole and are otherwise almost completely uninterrupted by bezels.
The S20 Plus is the larger one, with a 6.7" diagonal, while the S20 has a more compact, 6.2" size. These days, you also have to consider the aspect ratio of the screen: it's 20 to 9 on the S20 series, which means that the screens are narrow and very tall. A few years back, we used to have tablets with 7-inch screens, but those had a more squarish aspect ratio and that's why it might be misleading to just look at the diagonal size.
The big story in 2020, however, are not the colors: it's the new 120 Hertz refresh rate option. 120Hz means that the screen refreshes twice every second, compared to the traditional 60 Hertz technology where the screen would refresh only once. By default, the phones run at 60Hz because of battery preservation reasons (jump to the battery section below to see the extra strain on battery life that comes with 120Hz). But if you don't absolutely need the battery life, you will be insantly hooked with the 120Hz option. It's a game-changing experience and after you use it once, you wouldn't want going back to 60Hz.
Display measurements and quality
Performance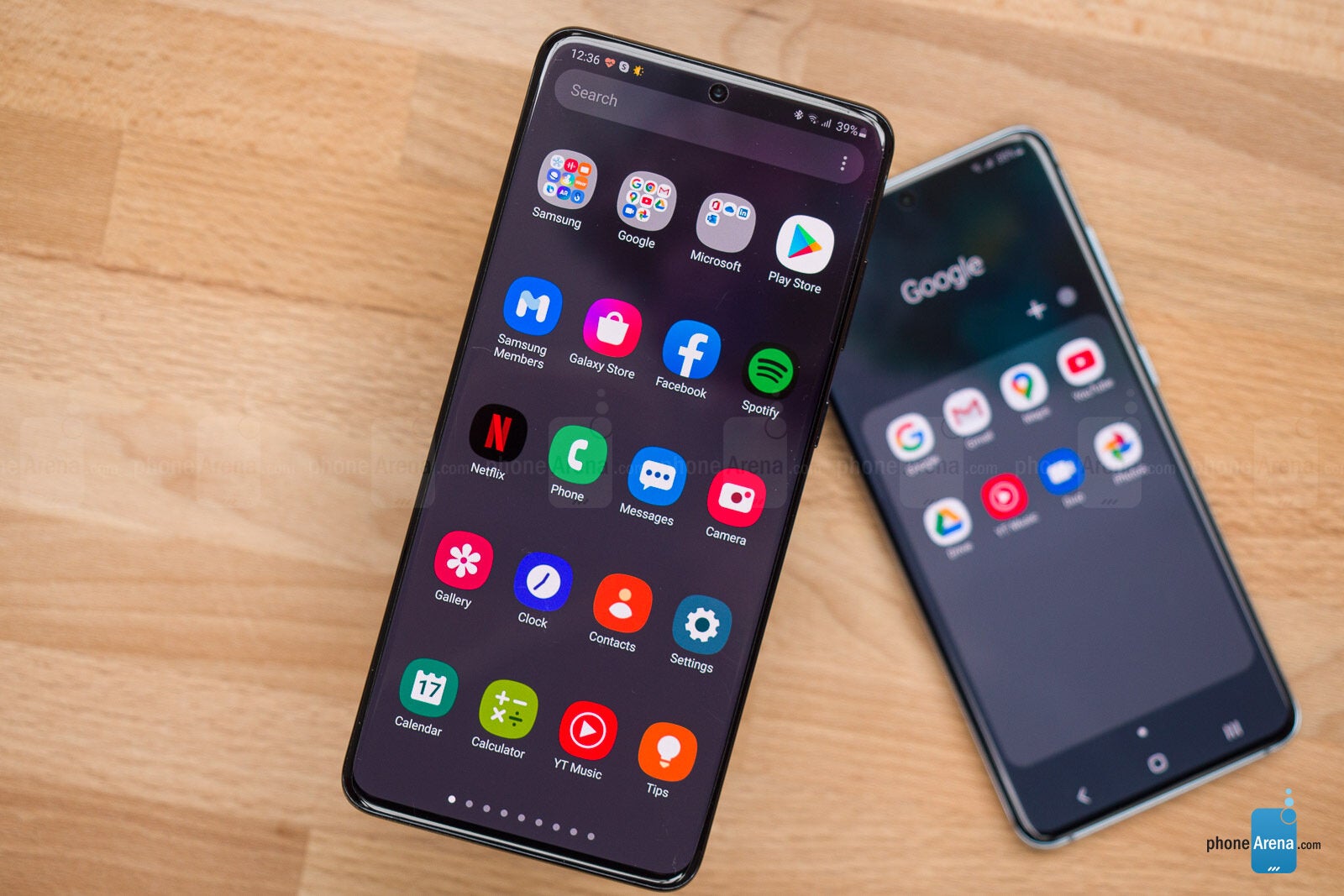 The S20 and S20 Plus are both powered by the Snapdragon 865 chip if you live in the States, while international buyers will get the phones with the Samsung-made Exynos 990 processor.
In our experience with the Exynos version you have plenty of power for a fast experience, but you've had that in past years too and Samsung's One UI has still been a bit behind Google's Pixel series or OnePlus phones in terms of actual perceived smoothness. That changes this year with 120Hz option that finally brings Samsung to an elite club of 'ultra smooth' phones.
As for the benchmark story, you have it right below: these phones are truly speed masters. This will matter for gamers who will get better frame rates with these new processors. Unfortunately, the games that we tested did not yet support the 120Hz refresh rate. We expect Samsung to unlock this option for some of the most popular games soon and we will update once we get to test that.
In terms of storage, the S20 and S20 Plus base models both come with 128GB and both phones have the option of expanding on that storage via microSD cards. Most people would be perfectly happy with 128 gigs on board, and we ought to mention that this is one advantage Samsung phones have over iPhones and Pixels that only have 64 gigs of storage in their base models.
Camera
Did you know the S20 series don't have a traditional telephoto camera at all? Yet still, they manage taking great photos at a distance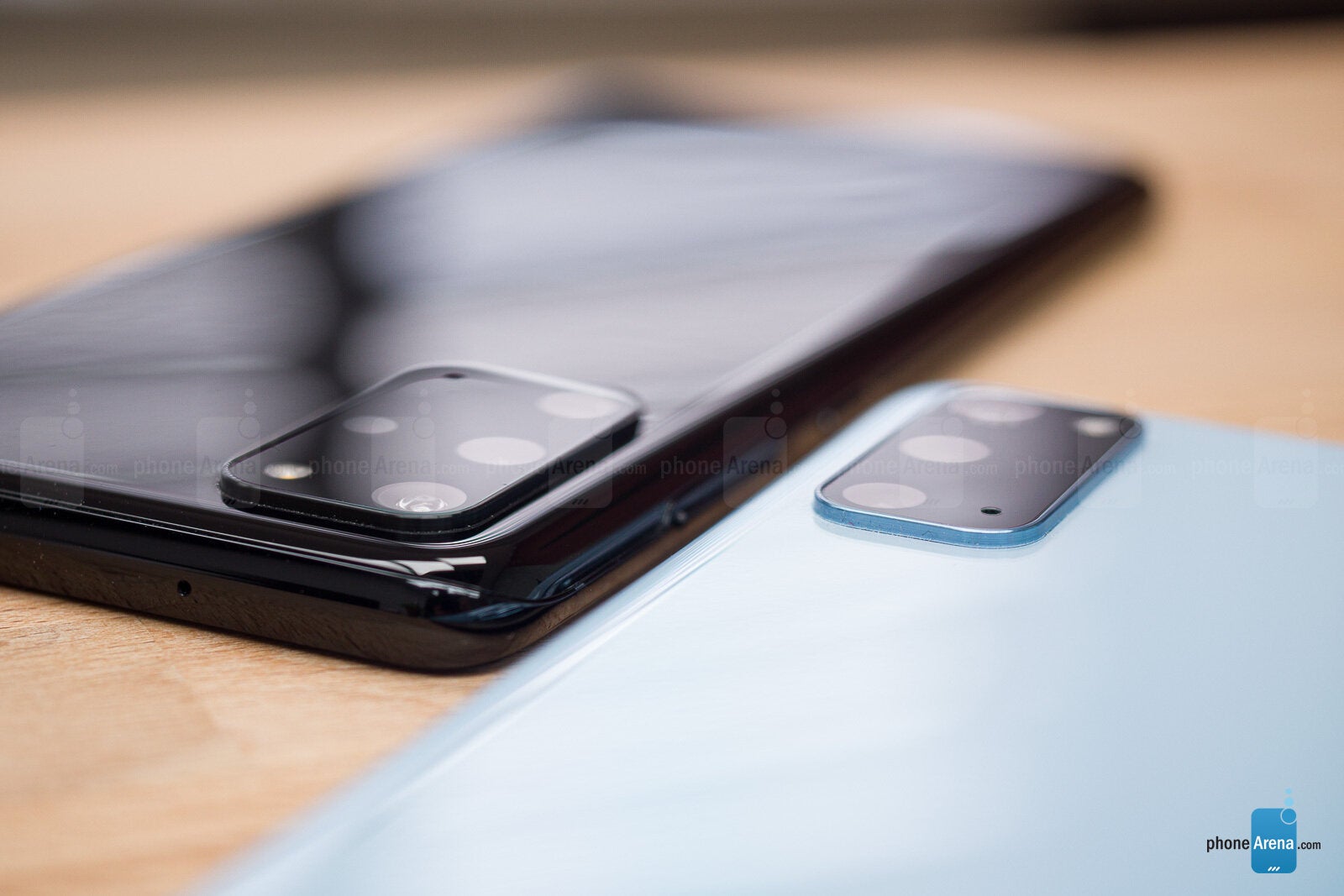 The S20 and the S20 Plus have cameras that are so similar that users practically will not notice the difference.
You would spot it only if you look at the specs: the S20 Plus has a ToF "DepthVision" camera that is supposed to help create a better depth map and contribute to better portrait images. You won't notice it missing on the S20, though, images are incredibly similar.
With this in mind, let's take a look at the camera specs:
12MP main camera with 26mm lens, OIS, 1/1.7" sensor
64MP secondary camera
12MP ultra-wide camera
ToF DepthVision camera (only on S20 Plus)
But specs alone mean nothing if the camera doesn't shoot great photos, so take a look:
Zoom, zoom, zoom
And then, you have the 30X "space zoom" thing. Here's the catch: the S20 and S20 Plus don't really have a true telephoto lens. Shocked? So were we, but it's written right in the specs. The secondary 64MP camera has a focal distance which is about the same as the main wide camera, meaning that to achieve that zoom Samsung is using software.
This comes in contrast with the S20 Ultra, which has an actual folded periscope lens with a 4X optical magnification. There is no such a lens on the S20 and the Plus.
And yes, the quality that you get is not comparable to the S20 Ultra, but it is still noticeably better than the zoom quality you get on iPhones or Google's Pixel series, so Samsung has definitely done some magic to make it happen.
Is there a difference in Portraits between the S20 and the S20 Plus?
Not really.
The one physical difference between the camera setup on the S20 and the S20 Plus is that the larger Plus model has a DepthVision sensor that the smaller phone lacks. This sensor is used to create a more detailed depth map and should be of help when you are capturing Live Focus images where the background is blurred via software and determining the exact borders between your subject and the background is crucial.
Well, the truth is that the S20, even without a DepthVision sensor, does an excellent job at this. We did not notice any meaningful difference in the quality of the Live Focus images and above you can see one example where both phones do a very similar job.
Front Camera
Hit-or-miss
Both phones features a delicate punch hole front camera with a 10-megapixel resolution. And mostly, it takes sharp and good-looking photos, but surprisingly often it is affected by a weird bug that would randomly blur central parts of an image and ruin the shot.
We don't know what causes this but a big chunk of our selfies were ruined by this bug. It seems to appear mostly when you have a bright background and is definitely related to the algorithm misbehaving.
You can see a couple of shots to illustrate the issue above.
Battery Life
Great battery life, but only if you don't turn on the 120Hz option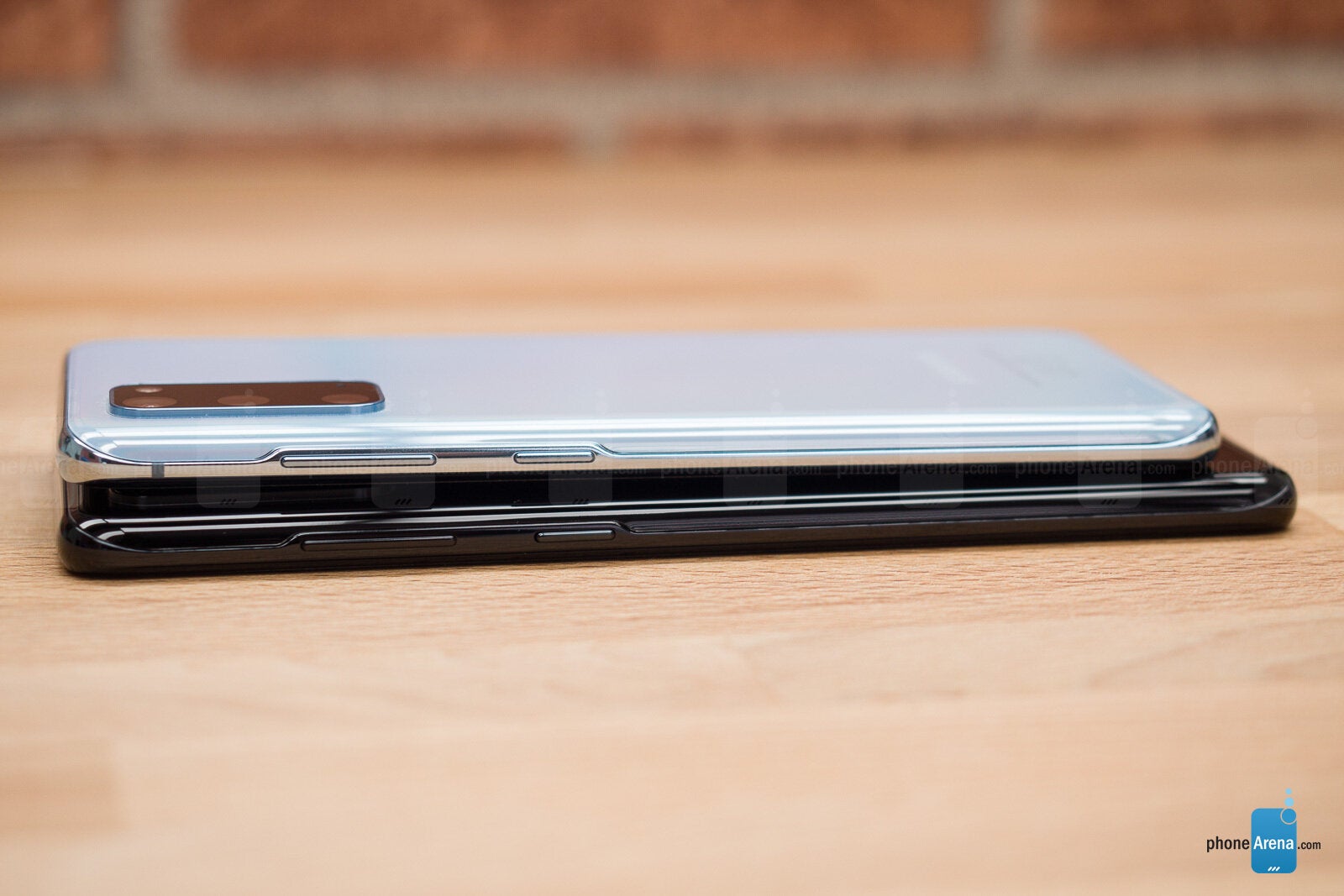 We have been using the Galaxy S20 and S20 Plus on and off for about a week now, and if you opt for the default 60Hz refresh rate battery life is very good.
The big batteries inside these phones are there not least to offset the effects of a 5G network that can consumer a lot more power, but if you use these phones in a 4G market chances are that you will experience a better battery life than on earlier Galaxies.
Unfortunately, turning the awesome new 120Hz refresh rate option alone results in a significant decrease in battery life.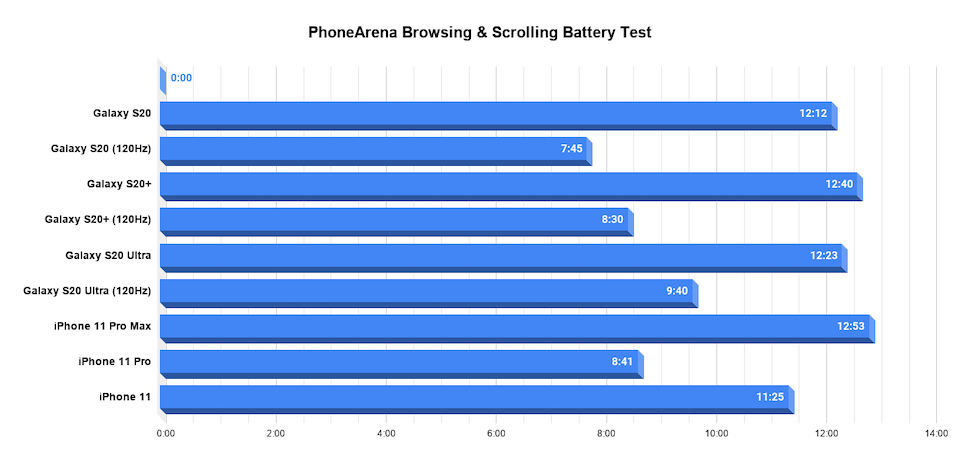 At the default 60Hz refresh rate, the
Galaxy S20 Plus
does great: on our tests it lasted even a bit more than the Ultra at 12 hours and 40 minutes when browsing and scrolling, but switching to 120Hz had a dramatic effect on battery life. In 120Hz mode, the S20 Plus score drops to 8 hours and 30 minutes. This is a difference of 33%, so you lose a third of your battery life when using the 120Hz option in this browsing + scrolling scenario.
The smaller
Galaxy S20
is in many ways similar. It gets an excellent score at 60Hz when battery life reaches 12 hours and 12 minutes, but switch to 120Hz, and you immediately see battery life tank to 7 hours and 45 minutes. The smaller Galaxy S20 also happens to be the phone that is hit worst from using 120Hz as its battery life decreases by 36%.
Browsing + Scrolling
60Hz
Browsing + Scrolling
120Hz
Decrease
in battery life
Galaxy S20 Ultra
12 hours 23 minutes
varies from 10 hours to 9 hours and 15 mintues
20% to 25%
Galaxy S20 Plus
12 hours 40 minutes
around 8 hours 30 minutes
33%
Galaxy S20
12 hours 12 minutes
around 7 hours 45 minutes
36%
How can one explain the bigger hit of the 120Hz option on the smaller S20 and S20 Plus? We can speculate that the smaller physical form factor means you have fewer options for cooling the device and that might play a role as well.
Next up, we also test battery life on the S20 series when playing back YouTube videos, something that many of us do on a daily basis. The S20 and the S20 Plus both perform excellently on this test: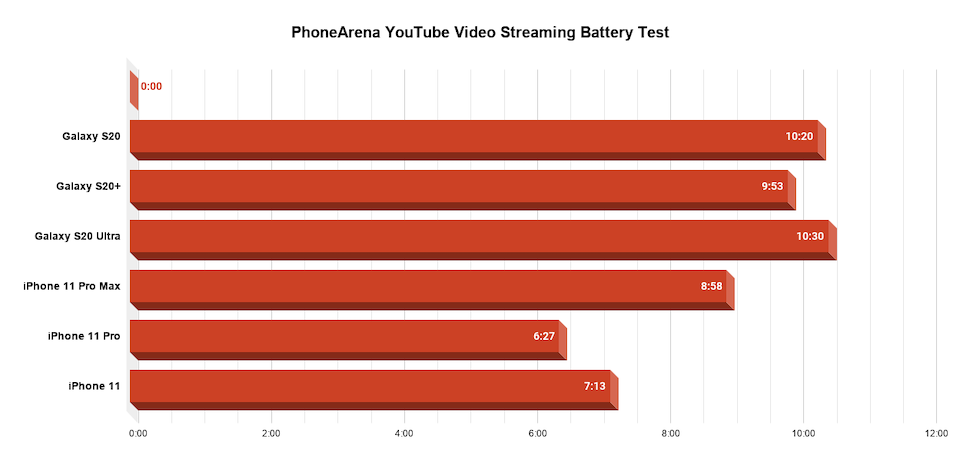 Finally, we turn to testing battery usage with 3D gaming. These would be games like Fortnite, Call of Duty and PubG, heavy games that tax the GPU of the phone much more than the previous two activities. Here is the results we are getting: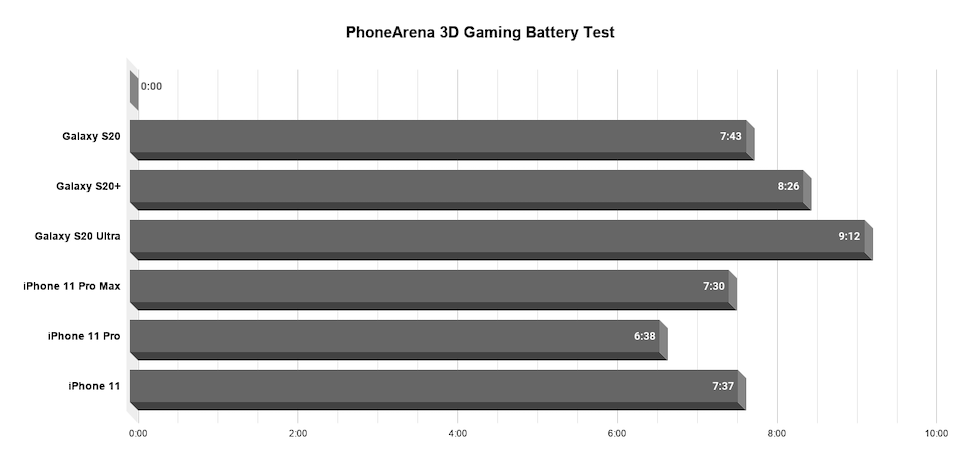 All in all, the Galaxy S20 series battery life disappoints only if you use the 120Hz option and we are perplexed as to why Samsung did not include a mid-way 90Hz option that would still be a huge improvement in smoothness over 60Hz, but without the destructive effect that 120Hz has on battery life.
Charging
Much faster than the S10 series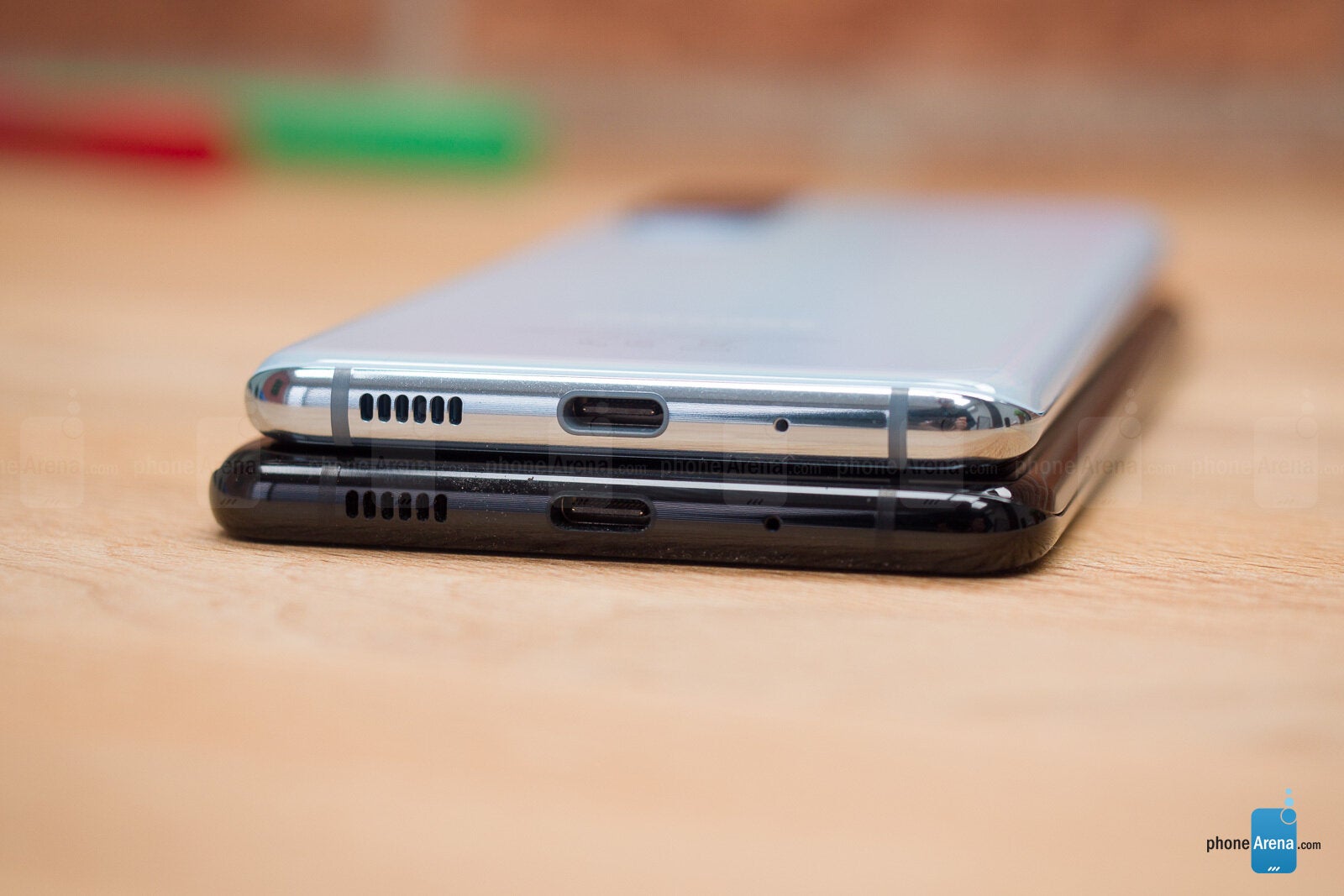 Charging speeds are another exciting area where phone companies have had a bit of a race in the past couple of years.
Samsung might not provide the very fastest chargers out there, an honor that goes to Chinese phone makers that freely experiment with those technologies, but it has still managed to improve charging speeds on the S20 series significantly. Both come with faster chargers in the box that can deliver up to 25 watts of power. That is also the maximum power that the phones can accept, that is to say that if you happen to have a faster charger you won't be able to actually use it as the phones are limited at 25 watts.
And there you have the results with a surprise: even though all three phones use the same 25-watt charger, the Galaxy S20 Ultra which has the biggest battery which should theoretically take longer to recharge, it actually finishes first in just seconds short of 1 hour.
So how fast are these new chargers that Samsung provides? We tested them and here's what we found:
Time / Charge level
(all use 25W Samsung charger)
Galaxy S20 Ultra
Galaxy S20 Plus
Galaxy S20
in 15 minutes
32%
28%
28%
in 30 minutes
62%
54%
54%
in 45 minutes
89%
80%
79%
1 hour
100%
97%
95%
1 hour 6 minutes
x
100%
100%
As the charging process goes, you'd notice that despite their difference in battery size, the actual charging speed on the S20 Plus and the S20 is about the same throughout the test.Both finish a full, 100% charge in exactly 1 hour and 6 minutes, a tiny bit slower than the S20 Ultra.

That's a big jump over last year's S10 series which took around 1 hour and 40 minutes for a full charge, while now users can top up their phones at 40% faster rates.
Loudspeaker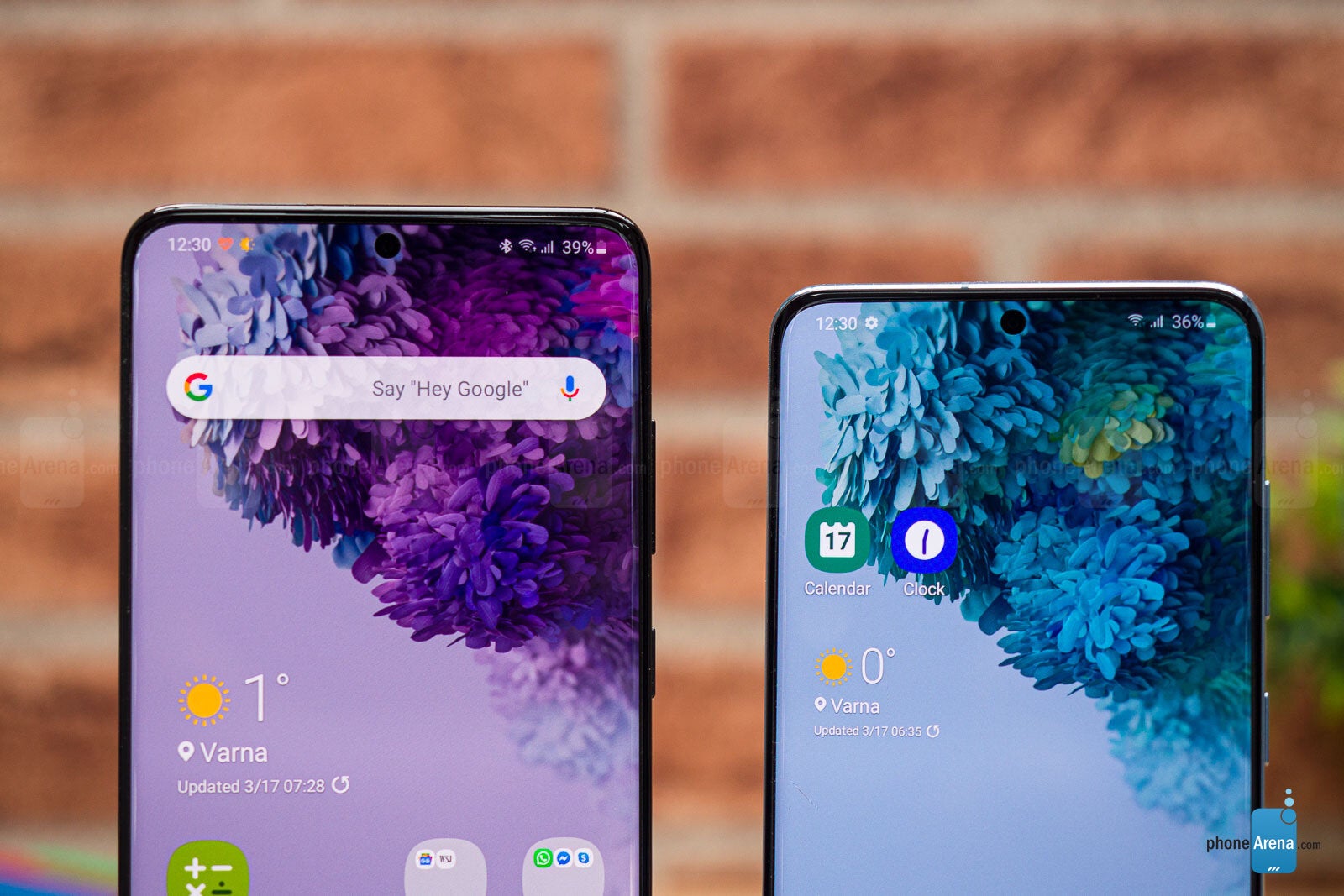 Another often overlooked aspect of a phone is the quality of the loudspeakers. And while you will definitely get a vastly better quality if you connect your phone to a wireless speaker or headphones, often times you will want to watch a YouTube video or play that song real quick, and those times you will appreciate having a good lousdpeaker.
The good news is that the S20 and S20 Plus bring a much louder and better-sounding loudspeaker setup than on last year's Galaxy S10. What you have on board is a bottom firing speaker and another loudspeaker built in the earpiece. The two work together and produce one of the best sound outputs from a phone speaker. We would rank the quality of the speaker just behind the
Google Pixel 4 XL, which is one of the leaders in this area
. Good job, Samsung!