Samsung Galaxy S21 Ultra vs Galaxy S10 Plus
9
We may earn a commission if you make a purchase from the links on this page.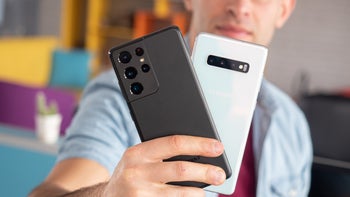 The
Samsung Galaxy S21 Ultra
is the all-out premium flagship that is the absolute best Samsung can put in a phone, but if you don't feel like spending $1,200 dollars or more on a phone, you might wonder how this brand new Galaxy S21 Ultra compares against the two-year old
Galaxy S10 Plus
that is still available, and at some great prices too.
So... Galaxy S21 Ultra vs Galaxy S10 Plus: let's dive deeper with the size differences, how the display has changed, the performance, camera, battery life and not least, the price you'd have to pay.
Is the newer S21 Ultra worth the high price tag, or should you opt for the oldie but goodie S10 Plus instead?
Design and Display
The S21 Ultra is a big and bulky phone, but it offers a better screen and now, S Pen support
The
Galaxy S10 Plus
was the best big phone Samsung had two years ago, but by modern standards it looks like a downright
mini
phone compared to the S21 Ultra. It's noticeably thinner, lighter and much more compact than the gigantic S21 Ultra. This size difference is not something you should just overlook: the S21 Ultra is much more powerful, yes, but that comes at the price of a bulkier build and a heavier phone that's far less comfortable to carry in a pocket and use with one hand.
With this in mind, here are all the screen advantages that newer technology and bigger size affords the S21 Ultra over the S10 Plus:
| | Galaxy S21 Ultra | Galaxy S10 Plus |
| --- | --- | --- |
| Display size | 6.8" | 6.4" |
| Technology | OLED | OLED |
| Resolution, density | 1440 x 3200 pixels, 516ppi | 1440 x 3040 pixels, 522ppi |
| Frame rate | 10Hz - 120Hz Dynamic | 60Hz |
| Peak brightness | 1,500 nits | 1,200 nits |
| Additional features | HDR support | HDR support |
There is a noticeable difference in screen size, but we would argue that the real game changer is the fast refresh rate supported on the S21 Ultra. The S10+ runs at 60Hz and while not slow, there is a bit of a stutter here and there, micro-lag if you will, while the S21 Ultra feels silky smooth throughout. This is a difference that is far more noticeable than the faster processor or the changes in RAM, it's really substantial, and this one thing alone is a big advantage for the S21 Ultra.
Then, the S21 Ultra brings a newer generation of the OLED technology for the screen with improved colors, power efficiency and most noticeably, brightness. The S21 Ultra also has the highest brightness of any phone (it can go to as high as 1,500 nits), meaning it will be easier to read that screen outdoors even under direct sunlight.
Display measurements and quality
The Galaxy S10+, however, performs very well in the screen department in all important quality metrics but the refresh rate, of course. It is also very bright, has near-perfect white balance, and is color-credible. The addition of an S Pen digitizer, and a large third-gen ultrasonic finger scanner on the S21 Ultra has it beat when it comes to features.
Performance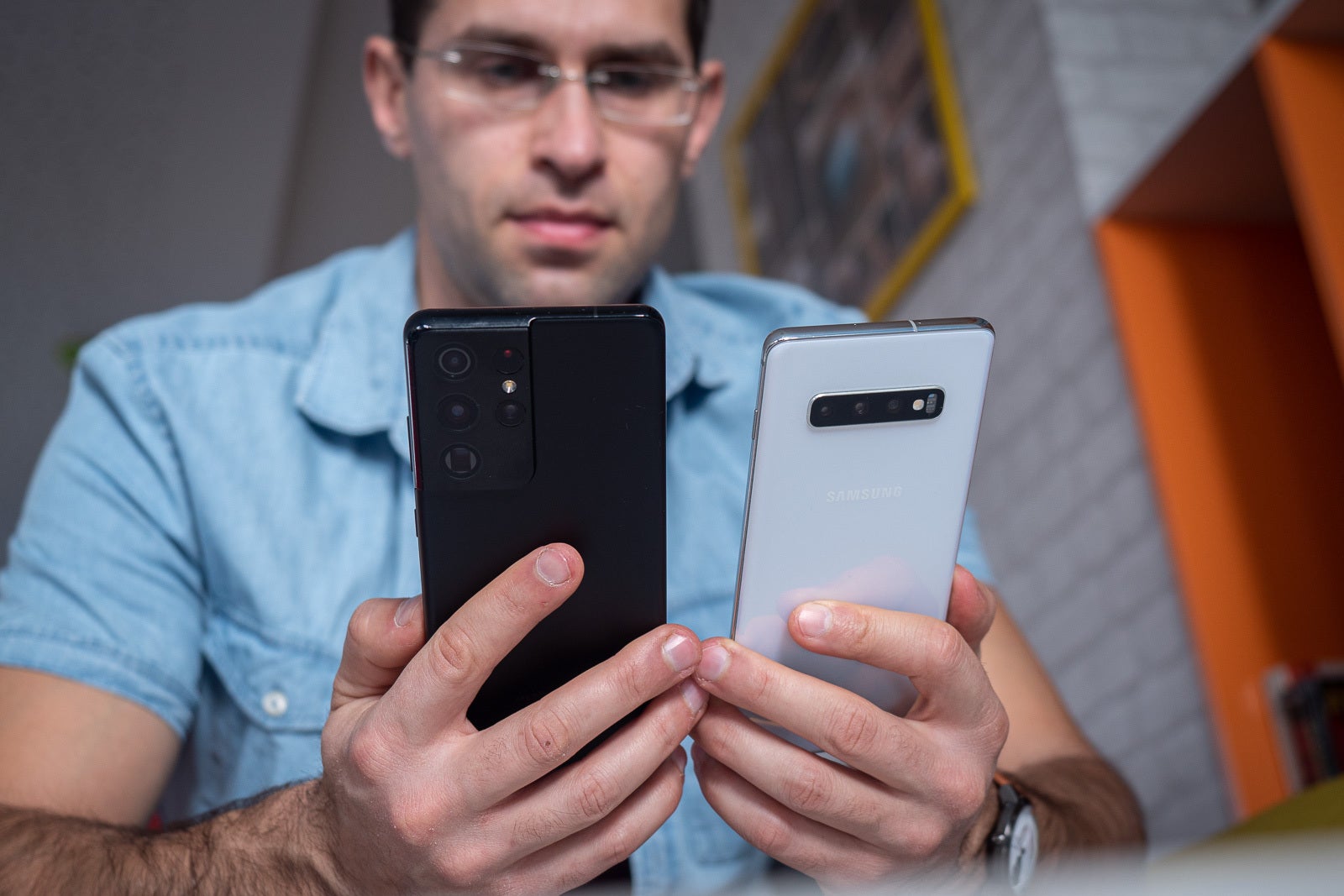 Under the hood of the Galaxy S21 Ultra hums the latest and most powerful chip by Qualcomm, the new Snapdragon 888, compared to an older generation Snapdragon 855 chip used on the S10+. At least, those are the chips used in the United States, international models of these phones are powered by Samsung's Exynos chips instead.

As for the difference between the newer and older chips, the Snapdragon 888 is vastly more powerful than the 855. It uses a newer, 5nm manufacturing process that allows for more transistors and higher performance without a big hit on battery life. What about the Galaxy S10 Plus? The Snapdragon 855 chip on it still provides enough speed for a zippy experience in daily use, but if you are a heavy user who plays graphically intense games or multitasks a lot, you will notice that the S10+ is at a disadvantage.
Both phones also have 128GB of base storage, a very reasonable amount, but interestingly, the newer S21 Ultra no longer does not have a microSD card slot, while the older S10 Plus does have microSD support for an easy way to expand storage. Older can sometimes mean better after all.
What the S10 Plus lacks, however, is 5G connectivity. You simply don't get 5G support on the S10+, you can only use 4G LTE. Right now, this probably shouldn't concern you much as 5G coverage is too scarce to matter. But starting next year, 5G networks will likely become much faster and wider spread, and if you want to benefit from those improved speeds, you will have full support with the S21 Ultra. The Ultra has an integrated 5G modem and supports both sub-6GHz and mmWave 5G so it will work across all three major US carriers.
Camera
Two telephoto cameras on the S21 Ultra give it extra long zoom range that the S10+ cannot match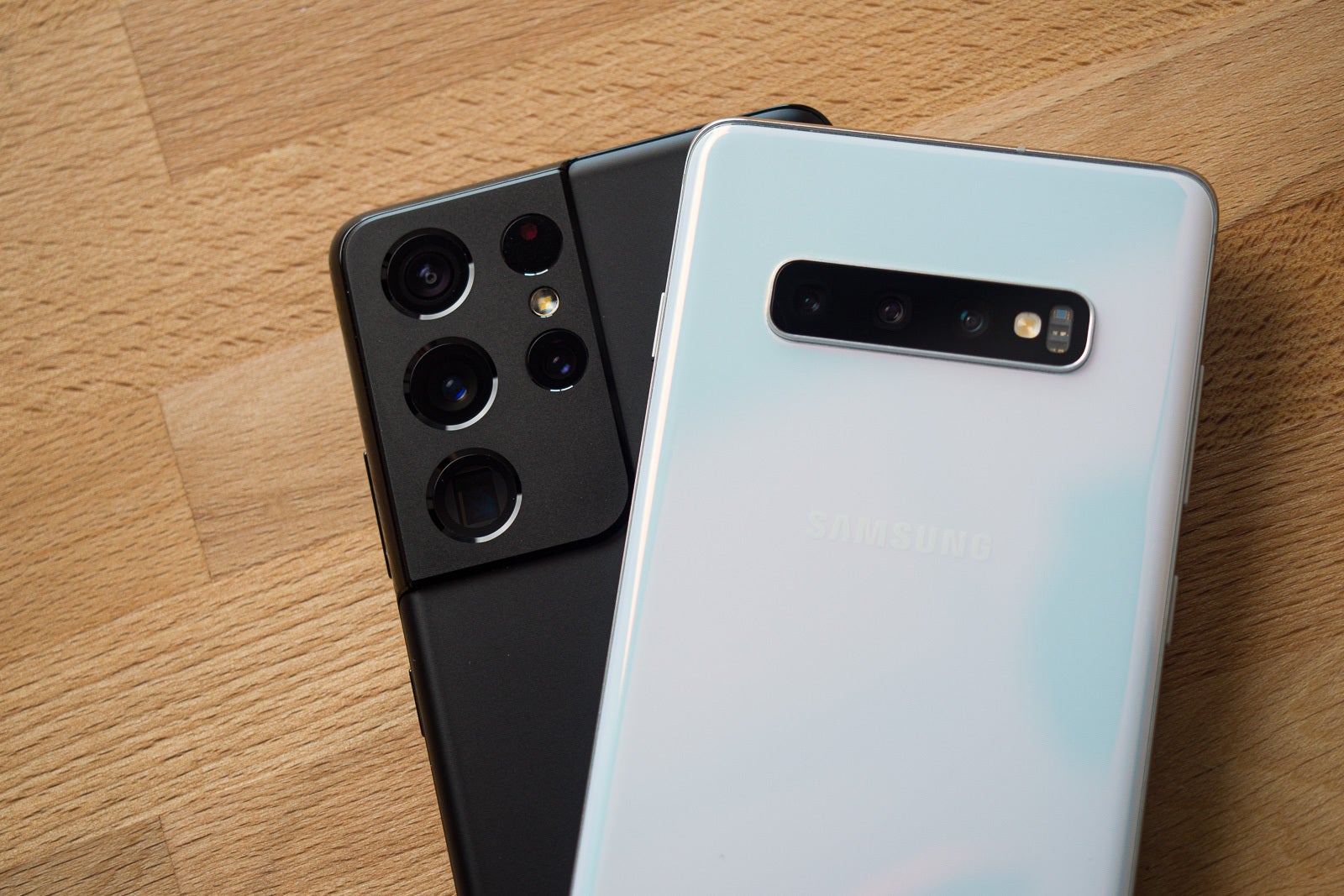 The Galaxy S21 Ultra brings a massive camera island and four different cameras that promise improved overall quality, but also, a long-range zoom of the kind that a 2-year-old phone just cannot match.
The big highlight here is that Samsung is bringing the 100X "Space Zoom" capabilities from the S20 Ultra, but now improved on the S21 Ultra. With a 10X zoom periscope lens, the longest range zoom ever used on a Samsung phone, you will get clean long-range zoom photos unlike any other phone out there. And an additional, 3X zoom telephoto lens makes sure zoom photos in the 3X to 10X range also look good.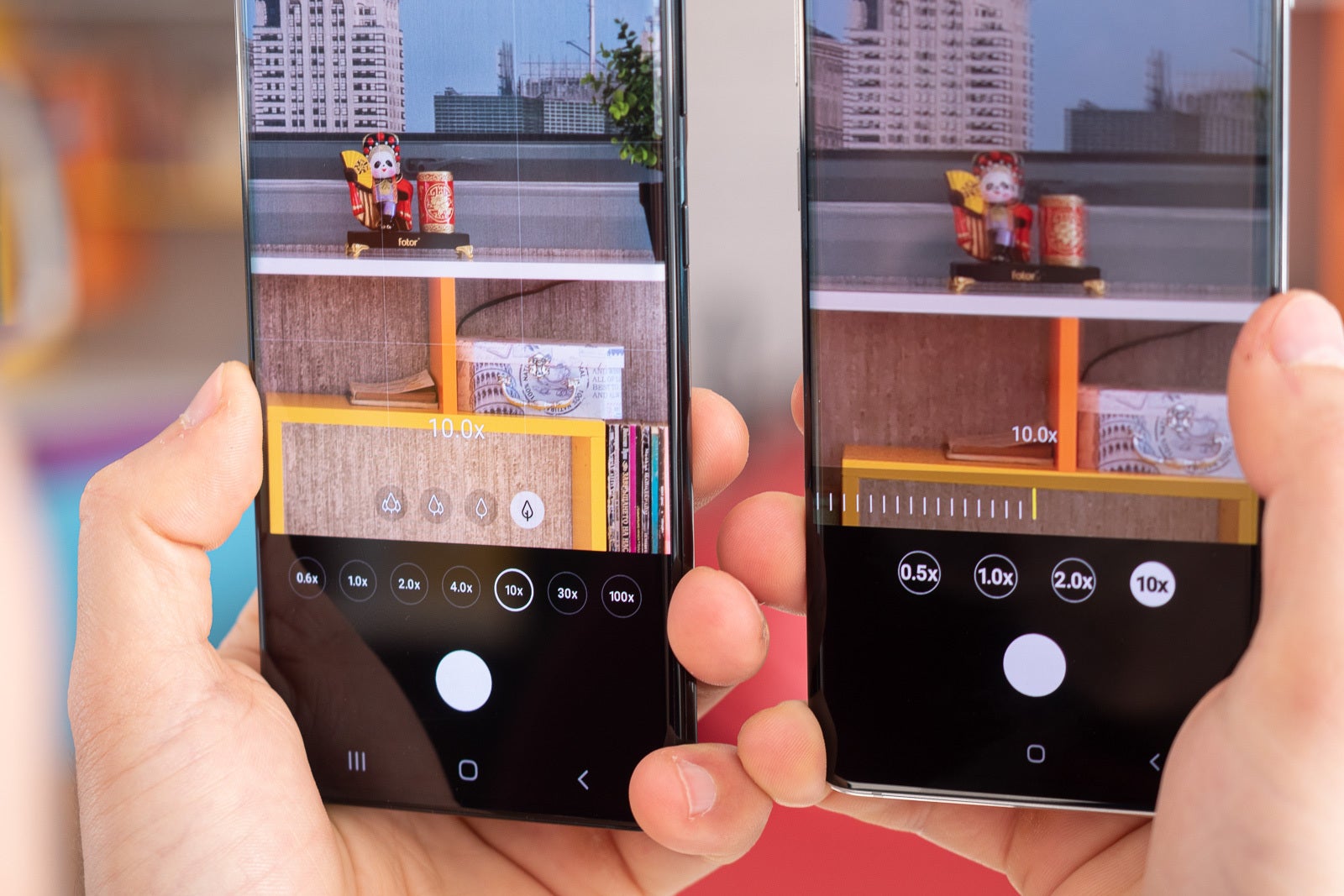 Interestingly, the S10+ has a 2X zoom lens which is not great for far distances but provides exceptional quality for everyday shots and is actually used for Live Focus portrait mode photos, so this older phone might actually capture more detailed portraits than the S21 Ultra. For longer zoom shots, however, the S21 Ultra will be a vast improvement.
Let's take a look at the camera specs first:
| | Galaxy S21 Ultra | Galaxy S10 Plus |
| --- | --- | --- |
| Main Camera | 108MP, 24mm, f/1.8 lens with OIS | 12MP, 26mm f/1.5-f/2.4 lens with OIS |
| Secondary Camera | 12MP ultra-wide, 13mm, f/2.2 lens | 12MP ultra-wide, 12mm |
| Third Camera | 10MP, 3X zoom telephoto lens (72mm, f/2.4) with OIS | 12MP, 2X zoom telephoto with OIS |
| Fourth Camera | 10MP, 10X zoom periscope lens (240mm, f/4.9) with OIS | - |
| Additional sensors | Laser auto focus | - |
Interestingly, the main camera on the S21 Ultra is said to have a 24mm focal length against 26mm on the S10+ (and most other phones for that matter). That might not seem like a big difference but in reality you will get a much wider perspective in photos with the main camera on the new Ultra.
As for video, the S21 Ultra supports 8K recording at 24fps, while the S10 Plus maxes out at a 4K resolution. 8K video files look impressive, but keep in mind that you need an 8K monitor or TV to view them in their full glory, and very few people have that currently.
Most of you, however, will be recording video at 4K resolution, and the quality in that regard has indeed improved a great deal: detail is cleaner and better defined, the low light performance is better and the zoom quality... well, see for youselves:
Battery Life and Charging speeds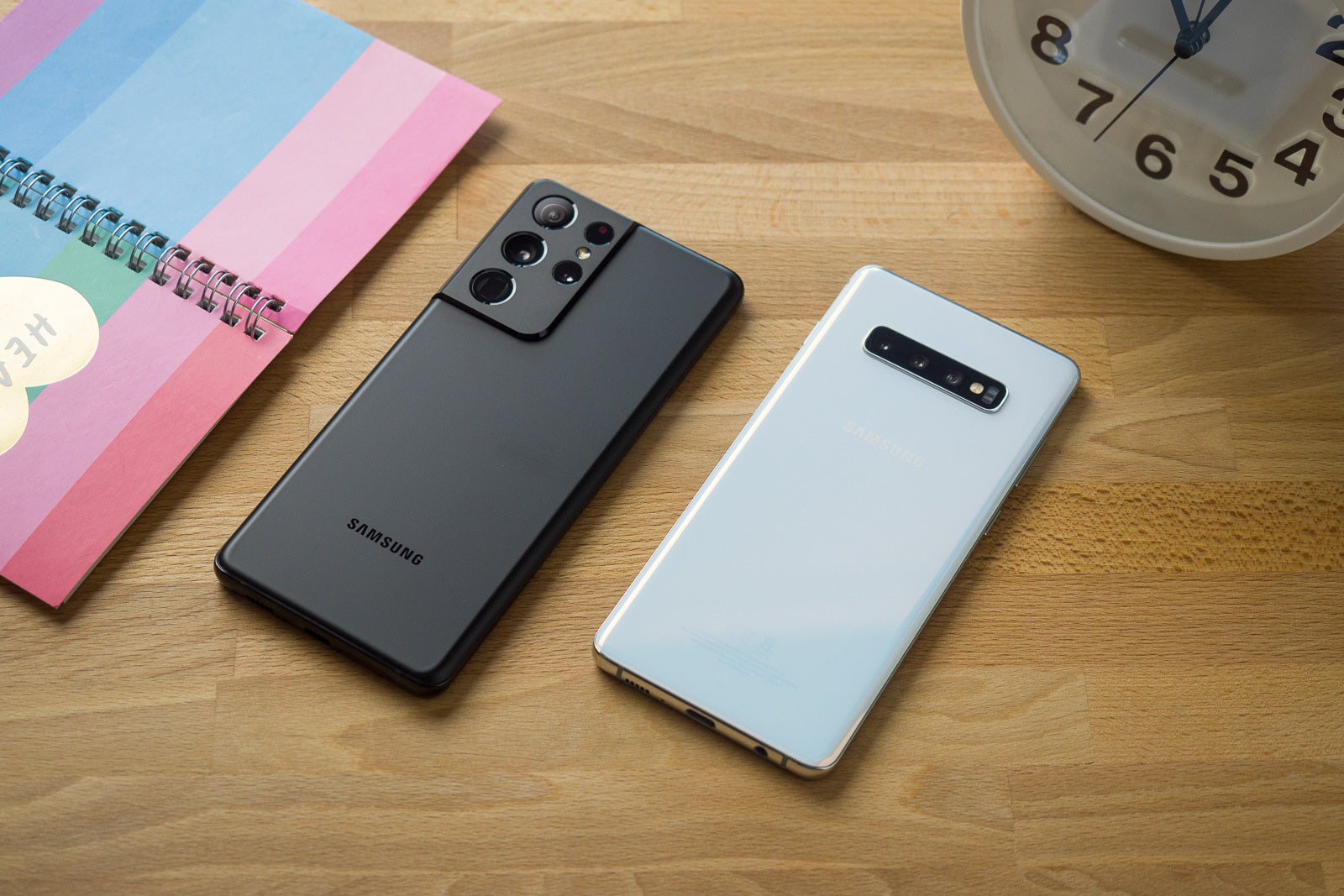 5,000mAh (Galaxy S21 Ultra) vs 4,100mAh (Galaxy S10+)
Faster charging on S21 Ultra
Finally, there is a big difference in battery size too. The beefy S21 Ultra has a massive, 5,000mAh battery cell inside, while the price for having a thin and elegant device like the S10+ is a smaller, 4,100mAh battery. That's a considerable difference, and the S21 Ultra delivers a noticeably better battery performance in daily use.
For charging, the S21 Ultra supports speeds of up to 25W via a wire, and both support wireless charging at speeds of up to 15 watts. This is a good place to mention that for the first time, a flagship Samsung phone will come without a charger in the box, and you'd only get a USB-C cable for free. The S10+ comfortably comes with both a charger and a cable included in the package. As for actual charging speeds, the S21 Ultra charges fully in a bit more than an hour, way faster than the hour and a half it takes the S10+ to fully juice up, despite the larger battery.
Prices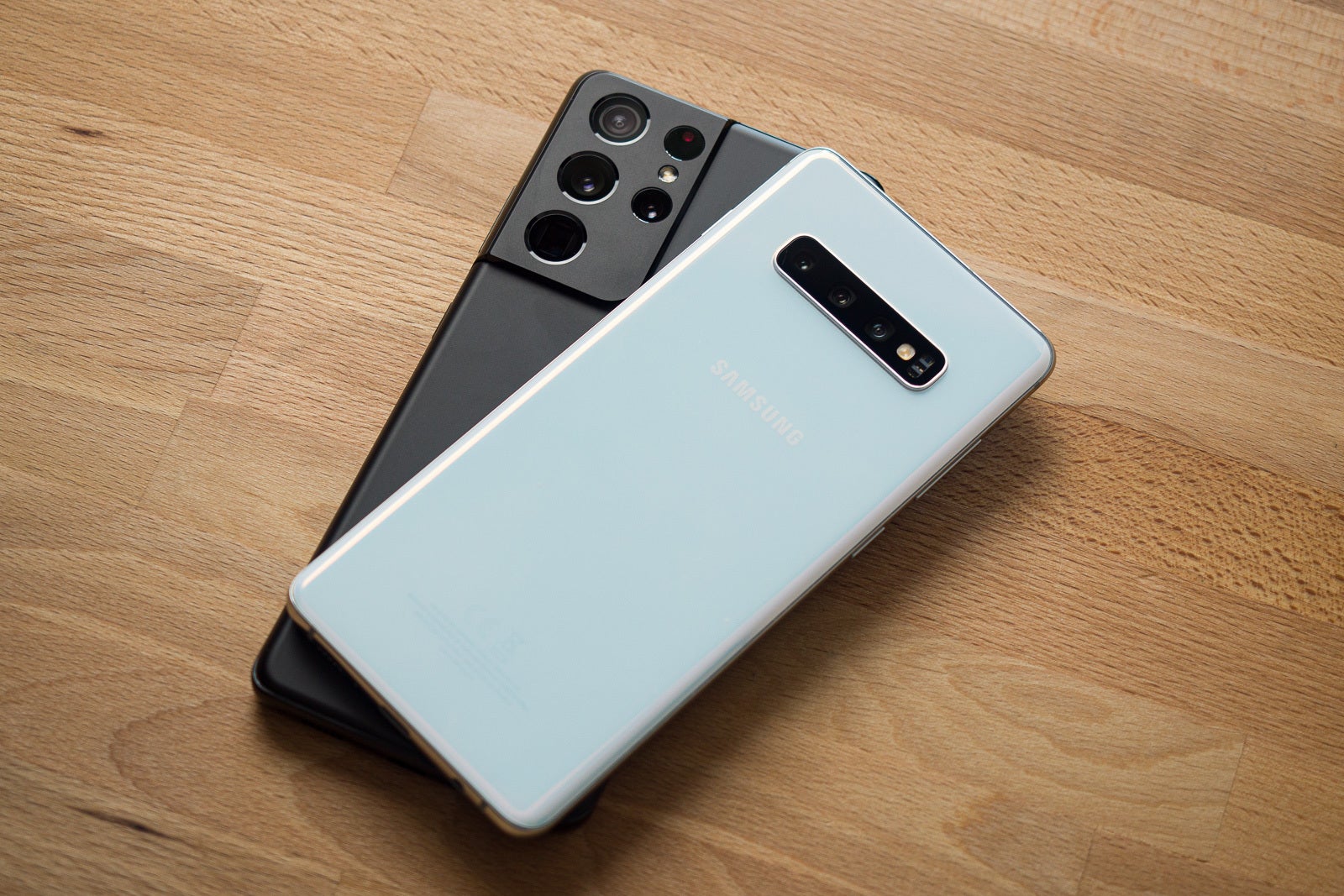 Last but not least, let's talk prices because this is where the Galaxy S10+ really makes a strong case for itself.
Being a 2-year-old device, comes with perks: the Galaxy S10+ these days costs around $650 dollars, or even less with various deals, and that is half the price of the S21 Ultra. You can almost buy two S10+ phones for the price of one S21 Ultra, and both come with the same 128GB of storage.
Samsung Galaxy S21 Ultra 5G — $1,200 for 128GB model, $1,250 for 256GB, $1,380 for 512GB
Samsung Galaxy S10 Plus — $650 for 128GB model