Samsung Galaxy Note 7 vs Apple iPhone 6s Plus
66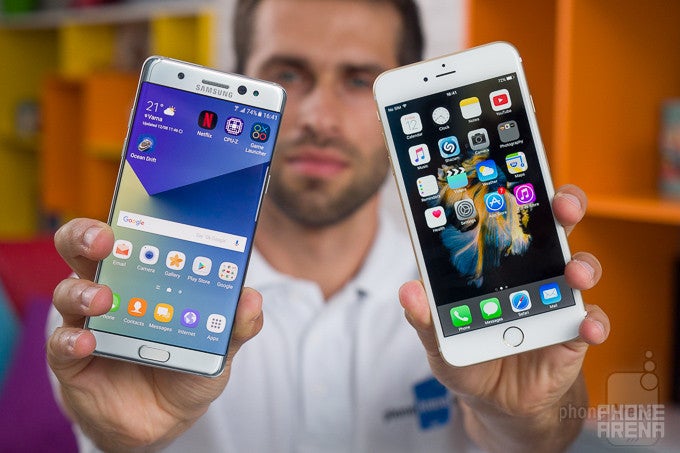 The Samsung Galaxy Note 7 has been discontinued following numerous reports of units catching fire or exploding. In the interest of safety, users who still have a Note 7 in their possession must return the unit to Samsung.
Introduction
Apple may have well come up with the blueprint of the modern smartphone, but when it comes to extra-large devices—or what we've come to begrudgingly refer to as 'phablets'—Samsung led the charge. The Galaxy Note, released in 2011, is that original phablet, while Apple waited until 2014 to come up with one.
But phablets sell. Pretty well, in fact. And so the iPhone Plus line was born, with the
iPhone 6s Plus
its latest—and now kind of aged—member. Put against the newly-announced
Note 7
, it has the unenviable task of holding the front until Apple gets around to refreshing on its own recipe come in just a month's or so time.
Let's see if it stands a chance.
Design
Tepid reception to the Galaxy S and Note lines, as far as their design game is concerned, has for years bugged Samsung. This level of self-awareness, in retrospect, has played a vital role in its decision to revamp its flagship vision, with the Galaxy S6 paving the way for more premium-looking and feeling materials. The Note 7 is no exception, and this time around comes only in a 'dual curved' display flavor.
With an aluminum frame sandwiched between two sheets of Gorilla Glass 5, the phone has the building blocks of a fancy-looking smartphone down. But to exclude the display from the equation would be a mistake. The sloping glass up front is, without a doubt, the highlight of Samsung's designwork, lending the phone a rather futuristic look.
In comparison, Apple is continuing its legacy of conservative, but exquisite design play. In comparison, it almost feels like the iPhone 6s Plus sees no reason to seek out the spotlight. That said, when it comes to questions of practical engineering, Samsung is miles ahead.
Indeed, despite its larger display, the Note 7 is narrower, shorter, and noticeably lighter. Put next to it, the iPhone 6s Plus feels a bit like a simple display bump work rather than a thoroughly considered device that will be used by humans with finite hand sizes.
Display
Point Apple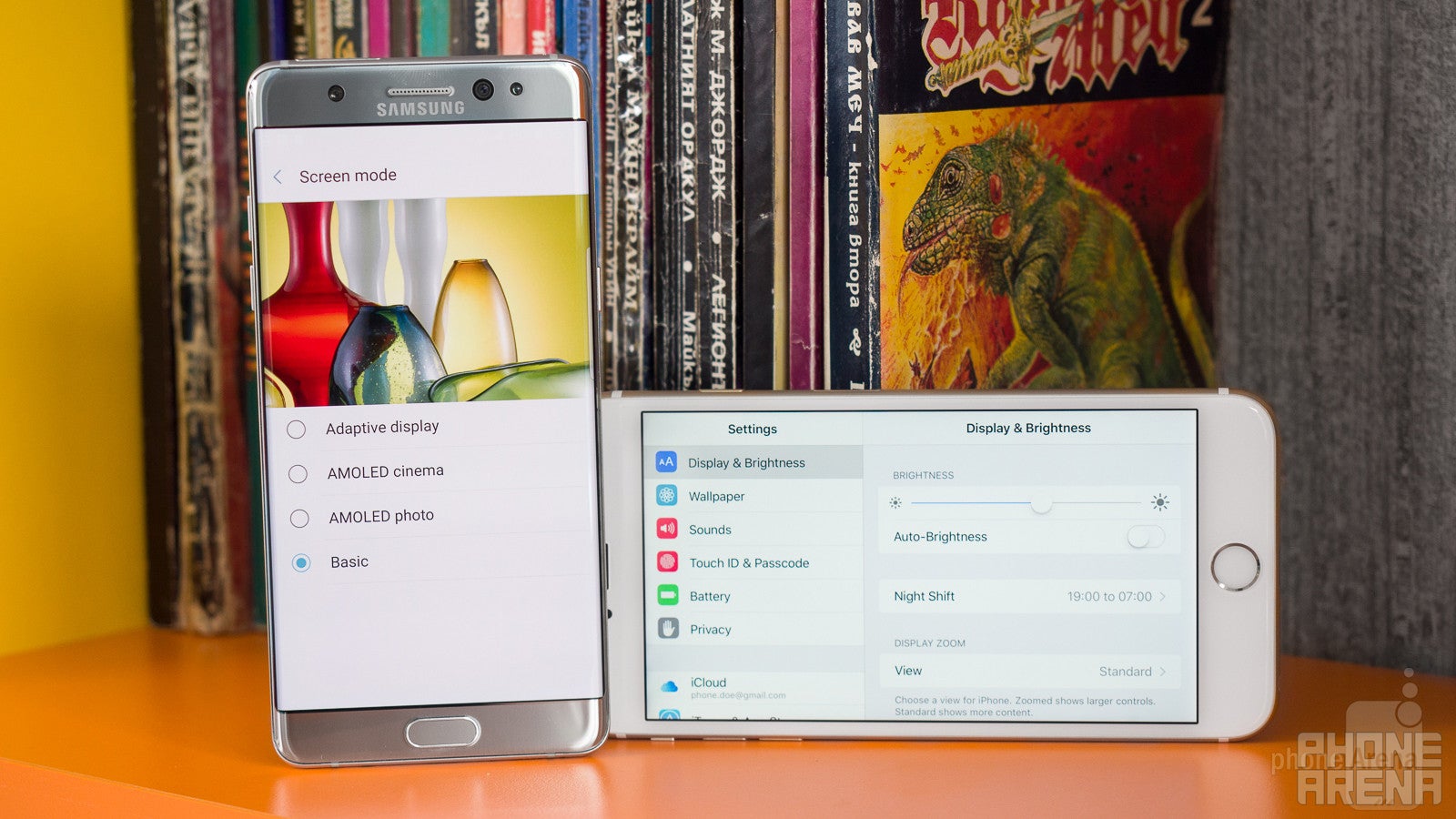 At 5.7-inches, the dual-curved Super AMOLED display on the Note 7 offers slightly more screen real estate than the iPhone 6s Plus' 5.5-inch glass.
As for the quality of the panels in question, it's an interesting interaction. All iPhone 6s Plus displays come factory-calibrated and there's no way for you to meddle with this, unlike with the Note 7. By default, then, the iPhone 6s Plus offers an excellent color accuracy for the standard sRGB gamut. With the exception of its slightly colder color temperature, the 6s Plus is one excellent IPS display, with peak brightness of nearly 600 nits, and a low of 5 nits—very good for night owls.
Turning to the Note 7, things aren't quite so simple. The phone ships with the overly saturated and visibly color-incorrect Adaptive Display profile on, most useful for unfavorable outside conditions in terms of visibility. Of course, you can always switch to the Basic display profile, which is aimed at representing that same sRGB color space. Unfortunately, the balance between red, green, and blue (RGB) is off on our international unit, with the former being seriously underrepresented. In result, shades of grey and even whites are marred by an unfortunate blue-green cast, which is easily visible when put next to our callibrated work monitors, and indeed, next to the iPhone 6s Plus. Interestingly, we also have the US version of the Note 7, with the Snapdragon processor, and it exhibits a considerably better color balance, in line with the 6s Plus, so obviously display quality with the Note 7 is going to vary from unit to unit.
Finally, on the brightness front, the Note 7 does splendidly, with over 570 nits peak brightness when in Auto mode. In fact, when it comes to minimum brightness, the Note 7 is capable of producing just 1 nit of brightness, which is very convenient for night reading.
Display measurements and quality
Recommended Stories