Oppo Reno 10x Zoom review
14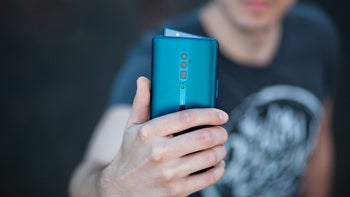 Oppo is a brand that's never been afraid of experimentation. On the contrary. For years now, the company has been breaking new ground with many bold ideas and concepts. Some of them have been worthwhile, while others were destined to obscurity from the get-go. The company's newest smartphone, the Oppo Reno 10x Zoom, has a little bit of both in its DNA.
The Oppo Reno is a member of a new breed of smartphone – one that takes to heart the bezel-less design concept and runs with it no matter what. As such, it fulfills one of the biggest desires in the tech world – that for a truly all-screen device.
Oppo's latest smartphone is equipped with an eye-popping 6.6-inch display, surrounded with the thinnest of bezels. It isn't curved, rather completely flat, and it isn't compromised in any way, be it by a notch or camera hole-punch. To achieve this, the front-facing camera is hidden inside the phone and pops out only on demand. Even though we've seen this approach before, the Reno shakes things up with a differently-styled module that resembles a shark fin.
The futuristic design, coupled with an impressive periscope camera with up to 10x zoom, and equally as impressive specs, make for a great phone on paper. But being good on paper is one thing; being actually good is a different story entirely. So, is the Oppo Reno 10x Zoom really worthy of your time and money? Here's our review.
In the box:
Oppo Reno 10x Zoom
Protective case
25-watt VOOC wall charger
USB Type-C cable
SIM ejector tool
Wired USB-C headphones (w/ 3 sets of rubber tips)
User manual
Design
The first thing you notice when you hold the Oppo Reno 10x Zoom in your hand is just how heavy it is. The phone weighs 215 grams (or 7.58 oz), which may not sound like much, but to put it into perspective, the Samsung Galaxy Note 9 and iPhone XS Max weigh 201 and 208 grams, respectively, and those or some of the heaviest phones around. But that's not necessarily a bad thing, as the added weigh contributes to the all-around solidness of the device.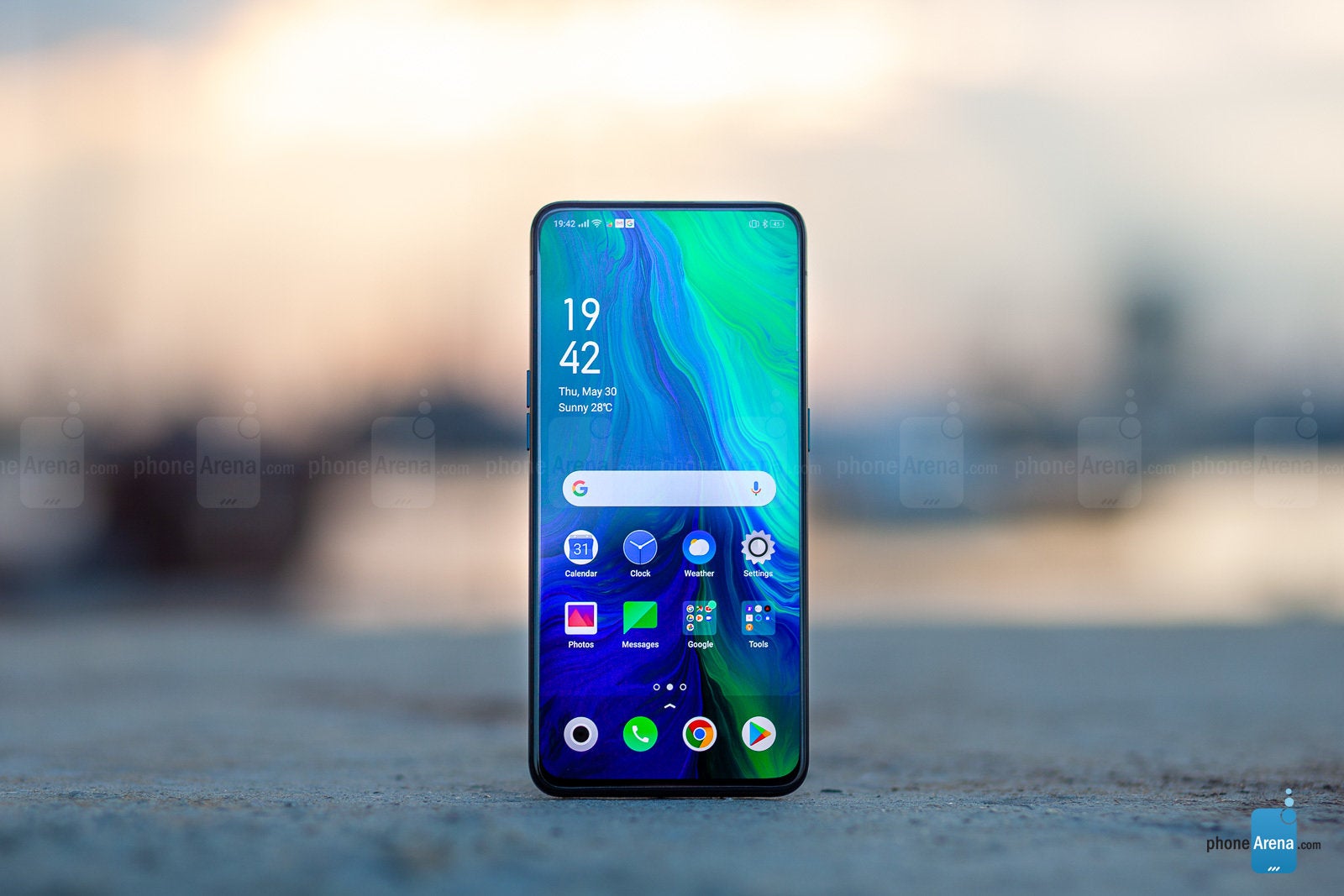 Aside from being heavier than most phones, the Oppo Reno 10x Zoom is also a bit thicker – a trait that can probably be attributed to the size of the battery and the pop-out mechanism for the front-facing camera that need requires some extra space inside the phone.
So, the Oppo Reno is neither small, nor thin or light, but that doesn't make it an ugly phone. In fact, it looks quite stunning with its 6.6-inch OLED display, surrounded by razor-thin bezels, and its symmetrical, gradient-colored back endowed with three cameras.
Speaking of the back, it's made of glass—but curiously, the phone doesn't support wireless charging—and comes in two gradient color options: Ocean Green, the one we're reviewing today, and Jet Black.
The three cameras are completely recessed into the phone, while the flash is hidden on the "shark-fin" and shows up on demand, so there's no bump on the back of the phone, it's completely flat. Well, except for one thing, and that's the tiny O-Dot.
The O-Dot is a design oddity with a quirky name, that we'd totally expect Oppo to come up with. It's a pinhead-size bump, located under the camera lenses, that ever so slightly bulges from the back of the phone. It has a polished black finish with a neon-colored ring around it. The O-Dot's primary function? To look cool… and to slightly raise the phone when placed on its back, according to Oppo. But let's not kid ourselves, it's there mainly to look cool, though I occasionally found myself using it as a place to rest my index finger during calls.
Display
The Oppo Reno 10x Zoom has a 6.6-inch OLED display with a 1080 x 2340 resolution, capable of producing sufficiently sharp visuals. The panel is neither as bright, nor as color-accurate, as what you can expect from the likes of the iPhone XS, Galaxy S10, or OnePlus 7 Pro, but it is by no means bad.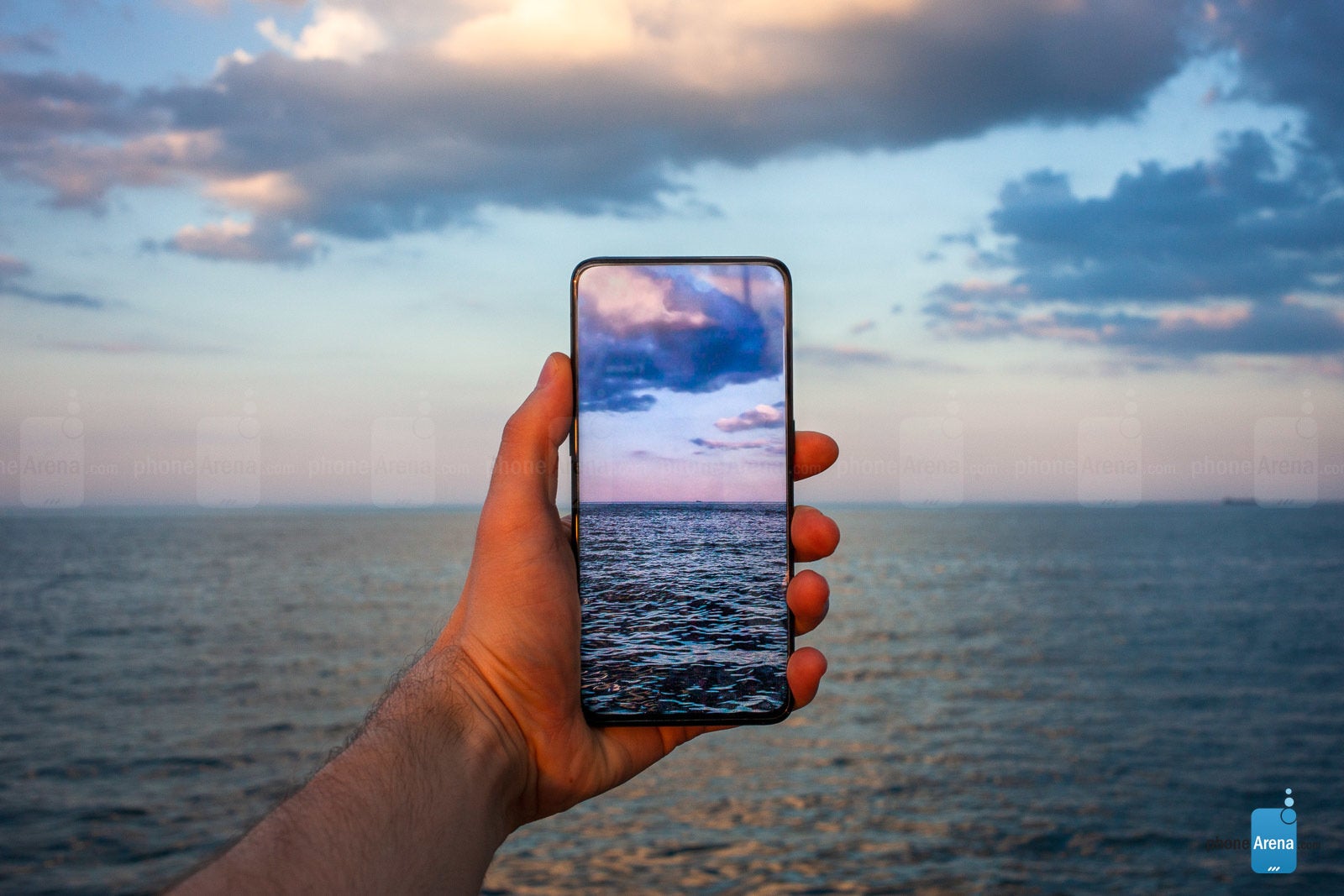 Peak brightness is 415 nits, which is alright for outdoor use, though direct sunlight is sure to impair visibility. On the other hand, minimum brightness is 2.3 nits, which, again, isn't as low as Samsung's AMOLED panels go, but it's still low enough for some night-time reading. Speaking of that, Oppo has built a nice feature in ColorOS 6 that aims to reduce eye strain when using the phone at minimum brightness in dimly-lit environments. It slightly increases image noise on the display, in order to reduce the apparent flickering at low brightness levels. If your eyes are not as sensitive, you may have not noticed low brightness flickering on OLED displays, but it's been a cause of eye strain for many people, so it's nice to see it taken care of in this device.
As far as color accuracy goes, the screen of the Oppo Reno 10x Zoom is slightly on the cooler spectrum. When held next to the iPhone XS, or the Galaxy S10, for example, it gives off a noticeable blue tint. Still, even not quite as accurate as other panels, the Reno has a wide-gamut display with DCI-P3 support that provides sufficient "pop" to the colors.
Display measurements and quality
Software and interface
Disclaimer: Our review unit is not running the final version of ColorOS 6, which is expected to roll out later this month.
Even though this is not the final version of ColorOS 6 running on our Oppo Reno 10x Zoom, we are still going to share our impressions from it. Just keep in mind that things may be subject to change by the time the final release rolls out.
Oppo's custom Android skin, dubbed ColorOS, has sure come a long way. Once a shameless clone of iOS, it has now matured into something much more good-looking and refined, if not entirely original. Traces of its old DNA can still be found in the latest iteration, based on Android 9 Pie, with the Settings screen and notification shade in particular being very reminiscent of iOS in terms of color scheme and layout.
Another thing ColorOS lifts up straight from the competition is the gesture-based navigation. It works very similar to what we've seen in the latest iterations of iOS. To minimize an app, you swipe up from the bottom bezel. If you stop and hold mid-swipe, you'll enter "Recents" view, where running apps are displayed as cards.
Fortunately, Oppo builds on this base in a meaningful way by assigning a swipe gesture for Android's "Back" to both the left and right edges of the screen. It's something that Xiaomi has been doing for a while, and we're particularly fond of it, as it allows you to easily go back, no matter which hand you're using the phone with. Meanwhile, swiping and holding from either the left or right edge of the screen will bring you back to the previously used app.
Speaking of the "Back" gesture, I'd like to open a bracket here. The Oppo Reno 10x Zoom comes boxed with a case. It's well-made and feels sturdy, but it can interfere with the gesture navigation. Since the case has a sizable lip that raises alongside the edges of the screen to provide extra protection, it often gets in the way when trying to perform the "Back" gesture. I found my thumb catching onto the lip of the case and missing the trigger area for the gesture way, way too often.
The Reno has an in-display fingerprint sensor of the optical variety, which is exceptionally quick, but ColorOS is otherwise lacking in security options. For example, there's no face unlock, and no option to change the lock code to a pattern. You're stuck with the default, 6-digit security code, and that's it. You can't have more or less than 6 digits.
There's also no "Double tap to wake" setting. If you want to unlock your phone without picking it up, you'll have to give it a little push or vigorously tap its screen to fool the "Raise to wake" feature and trigger the fingerprint sensor.
Other than that, ColorOS feels smooth and pleasant to interact with, thanks in large part to the revamped, more responsive animations and transitions between apps, and of course, thanks to the high-end processor powering the phone.
Camera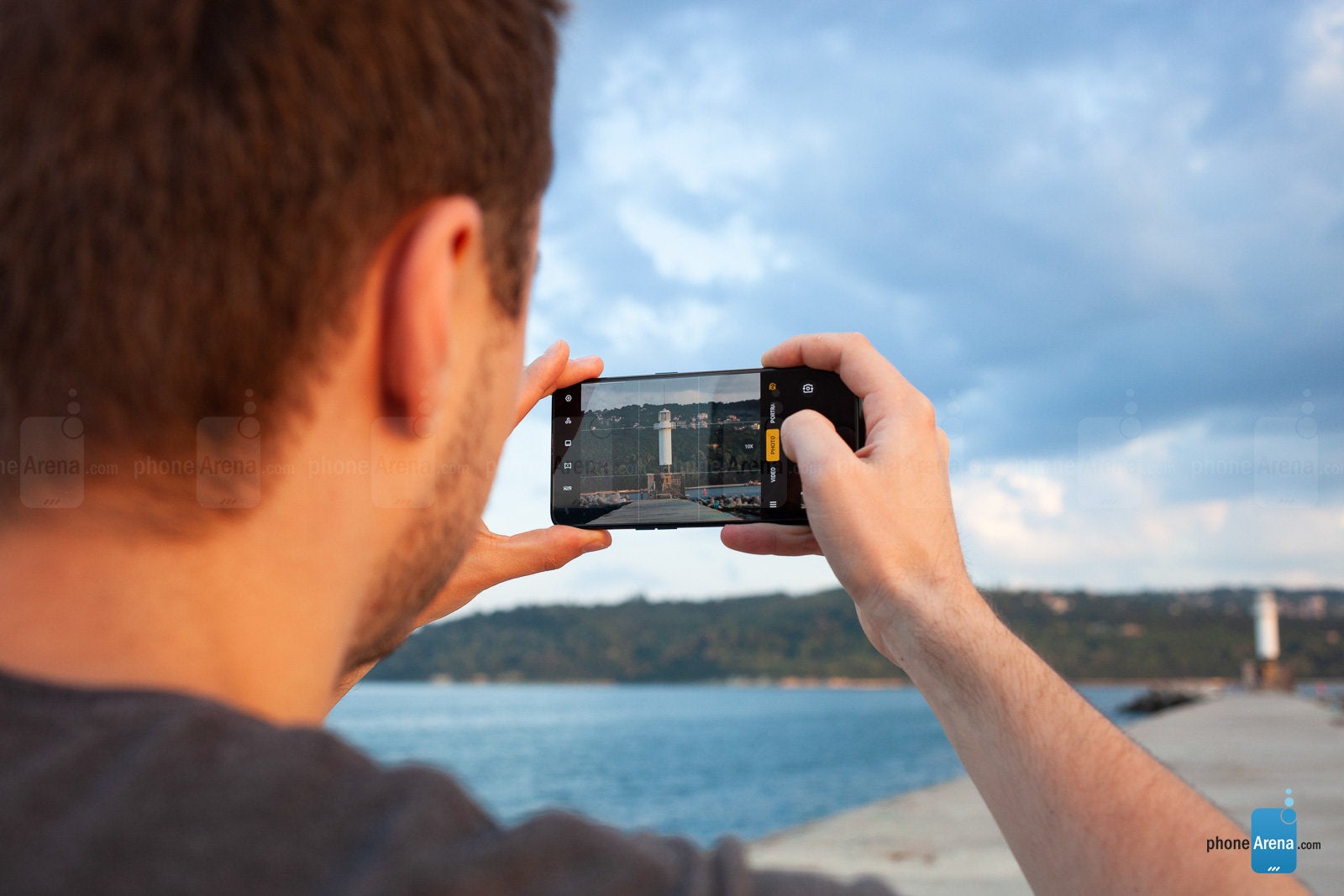 As the name of the Oppo Reno 10x Zoom implies, the camera is the star of the show here. The phone is equipped with three cameras on the back – a primary 48MP camera with an f/1.7 lens, an 8MP wide-angle, and a 13MP telephoto. By using all of them in tandem, the Reno manages to cover quite an impressive focal range – from 16mm to 160mm. Meanwhile, dual OIS will help keep things steady all the way through, though at the maximum zoom level, even slight movements will seem amplified.
The biggest deal, of course, is that 10x zoom, and there's a bit of a catch. Since the Reno's telephoto camera allows for up to 5 times optical magnification, hybrid zoom is employed to push it to 10 times. Still, even though maximum magnification isn't achieved through optical means alone, it still manages to impress:
At night, the same transition—from 16mm all the way up to 160mm—wouldn't look as great, since the wide-angle camera is not particularly suited for low-light photography, while the telephoto can't be used if it's too dark. To be fair, if it's not really dark—as is the case in the samples above—you'll get decent results. For example, if you're taking pictures shortly after the sun has set and the street lights have switched on, you might get adequate results, provided the telephoto camera decides to work. Otherwise, you'll be stuck with digital zoom, which isn't all that great.
The Reno also has Oppo's new Ultra Night Mode 2.0, which is similar to other night mode camera solutions. It works fairly well, though it's somewhat darker when compared to other flagships, especially the Pixel. If you don't use Night mode when it's dark, the results can be dire. Here's a direct comparison between the Reno 10x Zoom and the Galaxy S10, both shooting in their default "Photo" modes:
During the day, the Oppo Reno is capable of capturing nice images, with mostly accurate colors and good dynamic range, without going too heavy on the post-processing. If you're after extra detail, you can switch to 48MP mode, since the main camera shoots at 12MP resolution by default. This way you'll get much larger images, but whether the increase in file size is worth it, varies depending on the situation. Sometimes you'll get nicely detailed images, while in other situations the 48MP files won't look much different than their 12MP counterparts, except bigger.
As is trendy, the Oppo Reno also has a portrait mode that blurs the background behind your subject. Unfortunately, the phone uses its main camera for portrait shots, rather than the telephoto. Since it's equivalent to 27mm, you'll get quite a bit of distortion in your portraits, which is rarely desirable for this type of image. We don't know the reason behind this limitation, but we wish we could use the telephoto camera at 2x zoom for that classic portrait feel. Samsung did the same with the Galaxy S10 and S10+ and we can't wrap our heads around it. There's a telephoto camera on the phone, let us use it for portraits!
Portrait mode also works for selfies, even though the Reno has a single front-facing camera on its "shark fin." There's a very aggressive skin smoothing filter enabled by default when taking selfies, though it can be turned off entirely (and we'd suggest doing so, as the results are far from realistic or subtle). There's also an option to flip your selfies, for those who are way too used to looking in the mirror and need this on their phone.
Even though the Oppo Reno 10x Zoom has three cameras, you can only use the main lens when recording video. That's right, you're locked out of the wide-angle and telephoto cameras when shooting video, so if you want to zoom in, you'll have to rely entirely on digital zoom. And to say that it doesn't match the quality of the telephoto camera would be a gross understatement, as you'll see for yourself in the sample videos below.
Otherwise, the Reno can shoot video in up to 4K@60fps. At this resolution and frame rate, it uses OIS to smoothen the footage. If you move down to 1080p 30fps, you'll also get electronic image stabilization (EIS) on top of OIS. EIS is enabled by default and you can't switch it off.

The phone uses its three microphones to capture what Oppo claims is "360° audio." It does a fairly good job, though when we tried recording some sample videos on a windy day, we noticed that the software muffled the voices while trying to cancel out the wind noise. That's not an easy task, especially considering the small size of the microphones, so we're content with the results we got.
Audio and call quality
The earpiece of the Reno 10x Zoom is located on the shark-fin that also houses the front-facing camera and flash. Don't worry though, it doesn't pop up when you're on a call. Instead, the earpiece delivers audio through the screen, and while it isn't terrible, it's not the best we've heard. It often sounds flat and tinny, and finding the volume sweet spot isn't always easy.
What's worse, the earpiece also doubles as a second speaker. While the bottom-firing speaker on the Oppo Reno performs respectably well, the earpiece seems to just be there to provide a second channel for stereo. The speakers can get sufficiently loud, and while playing music at full volume won't make you want to plug your ears, we've certainly heard better, clearer audio from recent flagships.
The Oppo Reno also doesn't have a headphone jack. It comes with a pair of USB-C earbuds in the box, which sound about as good as you'd expect. I'd say they are on par with most other earbuds that come boxed with flagships these days – clear highs and mids and slightly muffled lows. I found that the default rubber tips didn't provide enough insulation for my years, but thankfully there are two other sizes available in the box, so I switched to the bigger ones.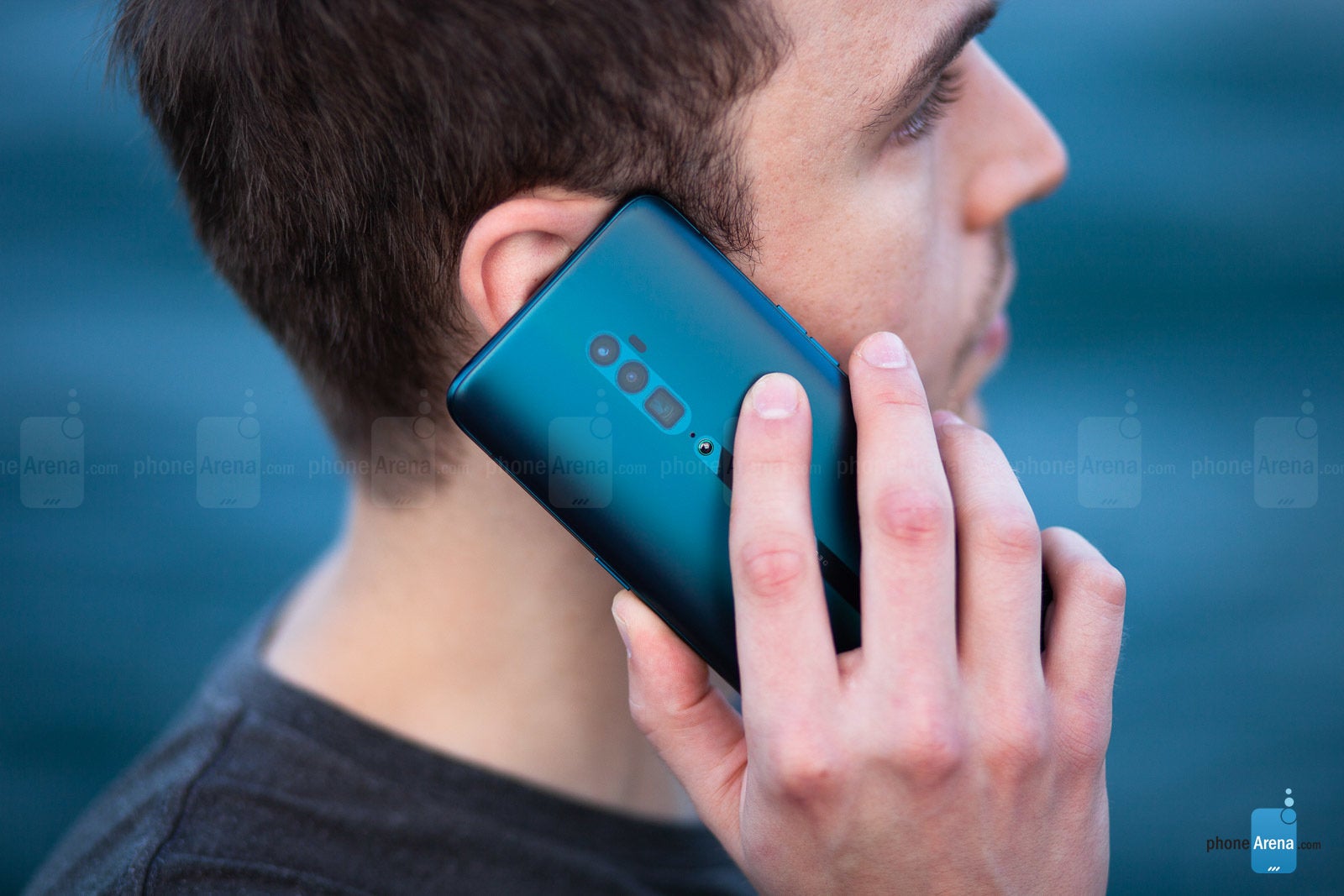 Performance and battery life
The Oppo Reno 10x Zoom is equipped with the Snapdragon 855, which is Qualcomm's current top-of-the-line chip, coupled with 8GB of RAM. To no surprise, this combination of specs ensures smooth sailing on the Reno, whether you're browsing the web with dozens of apps open in the background, or playing a heavy game.
The phone also comes with 256GB of internal storage, expandable via the microSD card slot. It can also take two SIM cards, but if you're looking for additional storage, the microSD card will occupy one of the SIM card slots.
As far as battery life goes, the Oppo Reno 10x Zoom is an excellent performer. Equipped with a 4065mAh battery, the phone managed to deliver an excellent 12 hours and 3 minutes of screen-on time when subjected to our custom battery life test. If used in moderation, the phone can easily last you a couple of days on a single charge.
What's more, the Reno supports VOOC 3.0 flash charge, which makes juicing the battery a very quick process. It made it from 0 to 100% in 84 minutes in our battery test, but if you're not looking doing a full charge, you are looking at faster times. I've managed to get the battery from 7 to 53% in under 30 minutes.
One downside in the battery department, is that the Oppo Reno 10x Zoom doesn't support wireless charging, even though it has a glass back. This is likely because the phone is thicker than average as is, and adding a coil inside for wireless charging would have increased its bulk.
Conclusion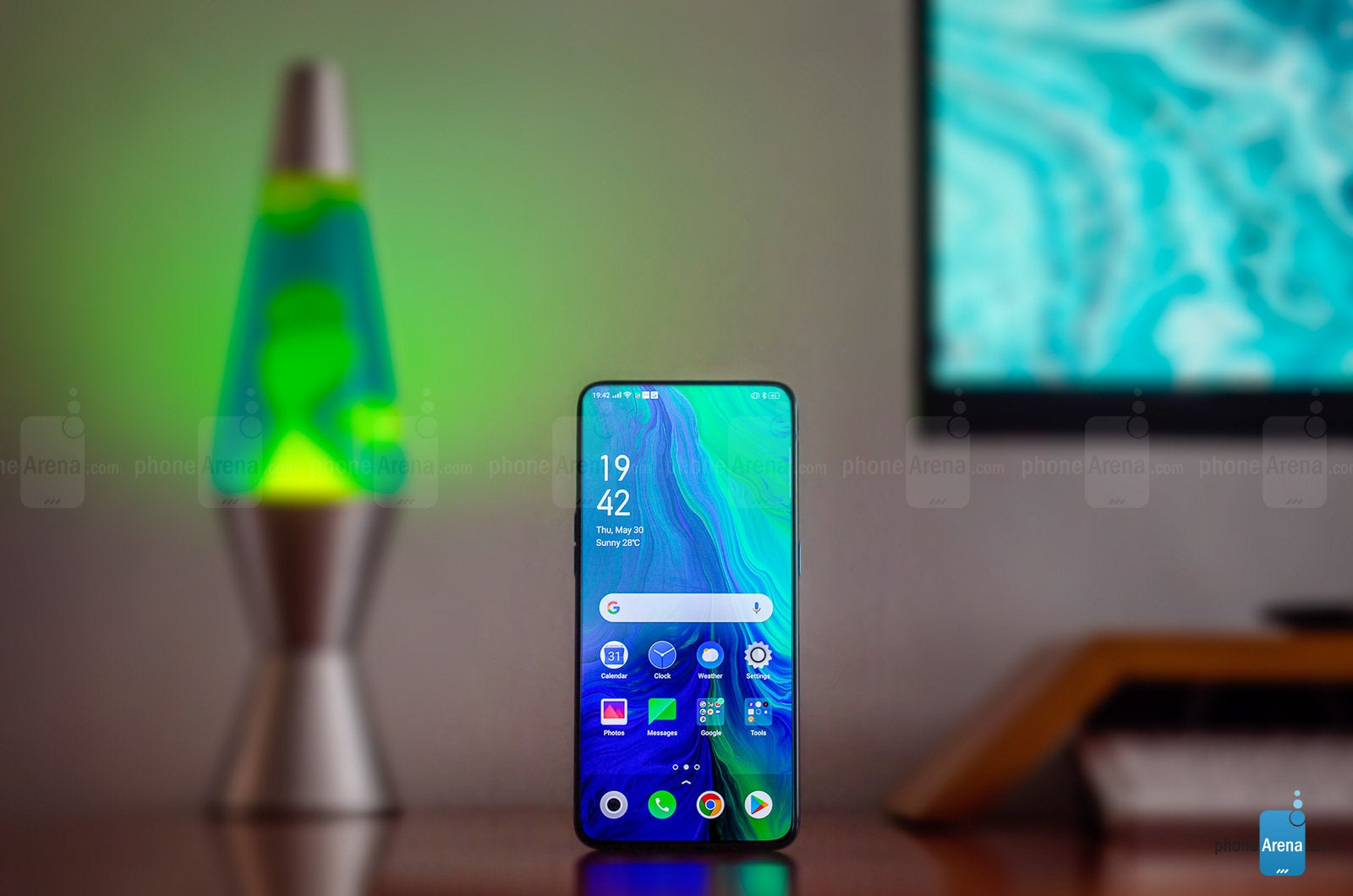 Overall, there's plenty to like about the Oppo Reno 10x Zoom – the fascinating design punctuated by the unusual pop-up camera, the big OLED display, the amazing battery life and specs, and the capable camera. If it was priced more competitively, it would be a killer deal.
The Oppo Reno 10x Zoom starts at around €800 in Europe. That's €100 more than the OnePlus 7 Pro, which may not have 10x zoom, but has a higher resolution display, similar captivating design with a pop-up camera, and more RAM. Oppo is asking a premium price for this phone, and though it may sound fair on paper, considering the specs and features on display, it puts the Reno against some very stiff competition in the high-end segment.
Global availability of the Reno is still somewhat limited, but the phone has already launched in China and will be making its European and Indian debuts this week.