Nokia 6610 review
11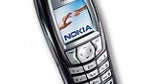 I'd like to apologize first for the long time it took us to re-organize and re-launch PhoneArena.com. The transition is already over and now I can start posting reviews that are long due. I'll try to have a new one every single week.
Nokia 6610 is currently (as of 02/14/2004) offered only from T-Mobile in the US. I chose to review it because of its low price and appeal to the average user. It is very similar in terms of feature to Nokia 7210, and it resembles Nokia 6100 in appearance.
The phone does not lack almost any feature required by the average user, except voice-dialing and voice-recording. I assume the reason for lack of the voice features is the limit of the system memory available.
The Main features of the phone are Java, MMS, speakerphone, color screen (I am not delighted about the 4096 colors only), tri-band operation, organizer and PC synchronization via Nokia PC Suite.
Recommended Stories