Motorola One 5G Ace Review
1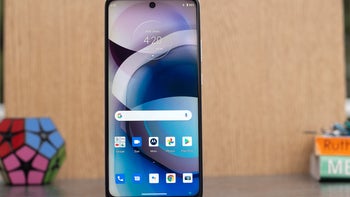 Motorola's new
One 5G Ace
is essentially a stripped-down version of the One 5G from last summer, and that's not a bad thing given how solid that phone was. The new Ace model makes some smart trade-offs to make 5G more accessible, and it mostly succeeds, offering snappy performance, good cameras, great battery life, and a large, pleasing display for under $400. True, there are places where the budget cuts show, like the audio quality or lack of wireless charging and waterproofing beyond basic splash resistance, but this is still a fantastic and mostly futureproof value, another solid effort from
Motorola
.
Design & Display
The One 5G Ace's design is at once flashy and uninspiring. It has the same gentle slopes and rounded edges found on other One series phones, fitting nicely into the hand. But while the phone certainly has a sleek flagship look, its glossy, soft plastic body doesn't feel as sturdy or solid as some of its peers.
The phone features a headphone jack, charging port, and loudspeaker along the bottom, along with a volume rocker and power key across the right side. The back features a rear-facing fingerprint reader (fast, accurate, ergonomic, wonderful), and a stovetop-style square camera bump in the upper left corner.
The display is 6.7 inches and features 1080p, Full HD resolution, making it decently large but not humongous by today's standards. It's an LCD panel, but a much better one than the ones found on Motorola's more budget offerings. It's got fairly punchy colors and good contrast, and it fares better than expected in direct sunlight too, offering enough brightness for easy viewing in almost all lighting.
The bezels are a tad wider than I'd like, especially that bottom chin, but the centered hole-punch selfie camera gives it a clean, immersive look overall. The display on the One 5G Ace isn't groundbreaking, but it's pleasant to look at and use—a win at this price range.
Camera
The One 5G is outfitted with the same solid camera setup many of its Motorola brethren offer, including a 48MP main sensor, 8MP wide angle lens, and 2MP macro shooter. The main camera is competent, making use of 4:1 pixel binning tech for better light capture and detail. It produces great results in a wide variety of situations, with strong dynamic range for more challenging lighting shots. This isn't quite flagship grade, but it should be close enough for most people.
On the other hand, the other lenses aren't quite as impressive. The wide-angle lens is nice to have but not quite as sharp as the main lens, and distortion can be an issue. The macro lens performs about as well as the One 5G or any other recent Moto device, but it still feels like a novelty more than a true useful mode. I'd much rather see a telephoto lens taking up that space.
Motorola's camera software is very similar to Google's and it feels smooth and intuitive to use. The One 5G Ace has a night mode too, called Night Vision, which takes a longer exposure to unearth more detail from the shadows of darker shots. The photos produced can sometimes feel exaggeratedly bright, but they do manage to capture a fair amount of detail in dimly lit situations. Not bad!
Selfies, too, are surprisingly robust with its 16MP sensor, offering good colors and lighting in most circumstances. Interestingly, the selfie camera also uses the pixel binning it has on the main camera, meaning the actual photos are only 4MP in resolution. That may sound low, but unless you plan on printing your selfies, you should be fine.
Software & Performance
Motorola isn't often mentioned in the context of best Android skins, but it's definitely up there. Moto's My UX offers a level of customizability and user-friendliness that's not easy to find elsewhere, and the phone offers slick gesture commands that make frequently used features, from split-screen multitasking to screenshots, feel even more intuitive.
Of concern though, is that Motorola is only promising one OS upgrade, potentially leaving users stranded on Android 11 come 2022. We'd hope to see at least Android 12 for this device, but the future is uncertain for now.
Outfitted with a Snapdragon 750G chipset and 4GB of RAM, the One 5G Ace doesn't skimp on performance despite its lower price tag. The One 5G Ace feels fluid and fast through HDR image processing, gaming, and multitasking, with nary a hiccup in sight.
Battery
The Motorola One 5G Ace packs a 5,000mAh battery, which can power the phone for up to two full days of use. I found that one and half days of usage was a breeze, and two days was certainly doable if I was careful.
When it's time to charge, the phone supports 15W TurboPower charging with the included charger, and it takes around 90 minutes top up. Wireless charging is missing here, but that's not really a surprise since most of the Moto family doesn't support it either.