Motorola DROID Ultra vs Samsung Galaxy S4
32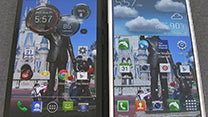 Introduction
Without a doubt, the
Motorola DROID Ultra
and
Samsung Galaxy S4
are top tier smartphones from these respective companies, and carry the same $199.99 on-contract price from Verizon. But that is where most similarities end, as both devices have their own strong-points and short-comings, while trying to get your purchasing attention. The Galaxy S4 has been out for a couple of months now, and has a strong following, with an impressive 5" 1080x1920 display, 13MP camera, and quad-core processor. While the DROID Ultra has just been released, and continues the "DROID" branding, with Kevlar construction, 5" 720x1280 display, 10MP Clear Pixel camera, and uses the new Motorola X8 processor.
Now let's take a closer look at these two smartphones and see how they stack-up next to each other.
Design
Both the Motorola DROID Ultra and Samsung Galaxy S4 are stylish in their own rite, though there are some differences. Most notably, the Galaxy S4 is slightly smaller in height and width, and has more curved edges, allowing it to fit more comfortably in your hand, while the DROID Ultra is the thinner of the two at only 7.18mm. The DROID Ultra is constructed out of Kevlar, making it more durable than the plastic polymer used by the Galaxy S4. Even though both devices have a glossy finish on the back, the DROID Ultra takes this to an even higher level, making it magnet for fingerprints and smudges.
Display
Since the DROID Ultra and Galaxy S4 both make use of a 5" Super AMOLED display, we are treated to nice saturated colors and excellent viewing angles. The key difference is that the display resolution on the Galaxy S4 is 1080x1920, while the DROID Ultra is 720x1280. Because of this, the Galaxy S4 has a higher pixels-per-inch count of 441, allowing for sharper text and images, while the DROID Ultra coming in at a lower 294 pixels-per-inch count. When looking at both phones next to each other, the difference is quite noticeable, and we are drawn instantly to the higher resolution display on the Galaxy S4.
Additionally, the Galaxy S4 comes with Samsung's Air View feature, allowing it to track your finger movement as you hover over the display. But the DROID Ultra comes with Motorola's new Active Display notifications, allowing only the center part of the display to turn on when checking the time, or if a new notification arrives, which is said to help conserve battery life.
Motorola DROID Ultra 360-Degrees View:
Samsung Galaxy S4 360-Degrees View:
Recommended Stories