Moto G Stylus Review (2021)
2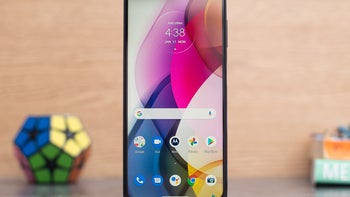 After the Moto G Stylus's unexpected success, Motorola was smart to release a follow-up this quickly. This time, the company has managed to double up on the model's strengths and add some welcome upgrades, making for a formidable midranger. At the same price point of $299, this phone is a good value whether you want that stylus or not.
Design & Display
The new G Stylus looks like a cross between last year's G Stylus and the new Motorola One devices, featuring a sleek, futuristic build and curved back. The glossy black shell is plastic, but it could pass for glass, feeling solid and sturdy in the hand.
The phone has its speaker, charging port, headphone jack, and mic across the bottom, while its volume and power buttons are on the right side. The power button doubles as a side-mounted fingerprint sensor, and it's alright. The narrow sensor is fairly accurate with very few false negatives, but it's not the most responsive reader, nor the most comfortable position.
The back of the device houses a rectangular camera bump, Motorola logo, and basically nothing else. Overall, the phone feels well made, not too heavy, and easy to handle.
The display has received a boost from 6.4 inches to 6.8, making for a more comfortable and expansive canvas for that stylus. The 1080p LCD panel is adequate but short of excellent, with fairly pleasing colors and contrast levels. In direct sunlight, it barely squeaks by with middling visibility, though indoors it's generally clear and bright.
Like last year, the stylus is easy to use, and the phone will automatically open Moto Notes when it is removed, even from a locked state (the default app can be switched to Google Keep, should you fancy it). The pen is slim but ergonomic and easy to write or doodle with, with precise controls and a smooth glide over the display. Unfortunately, there's nothing like the fancy pressure sensitivity or palm rejection pricier models have, though that's to be expected.
Camera
The camera is another area where the G Stylus has received a boost, now with the addition of 8MP wide angle lens to complement the 48MP main shooter. The main camera is really quite good at this price range, offering versatility and sharpness across many shooting scenarios. Does it challenge the $350 Pixel 4a? No, but neither do most phones, period.
The wide-angle is nice to have for tighter shots or sweeping landscapes, though its shots aren't always as detailed or well exposed. Motorola also continues its affair with macro, including a 2MP sensor here, but I'm still not convinced it provides value beyond the niche novelty. It performs okay, but its usefulness is limited by nature.
Selfies from the 16MP front-facing shooter are generally fine except in very dark lighting, and skin tones and textures are accurately processed in most cases. Occasionally, details can look artificially over-sharpened, but it isn't a major issue. The selfie camera uses Quad Pixel binning like the main shooter, trading raw resolution for detail and exposure, and that's a fairly good trade.
Software & Performance
Moto's custom UI is clean, fast, and friendly. The customizable aesthetic and fluid gesture controls are added conveniences over stock Android, but it still feels zippy, not weighed down or overstuffed. Unfortunately, this new crop of Moto phones will reportedly only be guaranteed Android 11, with no confirmed support for future versions of Android.
An upgraded SoC in the form of the Snapdragon 678 keeps the phone humming along, and it's a capable phone in its own right. Power users or gamers may miss the extra gigahertz, but everyone else should be pretty satisfied.
Multitasking is also fluid and elegant with 4GB of RAM on board. While this doesn't begin to challenge the top-tier devices of today, it's still enough to switch between multiple apps on the fly in most cases. One saddening omission is NFC, which enables contactless payments. The Moto G family has long lacked this now-staple feature, and its absence in this day and age feels especially stark.
Battery
The G Stylus isn't a battery headliner like the G Power, but its 4,000mAh battery is more than competent. Thanks to its large power cell and efficient innards, longevity is satisfyingly good. With regular usage, you can expect just 3~4 charges a week to keep the show on the road.
For those top-ups, the phone supports 18W TurboPower charging, which generally gets the battery back up to full in somewhere between an hour and ninety minutes. Wireless charging is missing as well, which is the norm for many mid-rangers, but it does feel like a loss given the G Stylus's status as the priciest G-series phone this year.