LG G4 vs Google Nexus 6
18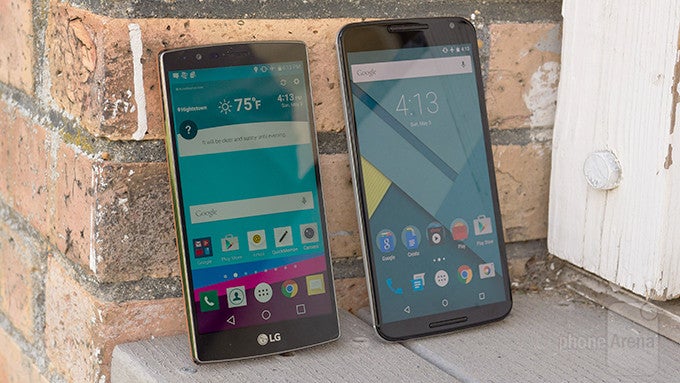 Introduction
Phablets, they're the perennial behemoths in the space. Just when we all thought they couldn't get any bigger, companies continue to push the envelope, trimming wherever they can find, to bring us even larger sized smartphones that we can try to fit in our pockets. Not everyone fancies these gargantuan beasts, especially when they're sometimes just obnoxiously big, but on the other end of the spectrum, they certainly have their unique qualities and claims.
One of them in particular, the
Google Nexus 6
, surely doesn't try to hide the fact that it's a gigantic phone in the space. However, despite its Goliath size, it's a monumental phone that's rich with drool worthy specs and the power of vanilla Android to win over hardened enthusiast of the platform. Meanwhile, the
LG G4
, being the newcomer and all, intends to establish itself as a formidable rival with all of the improvements that accompany any successive phone – though, it'll need to prove to people that it has more value over the Nexus 6, to reign supreme in this comparison.
Design
It's the tough construction and gigantic size of the Nexus 6, versus the sophisticated look of the G4. The decision is yours!
First and foremost, there's the matter regarding their sizes, which is arguably the most apparent thing about their designs over everything else. Certainly, the Nexus 6 is a handful of a phone to handle – primarily due to its wider and taller stature, making it really tough to use single-handedly. In comparison, the LG has been trimmed in areas where appropriate, to give it less of an overbearing feel in the hand. Technically, though, it's the Nexus 6 that offers the better screen-to-body ratio of 74.03%, versus the 72.46% mark of the G4.
Aesthetically, it's a tough call definitively saying what phone flaunts the superior design. In terms of construction, there's more of that sturdy feel with the Nexus 6, thanks in part to its solid metal trim bezel and sturdier polycarbonate casing – plus, it's a closed design. Indeed, LG adds a new level of sophistication to the G4's design thanks to the new leather backing option, but it doesn't have that overall solid feel we get from handling the Nexus 6. Ultimately, though, it purely comes down to personal preference.
For something occupying a whole lot of real-estate, the only unique thing crammed into the Nexus 6 is its dual front-firing speakers. Beyond that, there's little to get excited about. Although it's not particularly the most feature-rich smartphone we've encountered, the LG G4 bears a fair amount of goodies that include an IR blaster, removable battery, and microSD card slot.
Display
Quad-HD resolution is in effect here, but it's the G4's display that ultimately flaunts the more favorable characteristics.
Big versus bigger, that's the essence of these two displays. For the LG G4, it continues the company's tradition of being forward-moving with its new 5.5-inch 1440 x 2560 IPS Quantum Display. As for the Google Nexus 6, it's certainly a head turner as well thanks to the 6-inch 1440 x 2560 AMOLED display it's been graced with on its façade.
In terms of brightness, the G4 proves to be the better choice, as it achieves a higher maximum brightness of 454 nits, compared to the Nexus 6's overly modest 270 nits. When it comes to color accuracy, however, things aren't so simply. As far as RGB balance goes, the Nexus 6 tends to outdo its counterpart, thanks to a color temperature of 6550 K – pretty much bordering on the reference 6500 K point, whereas the G4 suffers from considerably bluish tones with its 8000 K temperature. However, color tones tend to be overly saturated and intensified with the Nexus 6's AMOLED screen, leading to unpleasant effects such as unrealistically reddish skin. The LG G4 isn't so shy to boost its colors either, but overall, things do look more down-to-Earth on its IPS panel.
All told, we tend to favor the LG G4's display with this comparison, although it does need a lot of improvement as well..
Display measurements and quality