Huawei P40 Pro Plus 5G review, the zoom champion
13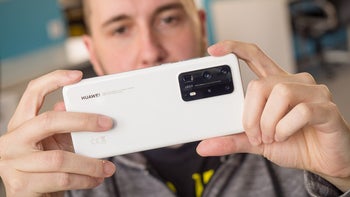 If someone had told us while reviewing the
Galaxy K Zoom
hybrid phone/camera abomination that a few years down the road its 10x optical zoom abilities will be stuffed into a compact and elegant flagship like the
P40 Pro+
here, we'd find it hard to believe them. Huawei, however, did it again (no oopsies).
Ever the competitive challenger, it not only developed the largest camera sensor on a modern phone, but also outfitted its current P40 Pro+ flagship with the first ever 10x optical periscope zoom kit on one.
That's not even mentioning the phone's other virtues like class-leading compact dimensions for the screen size, record fast 40W wireless charging, omnidirectioinal camera autofocus, and multiband 5G connectivity.
How's the zoom quality, you ask? Well, splendid, and it outdoes the S20 Ultra even at the "gimmicky" 100x Space Zoom level, exhibiting more detail and definition. The phone's black or white ceramic build is one of the most premium we've held for a while, aided by the considerable heft of the device.
Overall, the P40 Pro+ is an excellent flagship device that is ahead of its time in several key areas but the record-breaking hardware comes with a hefty price tag of way more than a grand, and you have to jump through hoops to make some apps and services work. Still, where Huawei goes plenty of its competitors follow, so we hope that the P40 Pro+ trailblazer will initiate a space war that can only benefit the end user.
Key Huawei P40 Pro Plus specs and features:
Display: 6.6" 1200p OLED display with 90Hz "stable" refresh
Camera: record 50MP 1/1.28" RYYB sensor + 40MP Ultrawide
Zoom: record 10x periscope optical or 3x telephoto with 8MP
Processor: Kirin 990 5G
Battery: 4200 mAh
Charging speed: record 40W wireless, and 40W wired as well
SIM cards: hybrid dual-SIM/memory card slot and an eSIM
Huawei P40 Pro Plus design and display quality
Premium ceramic and best screen-to-body ratio in its class
Unlike the glass P40 Pro, the P40 Pro+ is crafted in a more premium ceramic on a steel frame body, but sports the same beautiful quad-curve waterfall screen that wraps around not only the sides, but also the top and bottom of the device.
Huawei calls it Overflow Display and with this design concept, the handset achieves a top screen-to-body ratio, stuffing a 6.6" panel in the most compact body for its class. Don't be fooled, though, the curve effect at the top and bottom is more for the cover glass on top, and minimal for the actual screen, while there is still a chin there, bending or not.
As for the dimensions, when compared to the Galaxy S20+ with its 6.7" display, the P40 Pro+ comes shorter and narrower despite the Galaxy's taller aspect ratio, that's how compact it is, and a joy to hold and operate with one hand. There is a clear case in the box so you don't lose much of the stunning looks while protecting the phone from drops and scuffs, and the phone is water-resistant at up to ten feet in depth.
All that ceramic and extra zoom periscope camera paraphernalia make the P40 Pro+ quite a bit heavier, though. Don't get us wrong, just like its sibling, it feels very solid in the hand and has good weight distribution, yet at 7.97 oz (226 g) it is 20% heavier than the average in that big-screen flagship phone class. Thankfully, Huawei also moved away from the coolness factor of one physical button like on the experimental Mate series, and now provides a good old-fashioned volume rocker on the P40 Pro+.
The 6.6" OLED panel comes with 2640x1200 resolution and has a front camera cutout for the dual 32MP selfie camera that has autofocus, depth sensor for portraits, and can do 4K video recording. As you can see from our display quality measurements below, it is a bit better calibrated than even Samsung's panel on the S20 Ultra, with better white balance, less shift at an angle, and more credible color gamut coverage in the colder nuances.
The display also has a Vivid mode that boost color saturation significantly, but even in its default mode it is an excellent panel with spot-on color representation covering the standard gamut, very good white balance, sufficient peak brightness levels for viewing outside in sunlight, and excellent minimum brightness that makes it very suitable for browsing at night without burning your retinas.
Display measurements and quality
The in-display fingerprint scanner has been greatly improved as well, managing to cover 30% more area than before, and feels faster to unlock. Thankfully, Huawei is keeping the optical instead of Samsung's ultrasonic solution that behaves slower, and
more erratic
.
Last but not least, the trendy high refresh rate of the display is here as well, and Huawei thinks that 90Hz stable refresh is the perfect tradeoff between smooth visuals and battery consumption. Looking at the power-hungry 120Hz displays of the S20 series, we can't say that thinking is wrong. Indoors and on automatic brightness, the screen drains about 13% from the battery each hour it is on with the 90Hz refresh in mixed usage, and 11% with the higher refresh rate off, so you might just as well leave it at the default 90Hz setting.

Huawei P40 Pro Plus camera and zoom samples
Covering all the zoom ranges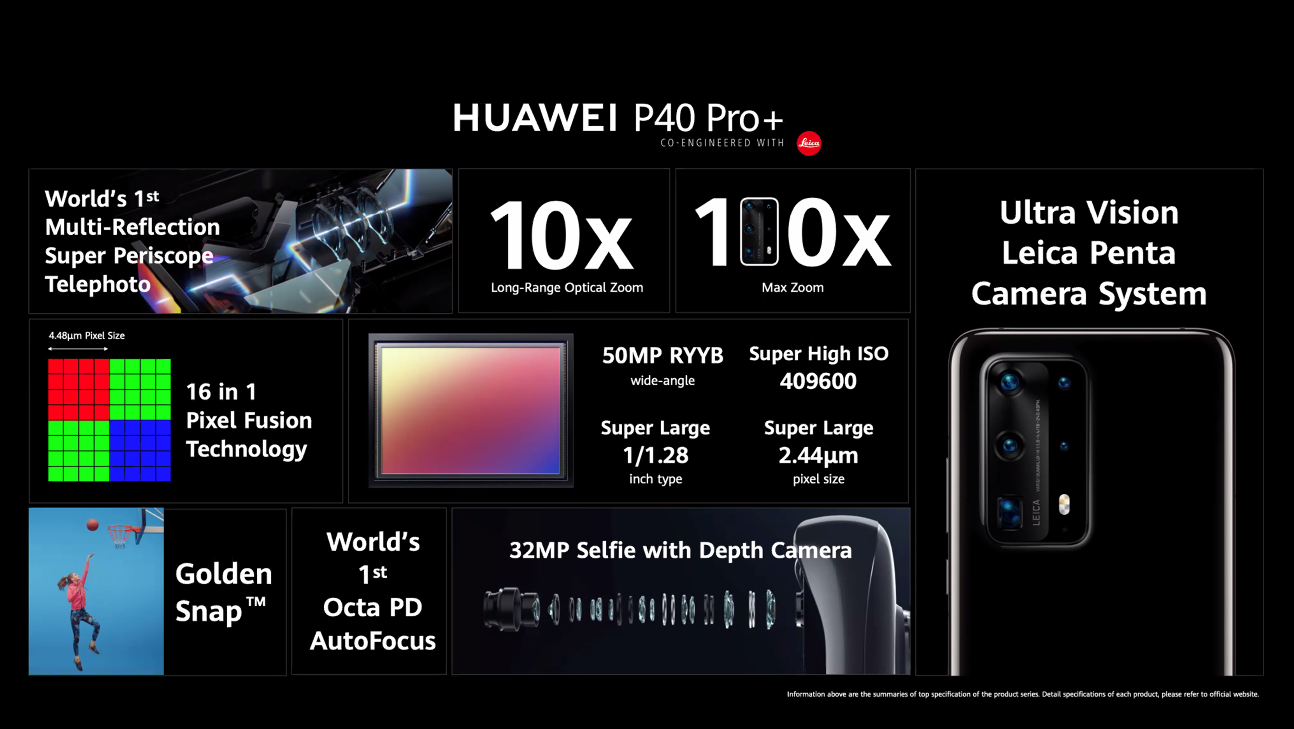 Huawei P40 Pro Plus camera specs
The rumors about a one-of-a-kind 10x periscope zoom materialized for the P40 Pro+, and you can imagine the lossless maginification levels that it is able to pull off. The clean 10x zoom is very clear and detailed, indeed, and the 100x Space Zoom of the S20 Ultra seems gimmicky in comparison. Not that it is not gimmicky on the Pro+, of course, as things at that magnification are bound to be a hot mess, but they are a more defined hot mess with the Pro+ than on the Ultra.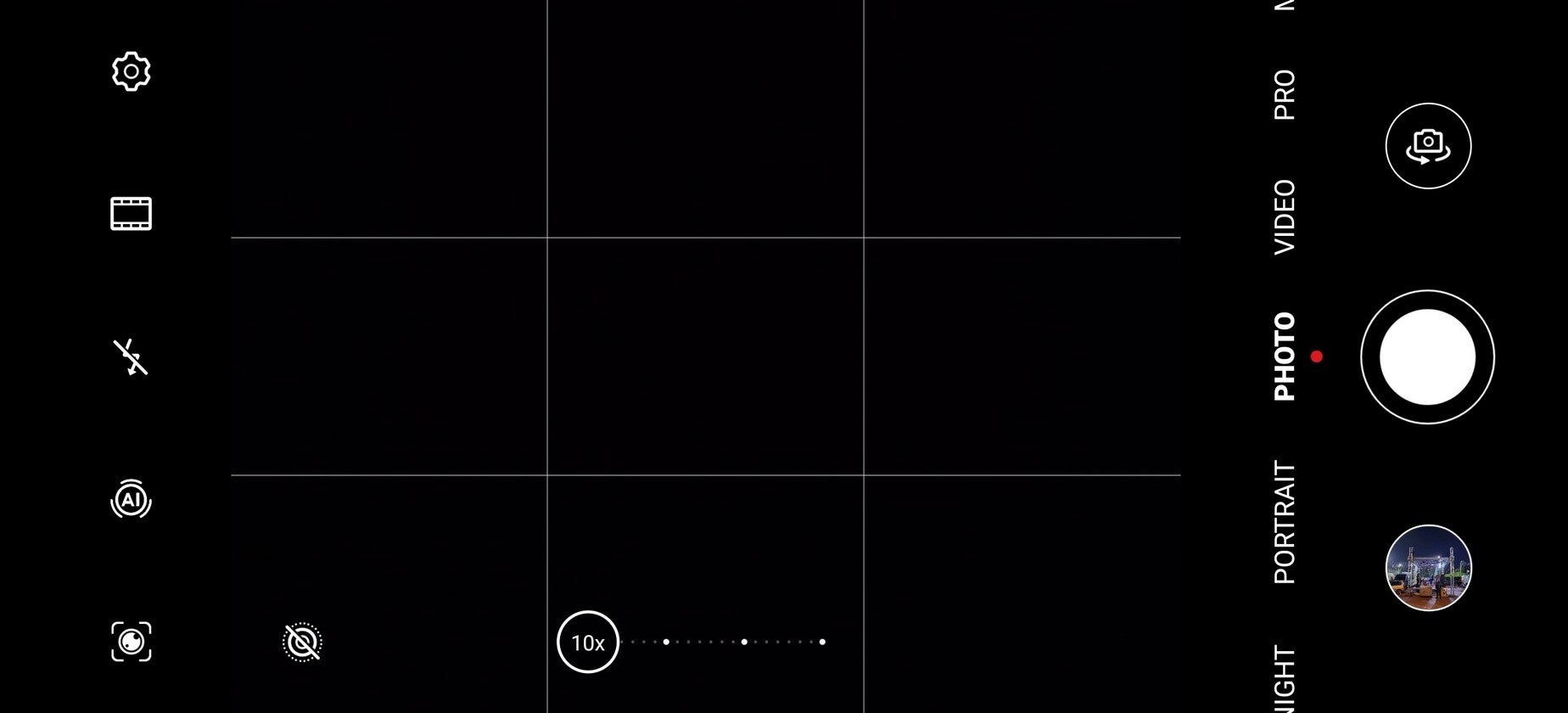 Record zoom levels aren't the only thing that sets the P40 Pro+ apart as the specs king when it comes to phone cameras, as it also sports the largest, 1/1.28" camera sensor in a modern phone, lest we forget the
PureView 808
with its 1/1.2" piece way back when, or hybrid camera/phone abominations from the likes of Panasonic. Not only does the unorthodox RYYB pixel arrangement of the Pro+ help with low-light sensitivity, but the sheer size of the sensor's pixels soaks in 40% more photons than before, says Huawei. There is also a 3x telephoto camera for midrange zoom, and a 40MP ultrawide sensor for group and landscape shots.
< P40 Pro+ 10x
S20 Ultra 10x >
< P40 Pro+ 100x
S20 Ultra 100x >
Looking at the snaps that the P40 Pro+ produced in pitch darkness without even resorting to longer Night mode exposures, we are inclined to believe the stats. Just check out the samples below, the P40 Pro+ holds its own in terms of dynamic range against the S20 Ultra in daytime or indoor shots but beats it at night.
The only area where it gives away is the color scheme, as the RYYB sensor produces a tad weird and washed out hues than the standard RGB sensors but you can use the Leica Smooth color settings to remedy this (don't use the Vivid mode, please, it's gaudy).
The 50MP sensor shoots 12.5MP pics in pixel-merging mode, managed to soak in plenty of detail, albeit not as much as from the 108MP unit on the Ultra. The macro shots are better than with the Ultra, though, as you can't really go too close with the 108MP sensor. Huawei also included a dedicated color temperature sensor to prevent the RYYB pixel set from messing up the cold and warm balance a bit too much, an issue that is now significantly reduced on the P40 Pro+ compared to the P30 series. It's still there, though, as you can see from the comparison with the admittedly coldish hues from the S20 Ultra.
Last but not least, selfies from the 32MP front autofocus camera came out very good even without the portrait mode that uses the second infrared depth sensor to help with the background blur. Here is also where Huawei's much touted AI exposure kicks in most visibly. If you are shooting against a room window, for instance, the phone will first expose your face, then unbeknowst to you will seamlessly stitch different background exposures to effortlessly nail the dynamic range of the photo.
The phone shoots up to 4K video at 60fps, with very good image stabilization when panning around or walking. Daylight videos come out well, and zooming levels are impressive but the continuous autofocus suffers in the default 1080p mode, unique octa phase-detection autofocus or not. When shooting 4K video, the continuous autofocus works instantly when you move between objects near and far, something that we've only seen on Samsung flagships so far, so we guess it is software glitch in the default video mode. Audio recording, however, is a bit muffled and noise-cancellation leaves something to be desired in terms of boosting up the voice of the narrator.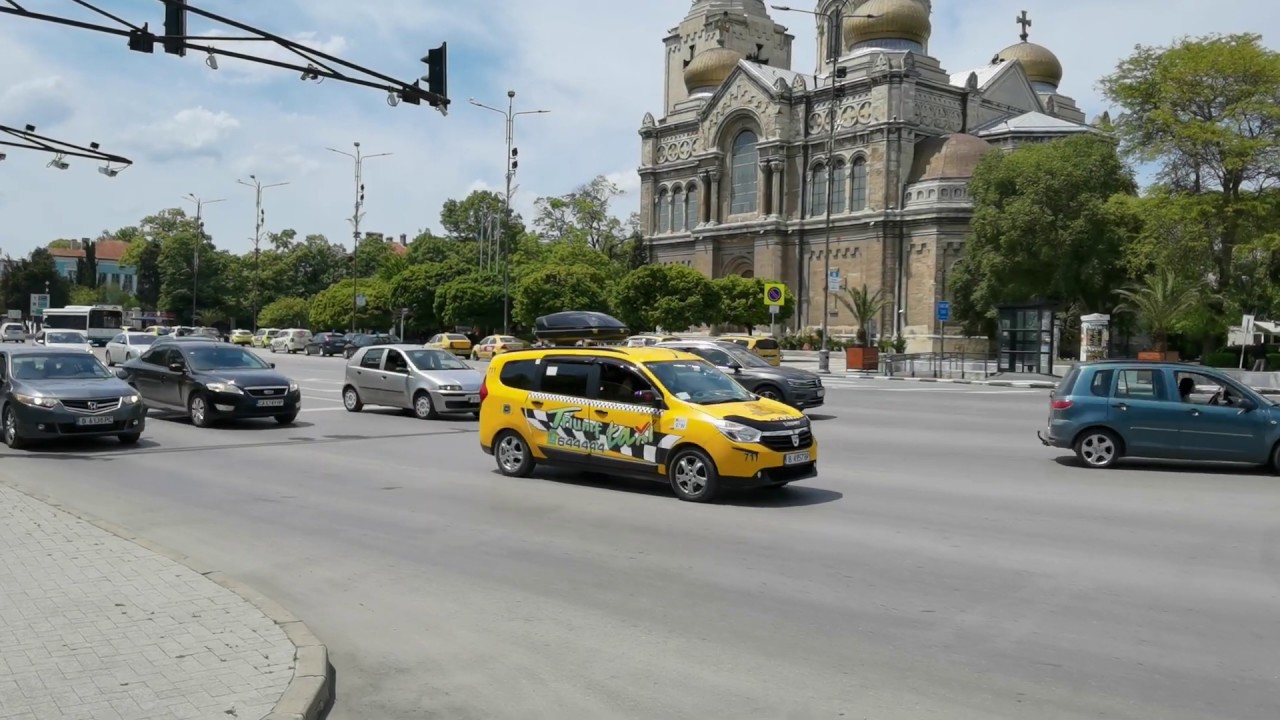 Huawei P40 Pro Plus software and performance
Less of Google, more of Gallery apps
Just like the P40 Pro, the Pro+ runs on an open-source Android 10 with Huawei's own EMUI 10.1 interface on top but the company's App Gallery has widened its reach in the two months since we reviewed the P40 Pro, and the app quantity is much larger. Huawei is also going hyper local, introducing payment and fintech apps support - the Achilles heel of the world without GMS or Google Pay - that are specific for each country it launches the phones in.
As a starting point, you can use Huawei's excellent Phone Clone app, and it took us about 25 minutes to move all the info from the old to the new phone (including Facebook, Instagram, Twitter and the like). If you want to also move the pictures and videos that will, naturally take longer. Phone Clone is perhaps the best switch software we've used so far, as not only does it transfer all your contacts, messages, apps and settings, but also arranges the home screen exactly the way you have it on the previous phone, complete with nested folders. Heck, the Clone app even moved our logins in a lot of the cases, so we only needed to log back in encrypted chats like Messenger.
Needless to say, there are no Google services, as this is pure AOSP Android, and we hope that Google and Huawei are allowed to interact at some point because this is a lose-lose situation for both sides. To circumvent the situation, you can install APKPure, APKMirror, or any similar vetted APK aggregator as a Play Store alternative. You can thus download Maps, Chrome, and a few other Google apps that you might need but you'd need MicroG if you want to use some with your Google profile.
Needless to say, there are a few Maps, YouTube, Gmail, etc. app alternatives that work very well if you don't want to run those services from a browser, or without the login. YouTube Vanced, for instance, is better than the original, the Here WeGo Maps is preinstalled and works offline better for whole continents, while the Google search widget was quickly replaced by DuckDuckGo. You can also use Huawei's secure
Petal search
that also comes preinstalled now, and is an intriguing privacy-oriented take on Google's nosy search engine.
Where things got hairy, however, were apps that not only checked for Google Play services upon launch, but needed them to run properly, mainly paid ones, including freemium games, and some requiring a subscription. The WSJ app, for instance, will run with warnings you can turn off, but won't let you log into your account, while a local weather app refused to start. In such instances, you will unfortunately have to fire up the browser.
Other than running through more hoops to install apps, to no fault of Huawei, EMUI 10.1 presented us with a silky smooth experience, and a few thoughtful new additions. You can, for instance, now hold the back gesture, and a custom list of quick apps will appear under your thumb so you don't have to search. Unfortunately, EMUI still insists to send you to the phone search field when you pull down on an empty screen area, instead of bringing down the status bar/notification shade.
Huawei also equipped the P40 Pro+ with a 90Hz refresh rate display for added scrolling and animation fluidity. The new Celia voice-controlled helper is Huawei's answer to Google Assistant, but is still in its nascence if you are into that kind of interaction with your phone.
The phone runs on the latest Kirin 990 chipset with integrated multiband 5G modem, coupled with 8GB RAM, and has both a hybrid dual SIM/memory card module, and an eSIM card inside for added flexibility wherever you are. You can also enjoy Wi-fi 6 speeds and breathtakingly quick dual-frequency GPS that locked is within seconds in the room,
while the S20+
, for instance, took its time to do the same. The 512GB of storage will take you forever to fill, too, unless you are always recording lengthy 4K videos
Huawei P40 Pro+ battery life and charging speeds
Record 40W wireless charging
This is the phone with the fastest, 40W wireless charging out there, and we are waiting for Huawei to send us its dedicated charger to test the speeds - the charger itself has to be powered by Huawei's 65W brick to achieve these breathtaking 40W speeds, so it's a whole undertaking. There is a 4200mAh unit in the P40 Pro+ that can be charged with a 40W wired charging as well, and the combination of 1080p screen resolution and frugal Kirin 990 5G chipset keeps the power draw at a minimum.
The phone discharges with about 11% (60Hz) or 13% (90Hz) per screen-on hour indoors on automatic brightness, which experience shows is a very good result that will get you through a heavy day away from the charger, while with normal usage the P40 Pro could serve you well at lunch the next day, too.
Given that we charged the phone from zero to a 100% for a bit more than an hour with the charger in the box, wireless charging at similar levels would be a pretty amazing feat, and we plan to test it as soon as Huawei sends us its one of a kind powerful wireless charger.
Huawei P40 Pro battery charging speeds:
30% in 15 minutes
50% in 30 minutes
80% in 50 minutes
100% in 70 minutes
Recommended Stories