BLU Pure XL Review
35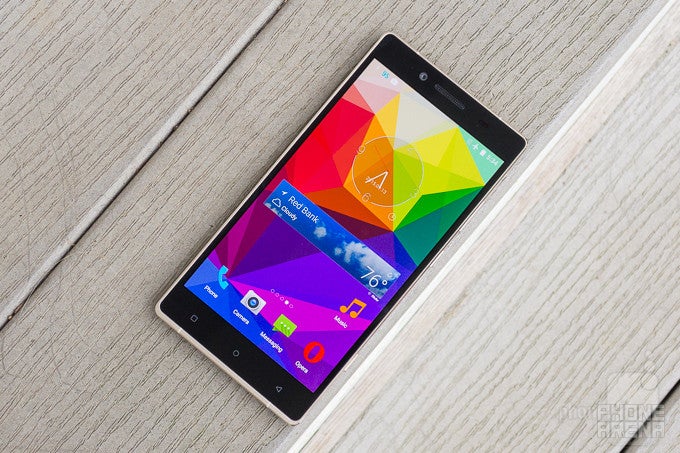 Introduction
We've seen a radical shift in the smartphone industry this year, as the focus has now been centered on value more than most things. It first started in the mid-range category, where devices like the
Alcatel Onetouch Idol 3
,
Asus Zenfone 2
, and
Microsoft Lumia 640 XL
gained attention early on in the year, only to be exacerbated by newer devices like the
Moto G 2015
. Only recently, we've seen this shakeup find its way into the high-end segment as well, evident in the value-conscious prices of the
ZTE Axon Pro
,
OnePlus 2
, and
Moto X Style
/
Pure Edition
.
Well, now you can add yet another one to that list – the
BLU Pure XL
. Even though BLU is still etching out its place in the smartphone world, they've got a beauty in the BLU Pure XL, which surprisingly enough, might outclass those aforementioned devices. Is this finally the device that'll elevate BLU into the major leagues?
The package contains:
BLU Pure XL
microUSB cable
Wall charger
Get start guide
Important information
Design
It's wide, heavy, and ginormous in size, but its solid construction and substantial feel makes this feel like a well-built device from BLU.
We've encountered some low-end BLU smartphones before, and let's just say that their build qualities weren't necessarily the most solid – made obvious by how some of the seams weren't tightly put together. Luckily, it looks as though BLU spent a lot of time and attention on the Pure XL, partly because it features a plastic rear casing accented by an aluminum metal trim bezel. And yes, the construction and build quality feel substantially superior this time around.
The design reminds us of the OnePlus 2 in a way, seeing that the casing has a slight curve on the back, but it meets at a sharp edge around the sides. Even though it's touted to be a premium device, the plastic material of the rear casing doesn't particularly reflect that. However, the gold color and its subtle shimmer does nicely to mimic a metal finish. It's most definitely a phablet, too, since it's very wide and difficult for one-handed use – so two hands are better than one for this.
Frankly, the BLU Pure XL is a decent looking "premium" phone, but it still has a long way to go before achieving the same level of prestige as some of the big boys. Nevertheless, this is a good foundation to start on that path.
Looking around the phone, it features all the common ports and buttons – they consist of the power button and volume controls on the right edge, microUSB port and mic on the bottom, and 3.5mm headphone jack on the top. Interestingly, BLU has fashioned on a dedicated two-level shutter key as well, which gives us more of that practical feeling when capturing a photo. Not stopping there, the back cover is removable and provides us access to its microSD and dual-SIM slots.
Fingerprint Sensor
What's even more impressive, BLU has blessed the phone with a fingerprint sensor directly below the camera – and it's recessed to distinguish it, as we feel around with our index fingers. Unlocking the phone is achieved by just resting our finger over the sensor. Unlike other phones, the fingerprint sensor here has a matte finish, so it's not as shiny, but doesn't get smudgy.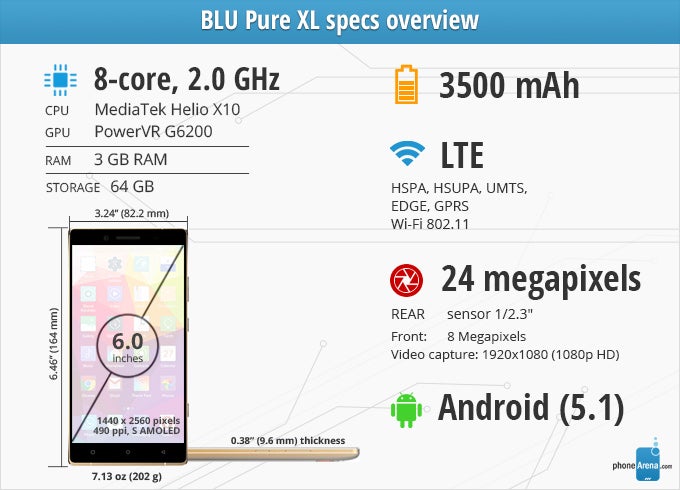 Display
Going with Quad-HD resolution makes it a competitive player in terms of specs, but it lacks the other valued characteristics we see in premium phone displays.
Cementing itself as a high-end piece of tech, the BLU Pure XL is accompanied with a 6-inch 1440 x 2560 (Quad-HD) Super AMOLED display, making it a relevant player in the space. Naturally, the 490 ppi pixel density produces crisp and sharp details that make our eyes glaze over as we look intently on the display. And the spacious real estate means that we have more room to enjoy high-def videos and all sorts of games.
Beyond its detail excellence, the screen here actually boasts several qualities that make it very similar to the 6-incher found in the Nexus 6. For starters, it has a peak luminance of 343 nits. While that's not terribly good amongst the other things out there, it's slightly better than the Nexus 6's weaker output. There's enough glow and iridescence for this Super AMOLED screen to stand out in regular, indoor conditions, but the weak brightness output makes it problematic for outdoor use when the sun is out.
Secondly, it has a very oversaturated color reproduction, which again, is almost similar to the Nexus 6's panel. Putting the two displays side-by-side, they're almost direct copies of one another, as they achieve the same overblown, over-saturated color tones. However, the BLU Pure XL's screen exhibits a significantly colder tone with its ~8100K color temperature. Combine that with its over-saturated color reproduction, this screen harkens back to the old AMOLED displays from Samsung.
Needless to say, there's the good and bad with the screen, with the Quad HD resolution being impressive, but the color quality and brightness levels being disappointing.
Display measurements and quality
Recommended Stories