Asus ZenFone 6 Review
41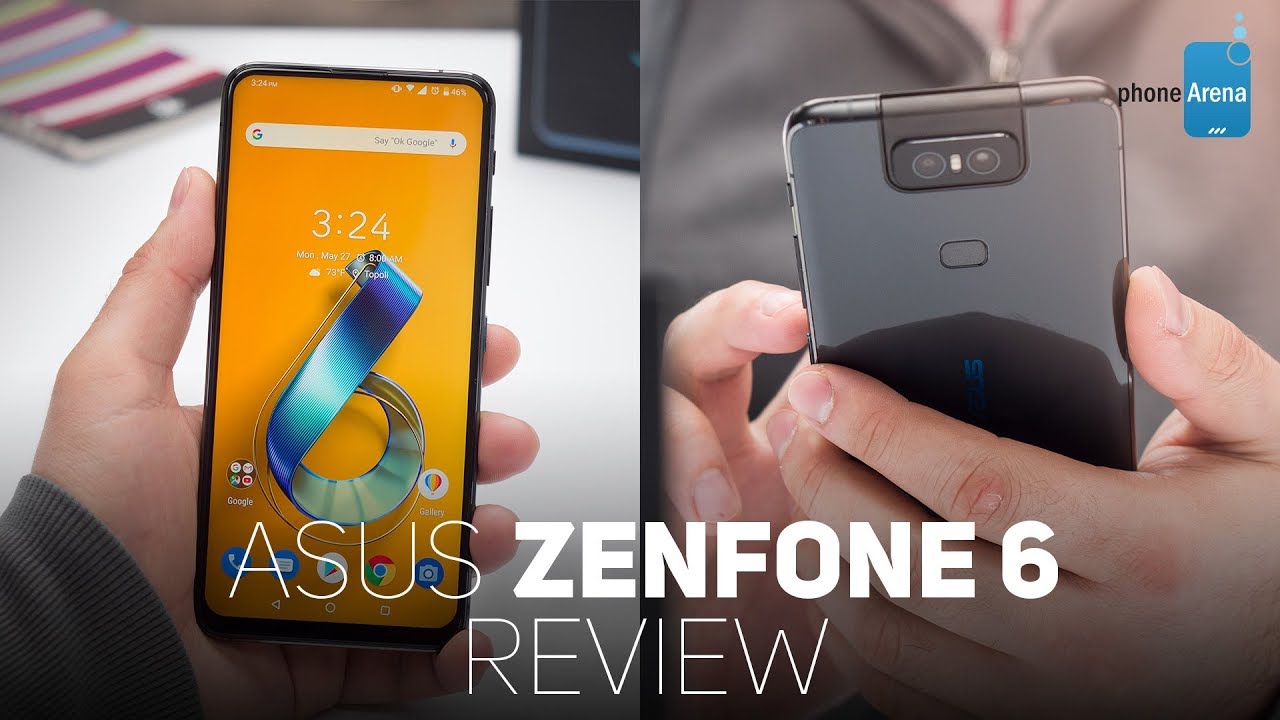 1000-dollar phones are exciting, there's no denying that, but it seems like fewer and fewer people are actually buying them. At the same time, the number of decent phones costing half as much is growing steadily, and the Asus ZenFone 6 is the latest addition to the list.
With the ZenFone 6, Asus aims to deliver a fast, reasonably priced smartphone with a beautiful screen, long battery life, and a good camera. And on paper, we seem to be looking at a recipe for success: the chip of choice is the powerful Snapdragon 855, the main camera has a whopping 48MP of resolution, and the 6.4-inch display stretches from edge to edge without a notch breaking its uniformity. Oh, and did I mention the huge, 5000mAh battery inside?
But that's enough theory. I've been using the ZenFone 6 for a couple of weeks now, so let me tell you all there is to know about it.
In the box:
Asus ZenFone 6
Wall charger (18W)
USB Type-C cable
SIM eject tool
Wired earphones with 3.5mm jack
Silicone tips of different sizes for the earphones
User Guide
Design
So indeed, there is no notch on the ZenFone 6. There's no punch-hole camera cutout either. All you have at the front is a spacious screen with rounded corners and a very small chin at the bottom. It's a clean, minimalist, and undeniably cool look that Asus has achieved, and it's great being able to use the display in its entirety when watching video or playing games, without any distractions spoiling the experience.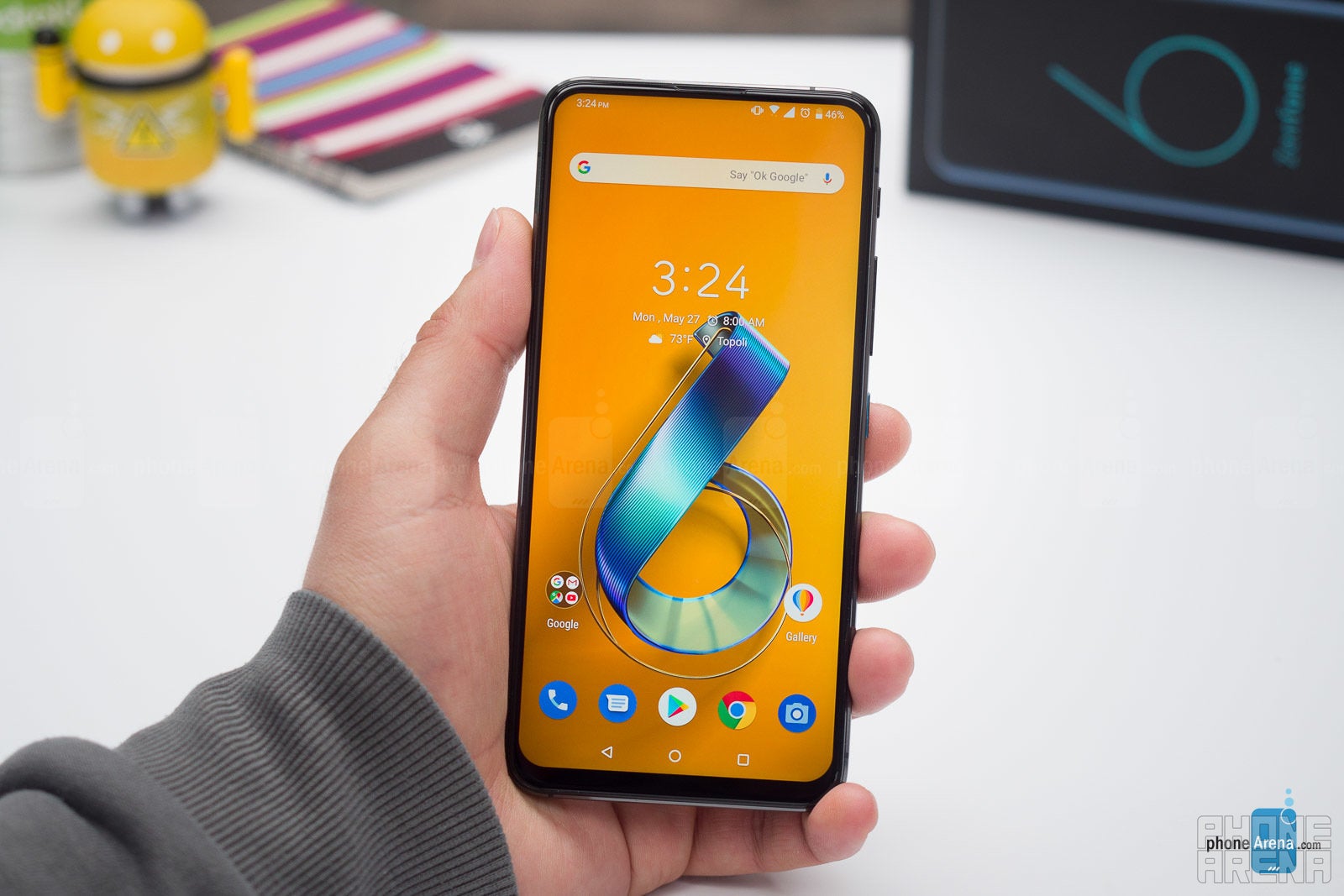 But where's the front-facing gear? Well, you actually take selfies using the main cameras. They're mounted on a motorized module that rotates 180 degrees at the tap of a button. The process takes about a second. On one hand, that's an awesome concept as the ZenFone 6's rear cameras hold plenty of potential. And so far, I haven't had any issues using the flippy camera with third-party apps for video calls or Instagram selfies. However, I'm not entirely convinced in the long-term reliability of the camera module, even though it can withstand at least 100,000 open-close cycles, according to Asus (that's 28 flips per day for 5 years). After all, testing performed in a lab by a robot is a very different thing from an actual Mr Butterfingers handling the ZenFone 6 daily.
Asus has taken certain precautions to prevent accidental damage to the camera module. In case of an accidental drop, the camera module closes automatically no matter what app you're in. However, the module does need some time to close fully, so while this safety measure might be effective for drops from shoulder height, a drop from about 3 feet might happen too quickly for the cam to retract entirely. In my experience, the camera won't open if the phone is in my pocket, but it does try to flip up if the phone is laying flat on a table.
On the topic of durability, Asus throws in a basic plastic case in the box with the ZenFone 6 – a nice bonus, especially when the selection of protective cases for this model aren't likely to be plentiful. Water resistance isn't present, however, which is understandable given the mechanisms employed.
With the ZenFone 6, you don't get all the bells and whistles offered by top-of-the-line models. Instead of a fancy fingerprint reader built into the display, the phone has a classic fingerprint reader at the back. And we're okay with that since the reader is fast and accurate. Face Unlock is available, but since the camera needs to flip out each time, using it is impractical.
As I mentioned above, the Asus ZenFone 6 comes with a 5000mAh battery. This is probably why the phone feels quite heavy in the hand, weighing a substantial 190 grams. It is thick and chunky, and I feel like many potential buyers might be put off by this. But it's not quite the heaviest in its size category. The iPhone XS Max, for example, weighs 208 grams.
Display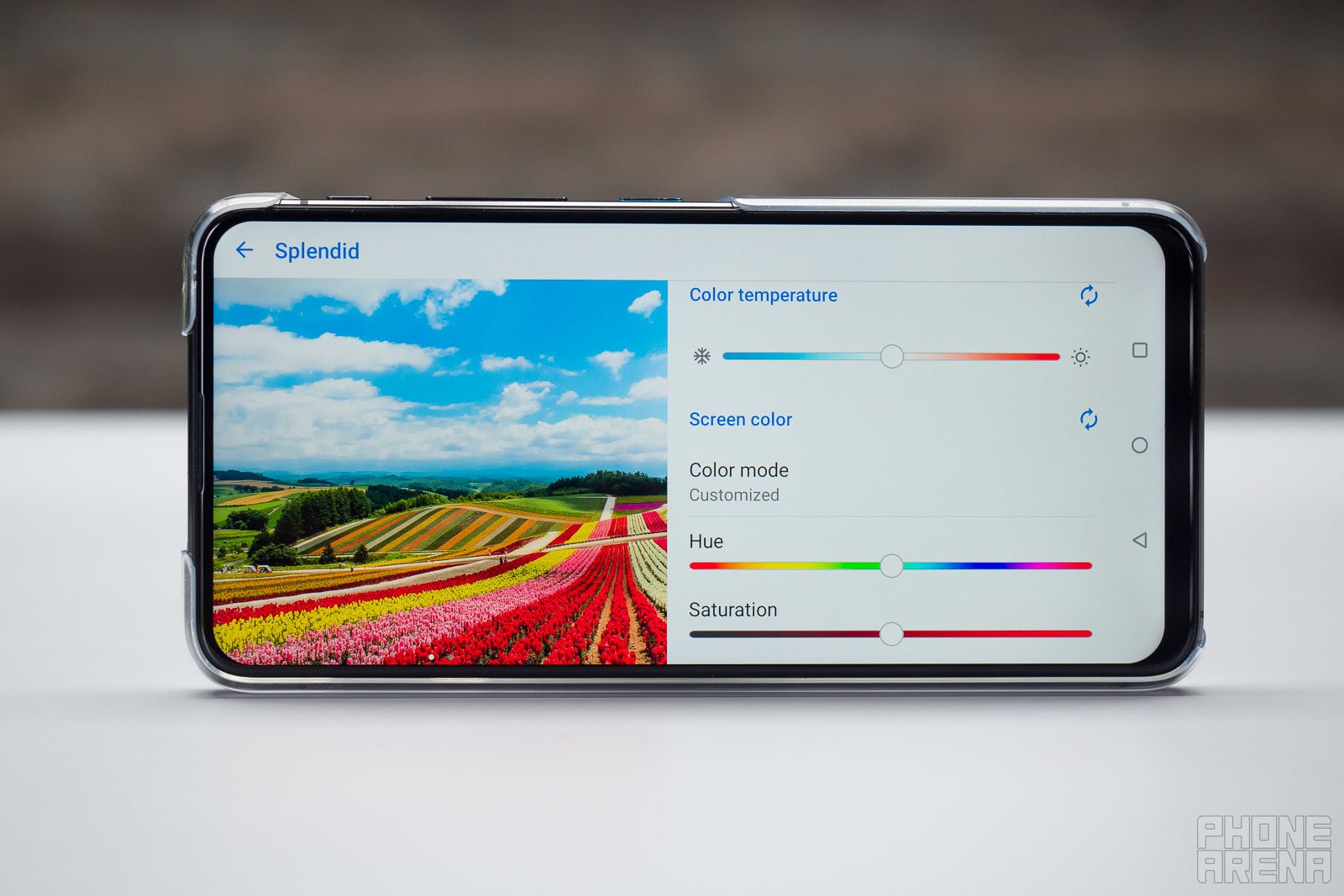 Needless to say, Asus had to cut some corners to meet the price point it was aiming for. As a result, the ZenFone 6 uses a 6.4-inch IPS LCD display, not a fancy OLED one. The good news is that the screen looks fine to the naked eye. The resolution of 1080 x 2340 produces sharp visuals, and the peak brightness of 573 nits is sufficient for comfortable outdoor use.
Colors could be better, though. They are fairly accurate by default, but a blueish tint is clearly evident. You can tweak this in the display settings menu thanks to a white balance slider. There you'll also find a Wide Color Gamut mode, which adds more saturation to the way colors look.
I should point out that the phone uses Google's Adaptive Brightness feature, which learns from your habits and preferences to set the screen's brightness just the way you like it. At least that's the theory. In practice, I still find the automatic brightness control unreliable, especially when I go out under the sun and it fails to boost the brightness sufficiently. Another issue I've been having is that ghost touches occur near the edges of the screen. This could be mildly annoying when I'm watching a video and the playback controls pop up seemingly on their own, or while gaming, when an unintentional touch could cause your lvl. 23 Ranger to wander away from battle.
Display measurements and quality
Software and Interface
I must admit that it has been a few years since I last used an Asus phone as a daily driver, and clearly, the company's vision for software has changed a lot since then. Gone is the bloat. Gone are the gimmicks. Instead, ZenUI 6 running on the Asus ZenFone 6 doesn't stray far from the pure Android 9 Pie experience. It even adopts features like Digital Wellbeing, Google's Adaptive Brightness, and the Night Light blue light filter. The phone will be updated to Android R, its maker promises.
To be clear, Asus has tweaked the interface quite a bit, but the changes do make sense. Optimizations to the Android framework have been made to make apps launch faster, and the memory management algorithms are designed to keep frequently used apps longer in memory so that you can switch to them more quickly. Overall, this is a really fast phone, although I do feel like a Pixel 3 is more fluid, and I have noticed that when switching to a recently used app, it could take a split second for it to start responding to touch input.
Visually, certain elements have been rearranged to make single-handed use less of a challenge. Dialog windows, for example, appear at the bottom of the screen, not in the middle. There's also a dark mode, but its purpose is mainly to make the screen put less of a strain on your eyes at night. Since the ZenFone 6 uses an LCD display and not an OLED one, battery life won't be affected. Besides, it only affects UI elements like the app drawer and the quick controls. It doesn't work in apps like Facebook or Instagram.
Smart Key
There's an extra physical button on the side of the Asus ZenFone 6. It's called the Smart Key and its main purpose is to launch the Google Assistant when you need it, even from the lock screen. But it can be set to perform other actions. Personally, I have it set to cycle between Ring, Vibrate, and Mute modes with a single press. A double press enables the flashlight, and holding the button down takes a screenshot. Overall, I appreciate having the Smart Key and I do use it daily, but unfortunately, you can't set the button to launch an app of your choice.
Processor and memory
The Asus ZenFone 6 comes with the Snapdragon 855, just like most other Android high-ends. It is the fastest chip Qualcomm has to offer, and to no surprise, I've had no troubles playing heavy games. Our particular review unit comes with 8GB of RAM and 256GB of storage, but versions with 6GB of RAM and 64 or 128GB of storage will be available as well. For those who need it, there's a dedicated microSD card slot in addition to the dual SIM slots. In other words, you may have two SIMs in there and enjoy expandable storage at the same time.
Camera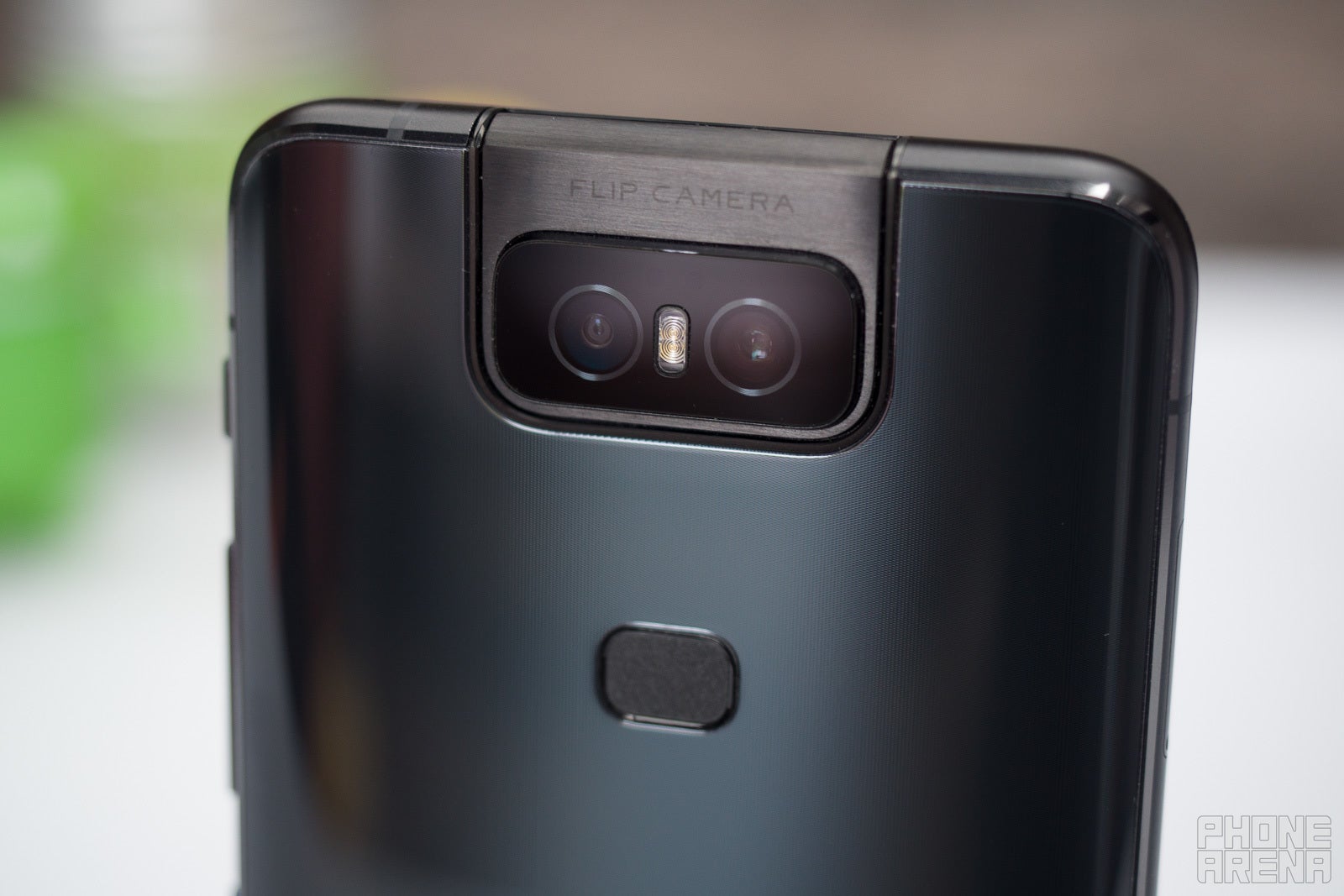 There are two cameras on the Asus ZenFone 6, both mounted on the phone's flippy module. One is a regular 48MP camera for every-day use, and it uses the same Sony IMX586 sensor we've seen on many other similarly priced phones. The high resolution isn't this sensor's only strength. Its large area allows it to absorb more light than smaller sensors, while at night, visual information from four pixels is combined together for greater clarity. One of its weaknesses is the lack of OIS.
Main camera specs
Super wide-angle camera specs

48MP Sony IMX586 1/2" sensor

0.8/1.6 um pixels

Quad Bayer Filter

F1.79, No OIS (EIS only)

2x1 On-chip Lens PDAF

13MP

125-degree field of view

Fixed Focus

Image sensor by OmniVision
The second camera has a wide-angle fixed-focus lens, and it is very useful when you need to capture more in the frame without stepping back. Alas, the camera has its drawbacks. Since it isn't as sensitive to light as the main cam, its low-light photos lack detail, and the properties of the lens introduce noticeable distortion that makes the images appear stretched near the edges.
Despite the main camera's promising specs, the results are a mixed bag, and this could be greatly due to Asus's camera algorithms. There's an HDR+ mode which activates automatically when needed, and while it produces outstanding images in some cases, other scenes look flat and artificial. This tends to be the case in gloomy weather. Under artificial lighting, the camera may struggle with setting the correct white balance. Due to the lack of OIS, I see motion blur in images more often than I'm used to, mainly in low-light shots.
In the camera app you'll find a mode called HDR+ Enhanced. The HDR photos it produces tend to have more contrast and look less artificial, but using the mode requires you to hold the camera still for several seconds as multiple exposures are being captured. This is why I rarely used it. Asus has also thrown in a Night Mode that works in a similar fashion, by capturing several exposures over a few seconds. It is not as impressive as Google's Night Sight, but it works well. Its main benefit is that it tames the highlights that might have otherwise come out overblown.
By the way, the ZenFone 6 takes 12MP photos by default. You have the freedom to shoot at 48MP of resolution, but while you do really get more detail, this slows down the camera significantly, disables the HDR+ feature, and produces very large files. In terms of detail, the 12MP photos that I've taken so far are comparable to those from the Galaxy S10, but only as long as there's not too much movement in the frame.
The ZenFone 6 shoots up to 4K 60fps video, and the produced footage looks very detailed. The stabilization is done in software and works well, even though it doesn't show in the viewfinder. On the downside, the stabilization algorithms need to crop a substantial amount of the frame to do their thing effectively. I also need to mention that 4K video recording is limited to 10 minutes, and you can't switch between cameras once you've started shooting.
Audio quality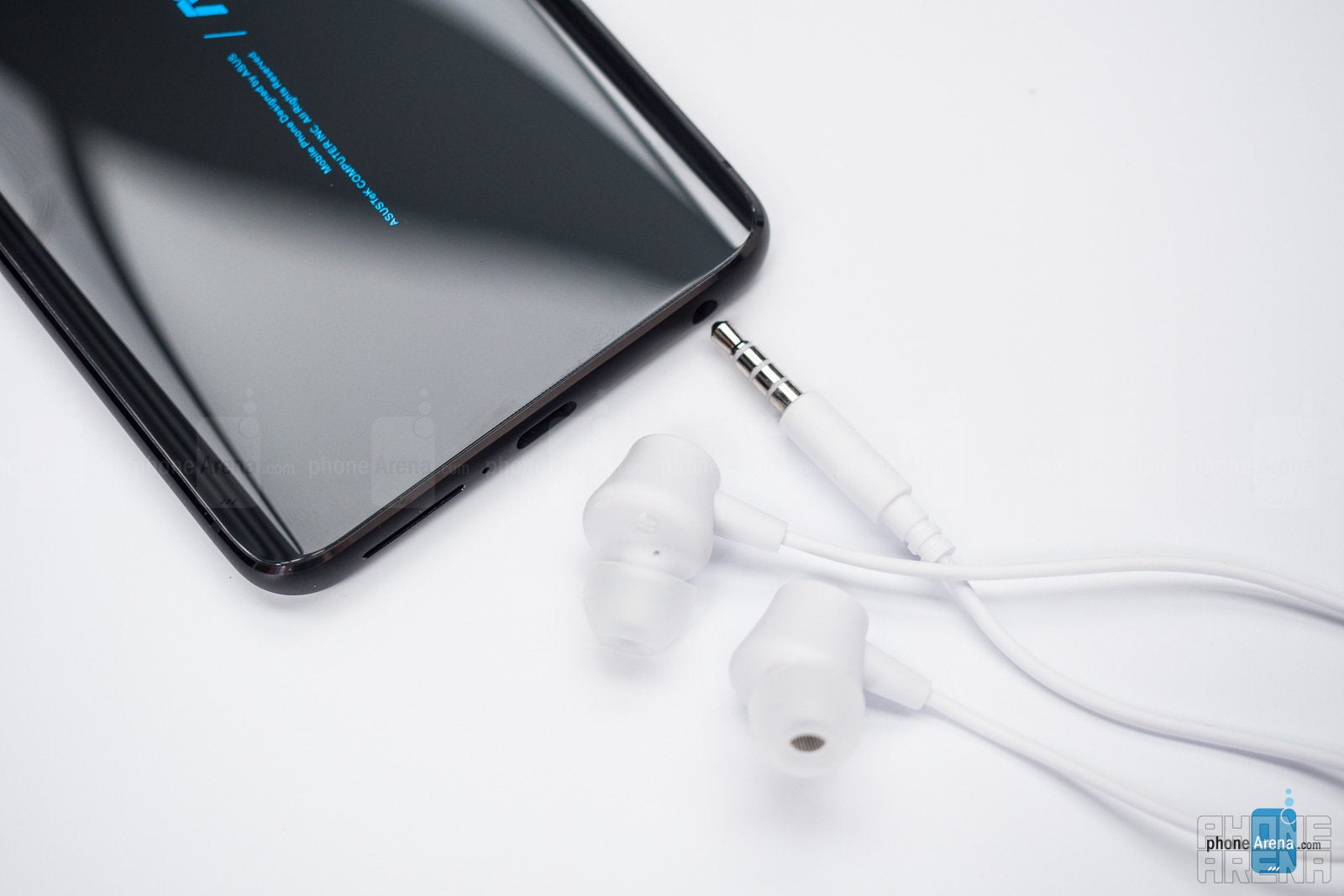 The Asus ZenFone 6 comes with stereo speakers. One of them is at the bottom firing downward, and the other doubles as the earpiece. While the stereo effect is there, the sound is very unbalanced due to the bottom-firing speaker being much louder. Sound quality is okay overall, but not as good as what you'd get out of an iPhone, for example. Bundled with the ZenFone 6 is a pair of okay-sounding wired stereo earphones that plug into its 3.5mm headphone jack.
Battery life
If you need a phone that can last you two days between charges, the Asus ZenFone 6 would be it. Packed with a 5000mAh battery, it produced a score of 13 hours and 10 minutes on our custom battery benchmark test, beating most flagship devices by a significant margin.
Charging is understandably slower, as the big battery requires 2 hours and 6 minutes to be fully charged from the stock, 18W charger. But then again, a 30-minute charge is enough for it to replenish 35% of its capacity, which should be enough to last you through a busy afternoon.
Wireless charging is missing on the ZenFone 6 – not only because it would have made it more expensive, but also because it would have made it thicker. On top of this, Asus's research indicates that the extra heat generated by wireless charging would have had a considerable impact on the battery's lifespan, so skipping the feature has its silver lining.
Conclusion
The Asus ZenFone 6 is a strange beast, and I mean that in a good way. It is a fast phone that offers great specs, clean software, and excellent battery life at a highly competitive price. It's not a phone I would recommend to my mom, but I'm sure that an Android enthusiast would be thrilled to get their hands on one of these.
But as any other phone, the ZenFone 6 isn't perfect, and its weakest link appears to be the camera experience. It's not like its photos are bad. It's just that the camera's HDR software tends to produce images with a flat, over-processed look, and it's a look not everyone might like. This is why I'd recommend picking up a Pixel 3a XL over the ZenFone 6 if image quality is your top priority. At least that's the case right now. I'm sure that the ZenFone 6's hit-or-miss camera performance can be improved at some point in the future with a software update.
At the end of the day, the ZenFone 6 is the most peculiar phone I've reviewed in a long while, and I find it hard to let go of it. It may not be the best phone on the market, but it is certainly one of the best $500 phones out there.
Recommended Stories