Acer Liquid Z2 Review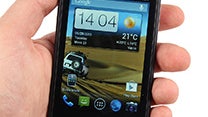 Introduction:
Geeks, you might want to look away now because what we're reviewing is a low-end Android smartphone. The
Acer Liquid Z2
, as it is called, is a dual-SIM Android handset with unimpressive specs and plasticky appearance. However, it makes up for its lack of visual appeal and processing power with being extremely affordable, costing roughly $130 to $150 unsubsidized. That makes it a smartphone suitable for buyers on an extremely tight budget, or as a handset a parent would buy for their teenage kid. But if our past experience is to go by, cheap Android phones are often slow and clunky. The Acer Liquid Z2 can't be described as fast either, but it is still a decent pick considering what it costs. Read along to learn more about it!
Design:
Clearly a smartphone as cheap as the Acer Liquid Z2 can't be made of gold and diamonds. Instead, the material of choice is
soft-touch plastic
, which definitely does not look pretty to us, but it should be sturdy enough to handle even a bit more than the usual wear and tear. Besides, the matte finish provides plenty of grip and resists fingerprints well. Thanks to its shape and small size, the phone can be held and used very comfortably with a single hand.
You can compare the Acer Liquid Z2 with many other phones using our Size Visualization Tool.
The physical
buttons
on the smartphone's side are well within reach, although we wish that the power key was a bit more pronounced. The three capacitive keys underneath the screen are responsive and easily reached by our thumb.
Display:
The
3.5-inch touchscreen
on the Acer Liquid Z2 is of mediocre quality, yet ranks as passable. One can instantly notice with a naked eye that its resolution is very low –
320 by 480 pixels
are spread across its area resulting in a pixel density of only 165ppi. That makes reading small text rather challenging, so be ready to zoom in quite often while surfing the web. At least we can say that the screen's color representation is okay and it can be used on a sunny day, as long the sun is not shining straight at it.