Get the unlocked Moto G7 Play at a discount of up to $120 with carrier activation
The
G7 Play
is obviously the humblest member of "Lenovorola's" new mid-range Moto G family, but although the 5.7-inch model failed to make a very good impression in our
in-depth review
a few months back, its value proposition can be undeniably attractive... at a starting price of only $79.99.
Of course, that's not the typical recommended price point of an unlocked Moto G7 Play, which instead fetches a full hundred bucks more on Motorola's official US website at the time of this writing after a $20 markdown from a $200 MSRP. While Best Buy will hook you up with the same modest savings if you choose your carrier after purchasing the mid-end handset, activating it on Sprint right off the bat can bring the price all the way down to the aforementioned $79.99.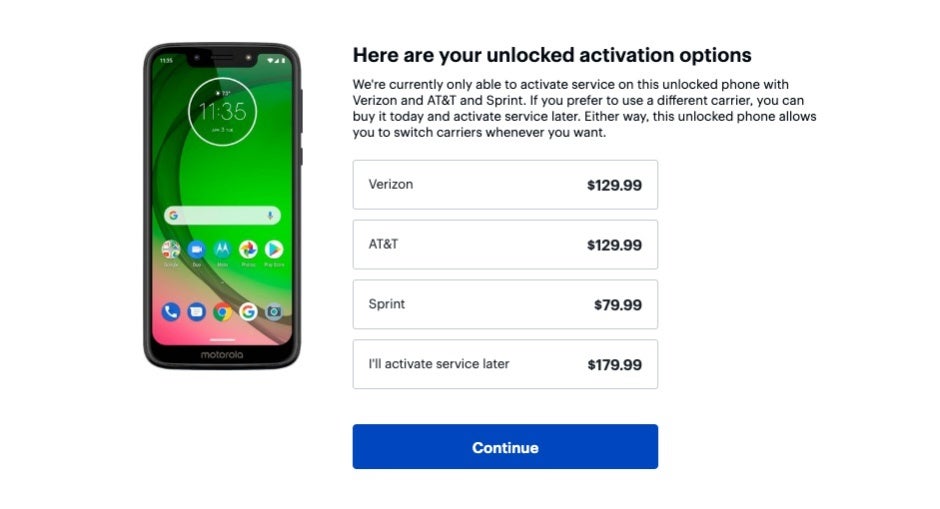 There are no strings attached to this killer deal, no monthly installments required, no bill credits involved, and nothing you have to trade in to get the G7 Play at an essentially unbeatable price. All you need is a new or existing Sprint account. Yes, even upgrading customers are eligible for the full $120 discount. And keep in mind you'll still technically buy an unlocked phone you can take to a different network whenever you want.
If you'd rather activate the Moto G7 Play on Verizon or AT&T at the time of purchase, you can also get a decent but humbler discount of $70 compared to the unlocked handset's $200 list price. At 80 or even 130 bucks, this 5.7-incher is pretty hard to beat in terms of bang, thanks to a respectable Snapdragon 632 processor, 2GB RAM, 32GB internal storage space, a splash-resistant design with an excellent screen-to-body ratio, and a fast-charging 3,000 mAh battery capable of great things in combination with a frugal HD+ display.
Check out the deal here