Several SanDisk microSD cards and other storage products are on sale at record low prices
1
We may earn a commission if you make a purchase from the links on this page.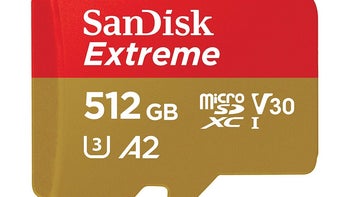 For 24 hours only, Amazon is selling a bunch of popular "PC products and accessories" at hard-to-beat prices. Among these, mobile tech enthusiasts will find a number of incredibly affordable accessories that can seamlessly add generous amounts of storage to Android-based smartphones and tablets, as well as one discounted product compatible with both mobile devices and PCs for the safe collection and private sharing of photos and videos, and a dirt-cheap flash drive designed specifically to work alongside iPhones and iPads.
The most affordable microSDXC UHS-I card on sale today is part of the SanDisk Ultra family, accommodating 200 gigs of data at transfer read speeds of up to 100MB/s. That's certainly not bad, but the SanDisk Extreme lineup goes one step further with a maximum read velocity of 160MB/s, as well as write speeds of up to 90MB/s, and native support for 4K UHD and Full HD video recordings without a glitch.
The 200GB SanDisk Ultra is available at the time of this writing for $9.99 less than usual, equating to a decent 29 percent price reduction, while the 256 and 512GB SanDisk Extreme models are marked down by a significantly heftier $24.72 and a whopping 60 bucks respectively.
Of course, the Extreme cards are also typically much costlier, but the aforementioned savings still result in 36 and 30 percent discounts respectively. More importantly, both Extreme variants are today
cheaper than ever before
, while the 200 gig Ultra has actually been available at $9.99 off a couple of times in the recent past.
The 64GB SanDisk iXpand flash drive for iOS devices is also a few bucks cheaper than ever before, technically scoring a mind-blowing 65 percent discount compared to its original recommended price. You can plug this bad boy directly in the Lightning connector of your new or old iPhone, which will automatically back up photos and videos from your camera and contacts so you can then free up some internal storage space on your non-microSD-supporting device.
Lastly, the expensive ibi smart photo manager is... still rather expensive after a $36 price reduction, boasting 2 terabytes of room where photos and videos from your phone, computer, USB drives and popular cloud and social media accounts will be automatically collected and neatly organized.