Get the unlocked Galaxy S10, S10e, or Galaxy S10+ with freebies worth up to $280
1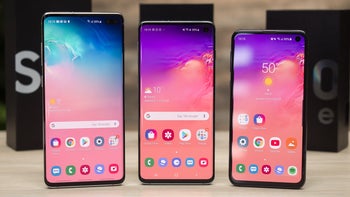 For a flagship smartphone family with
stellar reviews
and
multiple reliable signs
indicating
strong early consumer demand
, the Galaxy S10 trio has sure received a surprisingly high number of discounts already. But if you're not a fan of
monthly installment plans
or
T-Mobile commitments
in general, you may have been waiting for a good deal on an unlocked variant. Ideally, with a standard warranty included.
Best Buy finally has bargain hunters covered on that front as well, bundling the official US unlocked versions of the Galaxy S10e, S10, and S10+ with some pretty valuable gifts. Namely, the larger, beefier model is currently sold alongside a Samsung Gear Sport smartwatch, while the "regular-sized" Galaxy S10 and the more compact and affordable S10e can be had together with the Gear Fit2 Pro activity tracker at no extra charge.
You can even score some extra discounts on the phones themselves if you don't mind activating them right off the bat. Specifically, the
Galaxy S10+
starts at $899.99 with Sprint activation, fetching an additional 50 bucks on Verizon, and the full $999.99 retail price for AT&T use or if you want to choose your wireless carrier and plan later on.
Across the board, you're eligible for a gratis
Gear Sport
, which normally costs $279.99, although we've routinely seen it
offered for much less
by both Best Buy and Samsung itself. Still, this is undoubtedly more valuable than a
free pair of Galaxy Buds
, featuring everything from built-in GPS to a heart rate monitor and NFC for wrist payments.
The
Samsung Gear Fit2 Pro
bundled with the unlocked
Galaxy S10
and
S10e
is usually a little cheaper, at $199.99, pretty much packing the same capabilities (minus NFC) into a more fitness-centric (read smaller, less stylish) body. The S10 starts at $800 with upfront activations, setting you back $900 with no strings attached, while the Galaxy S10e costs $649.99 and up at Best Buy right now, Gear Fit2 Pro included.