PSA: The OnePlus 6 is still available in the US and still a good deal
3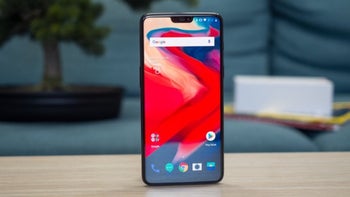 The newly unveiled
OnePlus 6T
is ultimate proof that this 2013-founded company has
greatly matured of late
, securing
the explicit support
and
marketing proficiency of T-Mobile
, as well as Verizon's more discreet endorsement.
But there might actually be another thing confirming OnePlus is all grown up and ready to take on the mobile industry heavyweights on an equal footing. In case you didn't notice, you can still purchase the
OnePlus 6
from
the manufacturer's US e-store
.

All five different versions, coated in "Mirror Black", "Midnight Black", and "Silk White", with either 6 or 8GB RAM in tow, as well as up to 256GB internal storage space, are listed at the time of this writing as ready to ship "within 24 hours."

The same goes for inventory available in Canada, although the OnePlus 6 is apparently out of stock essentially everywhere else. That suggests you may not have a lot of time left to order the May 2018-released handset in North America either, but even if we get just a few more days, this is definitely progress.
Both last year's
OnePlus 5
and the
OnePlus 3
from 2016 were effectively discontinued right on the heels of the
5T
and
3T
announcements. Since the
OnePlus 6 was reportedly a bigger hit
than all of the company's previous smartphones, we're clearly dealing with an improvement in mass production here rather than weak demand.

Either way, this is great news for those too bothered about the absence of a headphone jack to give that beautiful new "waterdrop" notch and groundbreaking in-display fingerprint sensor a chance.
You might be able to find plenty of devices with comparable specs and lower prices in
markets like India
, but stateside, the OnePlus 6 remains a budget-friendly champion, offering everything from a Snapdragon 845 processor to an excellent dual rear-facing camera arrangement, decent 3,300 mAh battery, and sharp 6.28-inch AMOLED display at only $529 and up. And no, discounts are probably not happening.
Recommended Stories