OnePlus has the edge on Samsung and Apple again in one key global market
15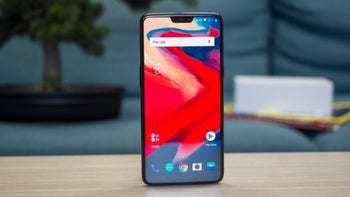 OnePlus may
not be very big in the US
...
just yet
, but believe it or not, the still-tiny company that only releases two phones every year is bigger than both Apple and Samsung in another essential global market.

While it remains virtually impossible for OnePlus to lead in total Indian smartphone shipments, the brand that claims to "never settle" continues to dominate the country's so-called "premium" segment.
For
the second quarter in a row
, OnePlus devices accounted for the highest percentage of sales in the $400+ price bracket, namely 30 percent between July and September, down from a towering 40 percent share in the April - June timeframe.
Of course, with
the 5T
out of the equation, the
OnePlus 6
managed to score that 30 percent on its own, which is a pretty incredible feat. In fact, Counterpoint Research estimates the OP6 became the brand's best-selling product ever within a measly five months of its launch. No wonder there's so much buzz in India around the
OnePlus 6T
.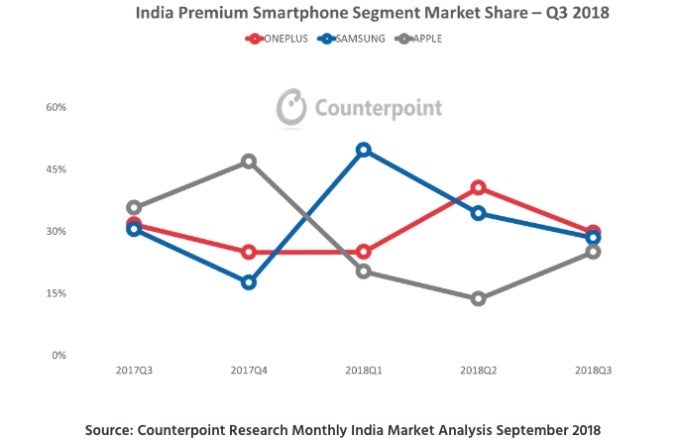 Meanwhile, "strong" initial demand for the
Galaxy Note 9
was obviously not enough to get Samsung back in the premium market segment's first place, as Galaxy S9 sales numbers unsurprisingly declined.
Apple, which was at the top of the chart a year ago, had to settle for the last spot on the podium this time around, even though the
iPhone XS and XS Max
did manage to considerably boost the company's shrinking numbers from the previous two quarters.
It remains to be seen if Cupertino can indeed
"serve everyone"
, as the
iPhone XR
clearly has a better chance to connect with an audience still mainly focused on affordability. Altogether, OnePlus, Samsung, and Apple combined to account for a staggering yet declining 83 percent of the overall premium market in India.