iTunes U gets an overhaul, allows students to interact with the whole curriculum on the iPad
21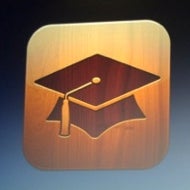 At its NYC event today, Apple announced an overhaul to iTunes U, its educational application. Created in 2007 with the aim to provide teachers and students with related content, it saw over 700 million downloads to date.
new interactive textbooks in iBooks 2
, and the tools for creating them, Apple wants to leverage iTunes U on the iPad as well. There will be a dedicated app, and
complete courses from renowned universities and professors
. Teachers can post assignments to all students, which will appear as notifications, and after you complete a certain chapter, which will be available digitally, of course, the assignment can be checked finished.
Syllabi sharing
will also be available, for those who want to exchange best practices, or simply piggyback on efforts of others to create a contemporary study course on a given subject to learn from the comfort of their iPad.
complete collaborative assignments
, and the app will mark your progress. This new iTunes U experience is integrated with iBooks 2 as well, since that's where the interactive textbooks are.
Some major universities already have curriculum uploaded there, more are on the way, and K-12 students will now also have access to the dynamic course materials.
The iTunes U app is free and is available today at 123 countries, and the only requirement for its new full potential is to get an iPad, of course.