Apple outs interactive textbooks and iBooks 2, to take on traditional education tools with the iPad
27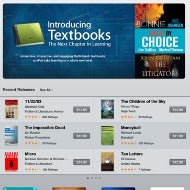 Just as
rumored
, Apple's heads took centerstage at the Guggenheim museum today in NYC, to announce the company's newest educational initiative - digital textbooks.
Apple wants to reinvent the textbook
.
Roger Rosner, the VP of productivity applications took stage to showcase how interactive and engaging books can be on the iPad 2. We can have swiping to get to different pages, colorful,
engaging layouts
, and movies showing right into the textbook pages. "
No printed textbook can compete
", seems to be the quote of the evening.
new iBooks 2 edition
, which is simply an app update you can download right now from the App Store to your iPad. The possibilities seem endless - from hyperlinks within the text, letting you jump hundreds of pages, through searching, to interacting with pictures, zooming in and out to read the description of elements, running embedded movies, and so on.
immediate feedback
after chapters seems to be a big advantage of these new digital textbooks Apple is promoting, with review questions at the end. Here is what Apple has done with its digital textbooks project, as per the company's own description:
• Experience gorgeous Multi-Touch textbooks designed for iPad
• iBooks textbooks are filled with interactive features, diagrams, photos, and videos
• Tap to dive into images with interactive captions, rotate 3D objects, swipe through image galleries, watch videos in full screen, and more
• Use a finger as a highlighter when swiping over text in a textbook
• Take advantage of Study Cards to help you memorize important highlights, notes, and glossary terms
• Tap glossary terms to see definitions of key topics and concepts without leaving the page
iBooks Author
, so the publishing side of things will be taken care of as well. There will be
templates
, so you don't need to be a coder to do it - for cookbooks, children's books, travel guides, math and science publications, and so on. You can just drag images or even videos in the dedicated template placeholders, key in the text, link it, and your book will be ready in a jiffy, promises Apple.
These templates are free, but developers with some coding skills will go a long way to create much more engaging and more customized experiences, so some titles will be less amateurish-looking than others. At more than 1GB a pop for such books created with iBooks Author, the storage question might become an issue at some point.
Starting with high school textbooks, there will be
titles for each subject and grade level
, priced at $14.99 a piece or less. Apple has worked with the
biggest textbook publishers
on those, such as Pearson, McGraw Hill, etc., and books are for the students to keep once they buy them. The title Life on Earth, from the E.O. Biodiversity Foundation, will be available today for free, as a poster child of what such interactive textbooks can accomplish.
Well, one thing is for sure - if
tablet-based education
takes off, it will put an end to overflowing backpacks that are giving our kids spinal injuries.