Has your iPhone XS, XS Max or Apple Watch pre-order shipment been delayed?
2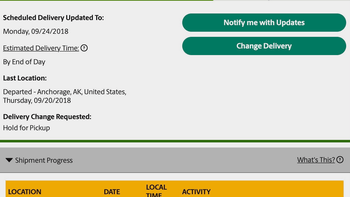 Unlike previous years, when your shiny new iPhone pre-orders sometimes landed on your porch on the day that they were officially released, and stragglers were hitting it even before that, this time you might have to wait until Monday. Oh, the horror, what gives?
iPhone XS
,
XS Max
, or
Apple Watch
packages has moved to September 24, instead of today, complained buyers. This seems to be a glitch in the system, despite UPS reps' explanations that Apple may have hit its delivery quota threshold set by the postal service contract all of a sudden.
The new
iPhone XS
, XS Max, and
Apple Watch
are supposed to be loaded on trucks overnight and start getting to their destinations today but don't be surprised if you have your date pushed for Monday.
Some users are noticing a reversal in the dreadful September 24 shipment switch back to today's date, so not all hope is lost even if you see Monday on the tracking page. This is why we wanted to ask you whether your own iPhone XS, XS Max, or Apple Watch shipment has been delayed at all. Sigh or nay?