iPhone Upgrade Program participants can now get preapproved for either iPhone XS or XS Max
3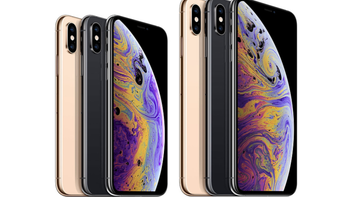 The new iPhones
are here
, and members of the iPhone Upgrade Program are probably eager to get their hands on their new smartphone. Apple's iPhone Upgrade Program allows participants to get the latest iPhone model without having to pay the full price at once. The price is spread over 24 monthly payments and after you've made 12, you're eligible to get one of the newest models by returning your current one and switching to another monthly payment. However, since you're basically getting a loan for your iPhone, you need to be approved for it.
Apple has opened the pre-approval process for members of the Upgrade Program, so they can get (or not get) the approval before pre-orders for the
iPhone XS
and
XS Max
begin on 12:01 AM Pacific Time, September 14th.
To go through the pre-approval process, launch the Apple Store app and select the iPhone model you want to get. Pre-orders for the cheaper
iPhone XR
are coming at a later date, so if that's what you're after, you'll have to wait a few weeks (until October 19th). If you're not part of the program, you can become a member by following the process within the app.
The iPhone XS starts at $49.91 per month and tops at $64.50 per month for the 512GB version. The bigger XS Max will set you back $54.08 for the 64GB version or as high as $68.66 for the 512GB one. These prices are for the unlocked versions. Even though the phones come with 0% interest, the final price is a bit higher than the regular one because the program includes AppleCare+ for all models.
Pre-approval will only be available until 4:00 PM Pacific time on September 13 (that's today), so if you want to be at the top of the pre-order list, you don't have much time.