iPad gaming accessory sale – $59.99 iCade, $8.99 JOYSTICK-IT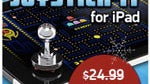 Think Geek is kicking off its Black Friday sale with some great deals. Two of which are on gaming accessories for the iPad that we've told you about in the past.
Back in April, we reported
Think Geek was taking pre-orders for the iCade arcade cabinet
. The iCade lets you connect your iPad via Bluetooth and play Atari's Greatest Hits on your iPad in a retro style arcade cabinet. If 99 bucks seemed a bit much to pony up for a nostalgia trip, you'll be happy to hear that Think Geek has it on sale for $59.99.
In July, we showed you the JOYSTICK-IT
. This little arcade stick attaches to the front of your device to give a classic feel to games that utilize a fixed virtual on-screen controller. At the time we reported that the iPhone version was selling for $17.99, which seemed a bit high. The iPad version sells for few dollars more, but the good news is, Think Geek has the JOYSTICK-IT for iPad on sale for $8.99.
source:
Think Geek