iOS 7: release date and all the new features
99+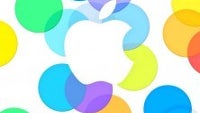 Apple iOS 7 was a closely guarded secret that did not leak out until the official introduction of the new iPhones on September 10. If anything, it definitely seems like Tim Cook has doubled down on secrecy, and while a beta version of the software has been available for a while, the average consumer has a lot to look forward to with the impending roll-out of the revamped OS.
The exact time iOS 7 will be released is unknown, though if history repeats itself, your iPhones should start getting the green light at around 10AM PST on September 18.
Now that you have a more concrete time frame, as far as iOS 7's release date is concerned, lets turn to the actual features of the new software. For starters, iOS 7 gets rid of the skeuomorphic design and exchanges it for a clean, modern look under new platform design chief Jony Ive. But it's not just the looks. iOS 7 catches up with the competition and finally introduces true multitasking, and a brand new control center with quick access to toggles and music controls, and a new notification center.
All apps have been redesigned to match the new design language and you can take at our concise rundown of all the new features in iOS 7 right below.