GM leak of iOS 11 reveals 2017 Apple iPhone names: iPhone X, iPhone 8 and iPhone 8 Plus
42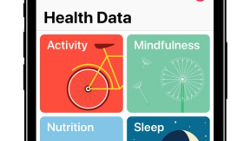 In just three days, many of the questions that we've had about the tenth anniversary edition of the Apple iPhone will be answered. One of the biggest questions is, what will Apple name this version of its iconic smartphone? From the very first rumors, most of us in the media have labeled it the Apple iPhone 8. The two iPhone 7 sequels were called the Apple iPhone 7s and Apple iPhone 7s Plus.
But last week, we passed along a couple of new rumors.
One had the tenth anniversary model named the Apple iPhone Edition
while the sequels were titled the Apple iPhone 8 and Apple iPhone 8 Plus. The other rumor
had the premium, OLED model called the Apple iPhone X
. That makes sense because the "X" could indicate a premium model, and it also represents the number "10" (as in 10th anniversary model) in Roman numerals.
Today, a developer named Steven Troughton-Smith was able to delve into a leaked Gold Master version of iOS 11 where he discovered that the last rumor we had appears to be right on the money. In other words, according to the iOS 11 firmware, the 2017 iPhone models will be named the Apple iPhone X (for the tenth anniversary model), the Apple iPhone 8 (the sequel to the iPhone 7), and the iPhone 8 Plus (as the sequel to the Apple iPhone 7 Plus). Sounds good to us.
We could get some more information between now and Tuesday's official unveiling event. Check in as often as you'd like for the latest rumors and news involving the most eagerly anticipated iPhone in years.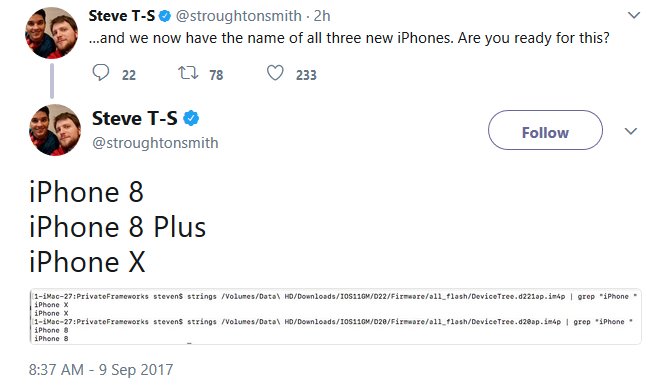 Firmware leak from iOS 11 GM indicates the names of the three new 2017 iPhone models
source:
@stoughtonsmith
via
AppleInsider