iOS 10 is already installed on one-third of compatible devices
49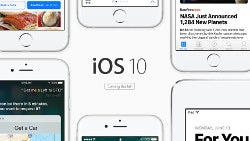 Apple's new iOS 10 has scarcely been around for a week, having been
formally introduced back at this year's WWDC
and gone through the usual rigmarole of
pre-release betas
. Despite its fledgling status and
a fair dose of teething issues for T-Mo users
, the latest firmware has already managed to reach a large chunk of its intended user base. Of the total count of iOS 10-ready iPhone, iPad and iPod touch devices out in the wild, one-third are now running it.
Cupertino always does pretty well when it comes to installs of new iOS iterations. This is largely because, unlike with Android, carriers and OEM partners do not get to intervene during the roll-out. Since Apple designs its own hardware and uses a closed-source platform, updates reach users in a timely manner, as has once again been demonstrated with iOS 10.
Earlier this month, Apple officially disclosed that almost
9 out of every 10 iOS 9-ready devices
were running the then-latest version. These latest numbers are not concrete, but the estimates of analytics firm
Mixpanel
. With a supposed 33.64 per cent rate of adoption in just under a week, iDevice owners are quickly taking to the new iOS 10, though it seems iOS 9's record-breaking 66 per cent install rate after two weeks may not be emulated this time around.
Have you installed iOS 10 yet? Let us know how you like the latest version by dropping a comment below.