88% of iOS 9-ready devices now have it installed, says Apple
99+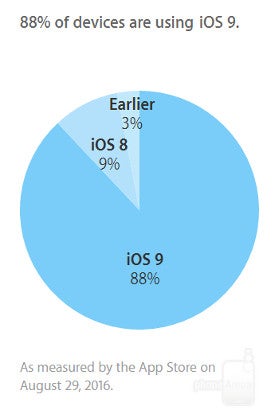 Apple has revealed on its developer support page that 88 percent of devices capable of running the latest iOS 9 have it installed. This equates to almost nine out of every ten recent iPhone, iPad and iPod touch devices in the wild.
With iOS 10 likely to be rolled out during
the coming week's big event
or shortly thereafter, Apple will surely be hoping for a repeat of iOS 9's impressive adoption rate. While the 9-in-10 stat is laudable at any point, Apple reported a 50 percent uptake of iOS 9 by the end of its September 2015 launch month — the fastest rate of iOS adoption in the firm's history. Then in November just after
iOS 9.1
dropped, Cupertino reported that 66 percent of those wielding iOS 9-ready devices
had taken the plunge.
While the major mobile operating systems have their share of pros and cons, it cannot be denied that when it comes to ease of updates in the mobile space, iOS is king. Where Android's device fragmentation and Windows' general lack of development mean that many users can be left waiting, iPhone and iPad owners generally avoid such tedium. New iOS iterations usually become available to all compatible devices right away — sans the carrier and third-party OEM interventions that can be
oh-so
frustrating to the Android community.
As aforementioned, iOS 10 will likely succeed the current version at some point this month. Therein,
users can expect
a new dark mode, bumped security, more emoji and other treats, along with the customary dose of bug fixes and general performance tweaks.