iMessage glitch exposed, sends texts to stolen iPhones
17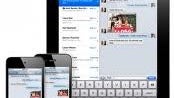 Getting their precious smartphone stolen is one of the last things that an iPhone user wants to deal with. And it is not only because the handset is going to get sold to an unsuspecting buyer never to return to its original owner, but also because all that private information stored on the device might easily end up in the wrong hands. A solution to the latter of these two problems would be performing a "Remote Wipe" so that all personal data gets deleted from the missing iPhone. However, users are now discovering that doing so does not work quite as intended.
According to numerous reports, iMessages sent from a stolen and remotely wiped iPhone appear as if they are being sent from the device's original owner. The glitch remains present even after the missing smartphone has been registered under a new account. Reportedly, changing the Apple ID password or moving the old number to a new iPhone does not help.
Apple has yet to come up with a statement on the matter, but people familiar with iOS' inner workings have already come up with their own theories. It is said that iMessage might be reading a user's phone number from a cache stored somewhere in an Apple database instead of using the number that is currently in use on the device. However, this theory has not been confirmed just yet, so the root cause of the problem might be absolutely different.
If you have ever had to deal with the same iMessage glitch, do not hesitate to share your experience in the comments section below. Feel free to include whatever steps you took in order to resolve the issue, and tell us whether they worked or not.