i3DG brings 3D videos and games to the iPhone
4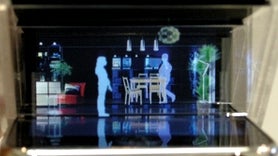 As if to prove again that it's the holy trinity of device-software-accessories that made the iPhone what it is now, watching 3D content on it is now possible. Brethtaking in its simplicity, and not requiring any dorky glasses, the i3DG Palm Top Theater has taken a design idea by media artist Jitsuro Mase, and brought it to the iPhone and iPod touch.
Just by using three half-silvered inclined mirror surfaces, i3DG has created the illusion of three dimensional image. The creators claim that the box that slips on the iPhone as an accessory, can be used for watching 3D movies, as well as accelerator based games. There is a workshop already going on, that will showcase the best movies and animations, created with the 3D gizmo for the iPhone in mind in early January.
A picture is worth a thousand words, and video is worth many pictures per second, so have a look at the contraption in action below, and tell us what you think.
via
Geek
Recommended Stories