Google brings Gboard keyboard app to Wear OS smartwatches
1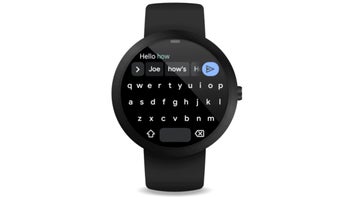 Wear OS
is not really in a great state, but Google is still supporting its operating system for wearable devices with new features and improvements. After delivering a major update early this year, Google is now bringing one of the most popular keyboard apps for Android devices to Wear OS.
Gboard
is now available for all smartwatches powered by Wear OS,
Google confirmed today
. The new app should make it easier for smartwatch users to type their messages or search for new apps.
For those who haven't used Gboard until now, it's worth noting that this keyboard app supports multiple input methods. For example, you can use the traditional QWERTY keyboard layout, as well as gesture input and voice input for a hands-free approach.
Also, Google's keyboard app features enhanced suggestions and corrections, which means that scrollable word suggestions offer more options when the user is actively texting.
Finally, Gboard comes with multi-language support, so you can switch between keyboard languages directly from the app. To switch between languages simply tap the dedicated shortcut at the bottom of the screen. Keep in mind that Gboard only supports those languages that are already supported by Wear OS.
If you're looking to install more apps on your smartwatch,
here are some of the best Wear OS smartwatch apps
that you can find.