Floating mode is coming to Gboard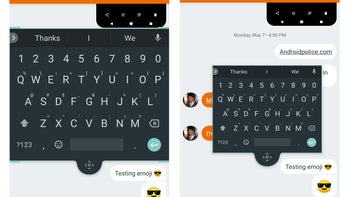 The latest update for Google Gboard Beta introduces an interesting new feature that's unfortunately not going to last long. Not in its current form anyway. The latest beta update for Gboard adds a "floating" feature to Google's popular keyboard app. The ability to switch it on is likely a developer oversight, however, as it works for only a couple of moments before Gboard to reverts to its default "docked" mode.
To enable floating mode, tap the arrow icon at the top left of Gboard. Then tap on the three-dot menu and select "Floating." This will enable a "handle" at the bottom, which allows you to move the keyboard around the screen and resize it. This could be especially useful on tablets and phones with larger displays as a continuation of the current one-handed mode.
Before enabling floating mode in Gboard, keep in mind that some users report that the feature works for only a couple of minutes before switching off on its own. This is likely because the feature is still being tested internally, as
Android Police
notes, and will likely go live in the coming weeks.
To try out the new feature, you can
sign up for the Google Gboard Beta program
on Google Play and downloading the latest version. If you don't want the floating keyboard to disappear, you can simply switch off Wi-Fi and your mobile data after applying the update. Then you can test out the new feature before re-enabling data and it disappearing.