Facebook Messenger will soon be able to automatically translate messages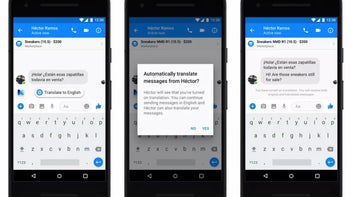 The convenient feature that lets you automatically translate comments on Facebook is coming Messenger soon. According to
CNET,
the feature will roll out in the US and Mexico and will be initially capable of translating only in English and Spanish.
The M Translations feature was announced at this year's F8 conference and is a part of M Suggestions – an AI suite for Messenger that allows users to tap out quick replies, make plans or book a ride through the platform.
M Translations works in a similar fashion to the translation feature that's already built into Facebook. That is, if an English-speaking user receives a message in Spanish, Messenger will automatically display a prompt to translate the text. Of course, the feature will work the other way around as well, allowing Spanish speakers to get automatic translations from English.
The feature should gradually roll out in the US and Mexico in the coming days, though Facebook is likely planning to expand the roster of available languages in the near future.