The soothing voice of Bob Ross comes to meditation app Calm
4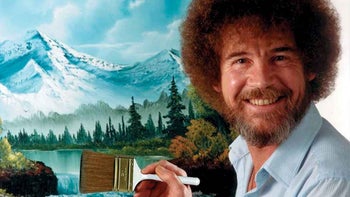 Can't sleep? Forget about pills! For years, people with sleeping problems have been turning to Bob Ross's soothing voice to catch some happy little Zzzs. If you've ever watched
The Joy of Painting
on PBS back in the 90s — or even more recently, on YouTube — you know what we're talking about. If not, well, lucky you! You're about to learn that there is no such thing as mistakes, just happy little accidents!
All
Joy of Painting
jokes aside, popular relaxation app
Calm
has received a new Bob Ross Sleep Story in the latest update, simply titled
Painting With Bob Ross
, that plays back recordings from the beloved PBS show to help you fall asleep more easily.
But Ross's calming voice is not the only thing on offer in the newest version of
Calm.
No, going with current
ASMR
trends, the creators of the app have also added a handful of other noises to go with the spoken word, including the sound of brush strokes, quite knife scraping, and palette dabs.
But there's even more Ross goodness on the way,
Engadget
reports, with
Calm
planning to release another two Sleep Stories featuring the bushy-haired painter this summer. If you haven't tried
Calm
, check out the links below to get it on Android and iOS.
Download Calm: