Best Black Friday phone deals (2020)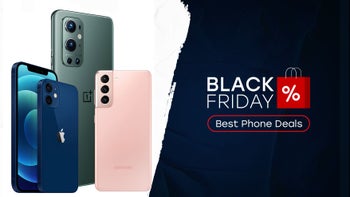 This article will be updated regularly as new Black Friday 2020 deals become available.
Black Friday 2020
is coming fast and despite all the turmoil and the difficult health situation in the world, we're expecting a full-fledged event with better deals than ever before. You may think it's too early to start looking for a bargain out there but actually, deals are starting to appear as we type and you need to prepare accordingly. Most of the big online stores start their Black Friday campaigns up to a month early - many
Black Friday deals are already online on Amazon
, there are some
Black Friday sales at Walmart
, and
Target Black Friday sales
have been announced, so we're going to do the same and help you find your perfect Holiday present as soon as possible.
Black Friday sales on Samsung phones
Samsung Galaxy S20, Galaxy S20+, and Galaxy S20 Ultra
The
Samsung Black Friday deals
have started early and you can save lots of cash with these Samsung
Galaxy S20
deals. You can get the Galaxy S20 for as low as
$389.99
, which is a real deal. The lowest possible price of the Galaxy S20+ is
$539.99
. If you act fast, you can score the Galaxy S20 Ultra deal and snatch one for as low as
$739.99
. Things are a bit stale on BestBuy at the moment - the Galaxy S20 sales at $999 and you can shed the usual
$50
with activation.
Getting the Samsung Galaxy S20 with a plan is one of the best options if you want to save some serious cash. Verizon has some nice BOGO (Buy one, get one) options and you can save up to $1000 on a second device with a new line. There's the option to upgrade and save up to $400 if you trade your old device too.
Samsung Galaxy Z Fold2, Galaxy Note 20, and Galaxy Note 20 Ultra
If you want to own a piece of the future, there's the Galaxy Z Fold2. It is improved in almost every way over the first foldable from Samsung. The Galaxy Z Fold 2's price at launch scared many people and potential early adopters of the technology but now, as Black Friday approaches, deals on the futuristic gadget start to show.
Samsung is running a crazy promo, allowing you to score the Galaxy Z Fold2 for as low as
$999
, a
50% off
the original $2000 asking price. You have to trade-in an eligible phone to get this deal running but there's no other phone such as the
Galaxy Fold
, so that shouldn't be a problem. The same deal apply to
Galaxy Note 20
and Note 20 Ultra models - you can get them for $249.99 and $549.99 respectively.
Apple iPhone discounts for Black Friday
The new
iPhone 12
series is officially here in its full glory and all four models are available for purchase. At the moment prices of these premium devices are firmly planted in the no-discount territory. You can get each and every iPhone 12 model, of course, but until Black Friday comes, the prices remain as premium as the devices themselves.
Apple's last year flagship
iPhone 11
series, sporting the fast and capable A13 Bionic chip and awesome camera systems, are still great if you're looking into upgrading, even in 2020. Now that the new generation is here, prices of the iPhone 11 series are going down. If the
iPhone 11 Pro
or Pro Max float your boat better, Verizon is offering a $350 discount online and up to $850 off when you trade in an old phone and activate a new line. You can also pick up the devices from AT&T, Best Buy, Target, or even renewed at Amazon.
Black Friday discounts on Google Pixel phones
BestBuy has a clever trick going on, shaving $100 from Pixel 5's price and another $100 if you choose Sprint as a carrier. That's a solid $200 off the price. You can buy the
Pixel 5
on Verizon and skim up to $550 off its $699 price with a suitable trade-in. Another option is to get the Pixel 5 for $29.16/month with a two-year contract. There's the AT&T option as well - you can get the Pixel 5 for $15/mo (for 30 months) with a new line or an upgrade. That'll score you the Pixel 5 for $450, $274.99 down from the listed price of $724.99.
If you fancy the
Pixel 4a
, BestBuy is your place one more time. The retailer offers its usual $50 discount and in this case it's one of the best options on an already very affordable phone. Considering the retail price of $349, $50 off starts to look like a substantial saving. Of course, there's always the option to get the phone with the plan and save even more, so check out the carriers section too.
The Google Pixel 4a 5G is something of a rarity right now. AT&T is now stocking the new Pixel 4a 5G with a fresh deal on the device. New and existing customers can get the phone for just $10/mo (for 30 months) a new unlimited plan. The Verizon-exclusive mmWave version of the Google Pixel 4a 5G can be yours for $599 but there are several ways to bring this price down. You can trade-in your old phone and get up to $360 off.
Motorola Black Friday deals
If you want to really stand out from the rest of the smartphone crowd you need a foldable phone. The Motorola Razr 5G reincarnates the iconic flip phone design and takes it to the modern age, where flexible screens are the latest tech hype. If the Razr is too fancy for you, Motorola has a wide variety of models enjoying Black Friday prices right now.
Black Friday deals on Sony phones
You can still have something unique without going the foldable route, though. The Sony Xperia lineup has gone 21:9 since the
Xperia 1
official launch and these devices offer a different look and feel to other smartphones. There's an amazing deal on the ultra-premium flagship that started the 21:9 trend - the
Sony Xperia 1
.
Black Friday deals on LG phones
The online space is starting to boil with great deals on LG phones, despite phones from the Korean manufacturer being a rarity lately. Of course, the one everyone talks about is the LG Wing and believe it or not there already are some deal on this strange device via the major carriers. The company has most of its phones on sale right now, so be sure to check out the list below.
OnePlus Black Friday sales
OnePlus is running a promo offer for its hottest phones for the whole month. Starting on the 4th of November and up until the 30th, you can get almost every model at a great price. Check out all OnePlus Black Friday deals in the listing below: