Best Black Friday Motorola deals: Deals extravaganza!
We may earn a commission if you make a purchase from the links on this page.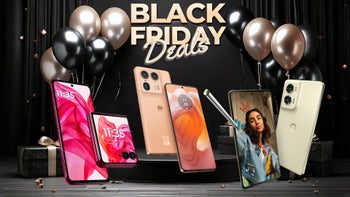 Black Friday is over and gone, but that doesn't apply to many of the supreme deals we came across during the shopping spree! In fact, the entire portfolio of Motorola handsets is still seeing deep markdowns this Black Friday event, with the Razr and Razr+ having their prices slashed by $200-$300.
The no-miss Motorola.com deal on the Edge+ (2023) is also still very much active and available. In case you don't remember it, it allows you to save $170 on this highly capable flagship by Motorola.
The discounts on Moto G devices have no intention of leaving any time soon, either. For instance, the stylus-powered Moto G Stylus 5G (2023) is still available at $175 off via the official store.
Top three Black Friday Motorola phone deals today
Motorola Edge Plus (2023) and Motorola Edge (2022) Black Friday deals
Motorola's latest phones are seeing some pretty deep discounts this Black Friday. Right now, the
Motorola Edge (2023)
is available for almost half of its usual price! More precisely, you save $250 with Amazon's Black Friday deal.
The star of the show is another, 2022-released phone, though. Right now, the
Moto Edge 30 Fusion
in Viva Magenta bundle with the MOTO BUDS 600 ANC earbuds at a record-low 61% cheaper price! That's right, you can save up to $485 on this smartphone!
Motorola Razr Black Friday deals
Motorola is known for having the most affordable
foldable phone
on the market. Of course, that's none other than the
Motorola Razr
, a device which came out this year. Well, folks, thanks to this year's Black Friday, that same phone's price is going even further down, going just below the $500 mark! The fantastic discount is live at several online merchants, too.
The Razr+ is an equally appealing choice for those who seek Motorola's ultimate clamshell foldable perfection. The device boasts a cool $300 discount at Amazon. Incidentally, the official store is offering the same markdowns on both devices, but those who can trade in an older device can get extra savings.
Black Friday deals on Moto G phones
Friday may be over, but the superb deals on Moto G phones are still here! The
Moto G Play (2023)
retails for under $100 on Amazon, making it a superb choice for people who don't want to cough up way too much money on a new phone.
The 4G-enabled Moto G Stylus (2023) also dropped to an unheard-of low price, this time at the official Motorola store. Here, you can get it at 33% off its price tag. Over at Walmart, we found a prepaid version of the same phone, locked to Straight Talk, that's now available for under $40.
Recommended Stories