Best Black Friday 2022 Motorola deals: recap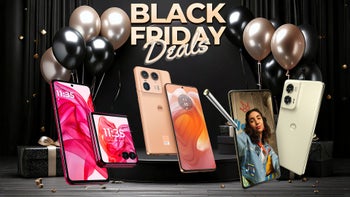 Black Friday 2022
is now behind our backs. Hopefully you've been able to score a nice deal on your tech device and you're pleased with the offers we saw during the shopping event. In this article, we have a recap of what happened this year in case you've missed it. Basically, deals on Motorola phones were everywhere during the sales, especially at Best Buy and Amazon. These two retailers rocked the best Moto deals on Black Friday. Now, let's get into detail of what we saw during the event.
Motorola Edge Plus (2022) Black Friday deals: recap
The recently released Motorola flagship, the Motorola Edge Plus (2022) came at a rather hefty price. The $999 phone features Snapdragon's fast 8 Gen 1 chip, lots of RAM, good cameras, and an amazing display. Still, this price could be a hard pill to swallow, so we are happy to say, that this phone saw big discounts during this year's Black Friday weekend. The Motorola Edge Plus (2022) was available with discounts of around $200 off at Amazon and Best Buy.

Models from previous years from the Edge lineup were also getting discounted. Here, the discounts were around 20% off (for example on the Moto Edge from 2020). All in all, things were great for Motorola Edge buyers during the event this year.

Motorola Edge (2022) Black Friday deals: recap
The recently released Motorola Edge (2022)'s predecessor was $400 off at Best Buy this year, which is quite the epic offer. The 2021 Edge also offers a large screen with a high refresh rate, a big battery, and a nice-looking design. The Snapdragon 778G processor that powers it isn't bad either. Its newer, MediaTek Dimenisty 1050-powered version with an OLED screen was discounted by $100. Cool thing - both deals didn't require any trade-in or carrier activation.

Motorola RAZR Black Friday deals: recap
Motorola's foldable Galaxy Z Flip line competitor, the 2nd Gen RAZR, was a whole 57% off at Amazon - yep, that means it was retailing for $800 less than its usual price. This phone offers very stylish looks, good performance, and a great foldable P-OLED display. It doesn't have the best build quality, as our review unit's hinge was a bit on the squeaky side, but this isn't a deal breaker.

The 2019 version got even steeper discounts. It saw an epic $1000 off at Motorola's website during Black Friday 2022. Basically, it was available for mid-range money at $499.

Motorola One, Motorola Moto G and other Motorola Black Friday deals: recap
There are many mid-range and budget Motorola phones that are often at a great discount, and this Black Friday was no exception. For example, the Moto G 5G was $100 off at Amazon this year. Phones like the Motorola Moto G Stylus and the Moto G Power saw epic discounts.
The Moto G Stylus from 2022 was $200 off, the Moto G Power from 2021 was $120 off. All in all, as you can see, Black Friday this year was
the time
to get an affordable Moto phone for less money than ever!
Which Motorola phone is the right for me?


Motorola has a large smartphone lineup, so sometimes it might get confusing as to which phone is for you. One thing you should remember is that every Motorola phone has a clean, close to stock Android interface, to which the company adds only its intuitive and practical features, like the double twist of the device to access its camera. Build quality is also good across all Motorola phones, and they are known for being reliable and withstanding the test of time, especially the more expensive ones.
If you want the best from Motorola, the
Motorola Edge Plus (2022)
and the
Motorola Edge (2022)
are what you're looking for. These phones offer amazing performance, modern design, very good camera setups, and great value for money. They are a great choice if you're into big phones too, as both of these have large displays. Another thing that is large on both phones is their battery.
Motorola offers only one foldable phone, so if you're interested in a compact folding device your only choice is the
Motorola RAZR (2020)
. This is the second generation RAZR foldable phone from Motorola, and it is a significant improvement over its predecessor. It has a vivid P-OLED screen, a good camera, and nice looking design. Like we mentioned earlier, its only shortcomings are found in the phone's fit and finish. The RAZR (2020) often sees big discounts, which makes it of great value.
The Moto G family is a budget phone lineup that offers amazing value for money. All of the Moto G phones have longer than average battery life, with some like the
Moto G Power (2022)
capable of lasting more than two days on a single charge. The
Moto G Stylus 5G
is another great phone from the series with its big display and fast processor.
Motorola's One series also offers great value for money. The
Motorola One 5G Ace
is one with a very nice display, fast Snapdragon 750G processor, a good camera system, and a big battery. Even though it was released almost one year ago, it is still one of the best affordable phones you can buy. It is a great choice if you are looking for something with better specs than the Moto G phones but don't want to spend all that money on a Motorola Edge (2022).
Are there unlocked Motorola phones on Black Friday?
The Black Friday deals at Motorola's website are usually for unlocked models, and the same can be said about Amazon's deals. Best Buy does offer unlocked Motorola phones during sales, and now all of its Moto deals don't require activation. Of course, if you go for carrier Black Friday deals, the Motorola phones there would most probably be locked.
However, as we already indicated, there are many options to get an unlocked Motorola phone during Black Friday: mainly Motorola's website, Amazon, and Best Buy. We recommend keeping your eyes on the fine print and deal details to make sure that you are getting an unlocked device.

Where to find the best Motorola deals on Black Friday?
The best Motorola deals during Black Friday are usually found on Motorola's own website, Amazon, and Best Buy. The cool thing is that the retailers, such as Amazon and Best Buy, usually match Motorola's website offers and generously discount the models that you can see discounted there. So, you've got plenty of options to get epic deals on Motorola phones during the shopping event. Walmart and Target also have good deals on Moto phones, but the best deals are most likely to appear at Motorola.com, Amazon, and Best Buy.
Check out our other Black Friday content too: