Apple Watch Series 4: top rumored new features
7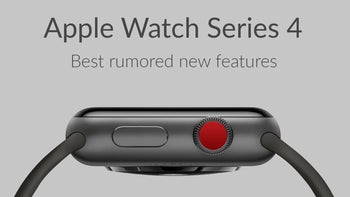 The Apple Watch Series 3 is one of the most popular smartwatches out on the market right now, but this year Apple is expected to reveal a successor with beefed up specs, more features, and a refreshed design. 2018 is shaping up as quite the interesting year for wearables all around, with Samsung and Google prepping to release their own smart timepieces at the end of the summer or mid-fall. Not to mention that Google is also reportedly working with a numbner of prominent partners to launch a whole new lineup of smartwatches powered by the revamped Wear OS. The competition is going to be fierce this time around.
The Apple WatchSeries 3 was announced on September 12 last year, so we are likely looking at a September reveal for the Series 4 as well. As we're moving closer to the launch, more rumors and information are surfacing about Apple's upcoming smartwatch, offering an early glimpse at some of the new features that will be incorporated into the device.
For this reason, we decided to sift through all the information available and compile a list of some of the rumored new features that will be debuting on the upcoming Apple Watch Series 4.
Refreshed design, bigger display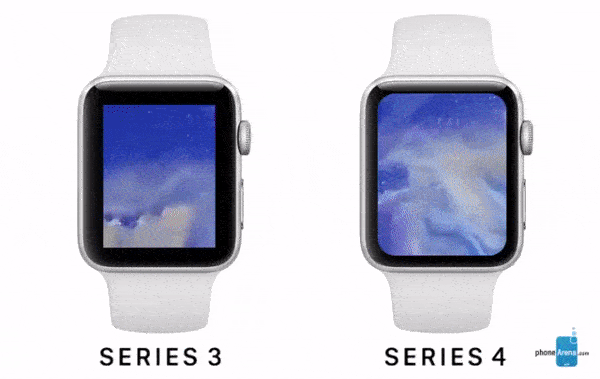 The Apple Watch Series 4 is heavily rumored to feature a 15 percent bigger screen than previous models. It's not clear yet whether this means the case will remain the same, with thinner bezels to all around to facilitate for the larger screen, or a bigger overall size for the Series 4. All previous generations of the Apple Watch have been available in 38mm and 42mm case sizes, so that's likely not going to change, but considering the rumors about a bigger battery, the Series 4 may be a tad thicker than previous models. That said, previous Apple Watch models have had quite the thick frame around their displays, so if Apple manages to slim it down a bit, we're likely not looking at a device that will be noticeably bigger than its predecessors.
According to reliable analyst Ming-Chi Kuo, Apple Watch Series 4 models will have the following screen sizes: 1.57-inches for the 38mm version and 1.78-inches for the 42mm model. For comparison, the current Apple Watch Series 3 is offered in 1.31-inch and 1.54-inch models. These changes are, whoever, not expected to affect the overall size of the device. After all, Apple is a stickler for compact form factors, so a bulky Watch is pretty much out of the question.
Again according to Kuo, Apple's next smartwatch will also have a
"more trendy form factor design,"
which is an interesting tidbit of info that can certainly ignite the imagination, but it's not exactly clear what that means. We're definitely not expecting Apple to come out with a round watch design at this point, but the Series 4 may feature subtle design refinements that will make it stand out from previous models.
Improved battery life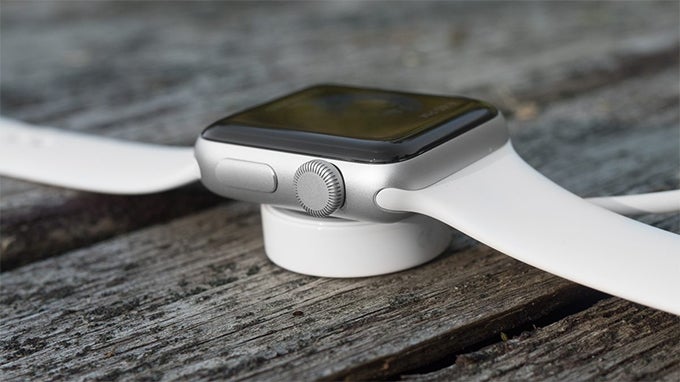 The original Apple Watch had to be charged daily, which was far from ideal for people coming from fitness trackers or regular watches. Fortunately, Apple amended this to a degree with the Series 2 and Series 3, but there's still room for improvement. A bigger battery could not only eliminate the annoyance of charging the device as frequently, but also open up the possibility of better tracking capabilities.

For example, if you don't have to charge your Apple Watch every night before going to bed, you could wear it instead and get sleep tracking data, which is one of the most popular features of dedicated fitness trackers. The Gear S4 (a.k.a Galaxy Watch) is expected to feature a battery that's around 15 percent bigger than that of the Gear S3, so we'd wager that Apple is also looking to increase battery size on the Apple Watch Series 4. Fortunately, rumors these past few months have been decisively suggesting improved battery life for the Apple Watch Series 4, so that's something we're definitely looking forward to.
New health and fitness tracking features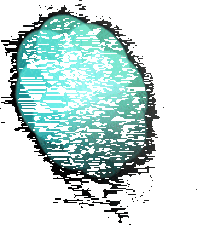 More accurate heart rate monitoring is expected to come to the new Apple Watch, but what's more interesting, Apple could go so far as to implement an EKG monitor in the Series 4. EKGs, also known as ECGs or electrocardiograms, are tests that record the electrical activity of the heart and are much more accurate in their measurements than standard methods currently used in consumer tech.
Citing inside sources, a
Bloomberg report
from December 2017 claims that Apple has been testing an EKG monitor that
"requires users to squeeze the frame of the Apple Watch with two fingers [which] then passes an imperceptible current across the person's chest to track electrical signals in the heart and detect any abnormalities like irregular heart rates."
What's more, the Galaxy S9 and S9+ have recently proved that
a smartphone could be used to measure blood pressure correctly
, so we wouldn't be surprised if Apple were also looking at introducing a similar feature in its upcoming smartwatch. This would also tie in with the rumors for a self-adjusting watch strap, as this would help deliver better blood pressure measurements with minimum interference from the user.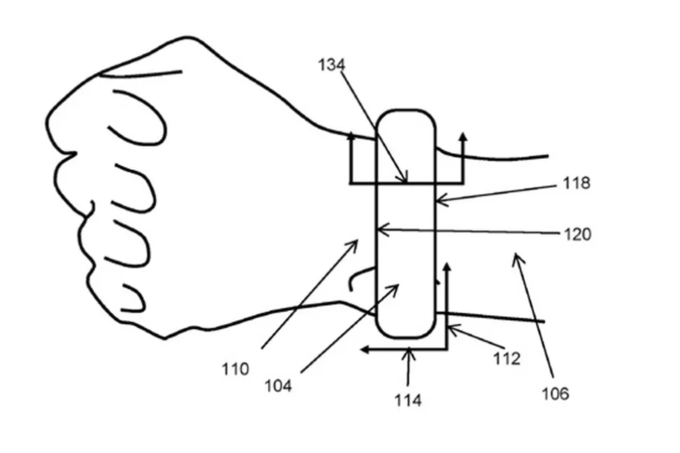 Recent Apple patent depicts a blood pressure monitor housed in the band of a wearable device
What's more, Apple has recently been granted a patent for a blood pressure monitor housed in a wearable device. Sketches from the patent filing depict what looks like a regular fitness band that is equipped with several sensors that will track a user's blood pressure at all times. And since it's highly unlikely that Apple will release a standalone blood pressure monitor, the most likely scenario will see the tech integrated into a future Apple Watch, possibly even the Series 4, which is in line with the recent reports about the device's improved heart rate monitoring capabilities.
Face ID?
The notion of having a camera on the Apple Watch, aside from one on a modular strap perhaps, may seem a bit strange, not the least because it would waste precious space on such a small device. However, we've recently seen a number of Apple patents surface, that suggest some sort of
"user identification"
and mention a
"camera"
module integrated into the design of a smart wearable.
Even if this pans out in time for the Apple Watch Series 4, we wouldn't bet on a comprehensive 3D face scanning system as the one found on the iPhone X. The iPhone X's TrueDepth camera harnesses the power of a number of different sensors that would require too much real estate on the front of a smartwatch to be a viable alternative to traditional face unlock. If this feature, indeed, finds its way onto the Apple Watch Series 4, it will likely be in the form of 2D face recognition. The introduction of a camera on the Apple Watch would also allow for another neat feature – using FaceTime without an iPhone.
So, are you excited for the Apple Watch Series 4? Apple has been reiterating the same design for three generations now, would you like to see a new Watch that really looks different than the ones before it, or are you content with the rectangular form factor? Tell us in the comments below.
ALSO READ: