Amazon Music Unlimited permanently drops to $0.99 a month for Prime Student members
1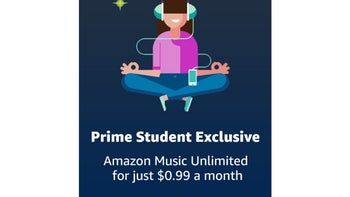 Even though the
Prime Day
deal festival has technically wrapped up several weeks ago, Amazon isn't ready to give up the spotlight just yet, drawing attention to its comprehensive paid subscription service once again with an incredible price cut on music streaming.
Obviously, this insane promotion is not for everyone, and you need to meet a few very specific requirements to qualify for it. You can't just sign up for an Amazon Music Unlimited subscription alone, as you'll first have to be a Prime member. And not just any sort of Prime member. Instead, you'll need to join Amazon's Prime Student program, which will cost you $6.49 a month to begin with.
For the best of Amazon's Prime Day Deals, look no further than PhoneArena's specially selected deal hub. We keep track of Amazon and other retailers' top sales there!
On the bright side, new subscribers can get a 6-month trial before starting to pay the $6.49 a month. Even better, the $0.99 Music Unlimited add-on is available for existing Prime Student members as well. Of course, the $7.48 a month you'll need to cough up for Prime perks and Music Unlimited streaming exceeds the normal cost of an
Apple Music
or
Spotify subscription for students
. But Amazon also offers way more value here, including Prime Video streaming, a whole bunch of delivery benefits, and exclusive discounts on popular products.
Clearly, the e-commerce giant badly wants to chip away at the
subscriber numbers of Apple Music
and
Spotify
, trying everything in its power to attract the crowds at any cost. And if you're already an Amazon Prime Student user, it's hard to turn down this unbelievable opportunity to stream music on any device almost free of charge.
Check out the deal here