Apple Music grows to over 60 million monthly users worldwide
10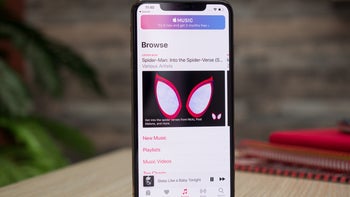 Apple Music and Spotify continue to compete for world domination, as both music streaming services claim they have many millions of subscribers. Up until now, Spotify was the supreme ruler with more than 100 million subscribers worldwide
reported two months ago
.
Before that,
Apple said
it has amassed 56 million subscribers by December 2018. Six months later, the number didn't increase as much as one would expect.
French media
(via
Music Business Worldwide
) reports Apple's SVP of Services, Eddy Cue said the music platform exceeded 60 million users.
We're referring to them as users since Apple confirmed the number includes free trialists, so we're not yet sure how many are actually paying for the service, although we do know they should probably be at least 56 million as Apple pointed out six months ago.
With the latest improvements to its Music platform added in the latest
iOS 13 version
, such as time-synced lyrics, Apple hopes to bring even more subscribers under its umbrella in the coming months. It remains to be seen whether or not the pace at which Apple Music is adding new subscribers each month is too slow to beat Spotify for the world's largest music streaming service title.
It's also worth mentioning that
Apple Music
has more subscribers in the US than Spotify and that the latter announced it reached more than 200 million monthly users back in April.