ZTE Grand X launches in the UK with a focus on mobile gaming thanks to its Tegra 2 CPU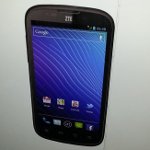 Right on schedule, ZTE announced the availability of its most advanced gaming smartphones for the UK – the

ZTE Grand X

. Yes folks, it's quite a grand entrance considering that the handset is primarily being targeted to those who have an affinity for hardcore mobile gaming.

Available through

Phones4u and Virgin Media

in the UK, the ZTE Grand X is undoubtedly a high-end Android powered smartphone running

Ice Cream Sandwich

. Some of its main standout features include a 4.3" qHD (960 x 540) display, dual-core 1GHz NVIDIA Tegra 2 processor, 5-megapixel rear camera, and a front-facing VGA 0.3-megapixel snapper.

Seeing that it's being powered by the

NVIDIA Tegra 2 processor

, it's especially going to give gamers a fast, smooth, and responsive experience – while giving them access to some great gaming content as well . Additionally, it packs

cinematic-surround Dolby Mobile sound technology

to complement its amazing video watching experience courtesy of its sharp display.

In terms of pricing, it'll vary according to each carrier and mobile plan offering. However, as we all know, being a ZTE made device has its ties to being something affordable on any budget – and this doesn't disappoint in that aspect! Specifically, the ZTE Grand X will be available for

$295 (£189)

in pre-paid form and for

free

on £24-£27 per month contracts.

source: ZTE via Android Central & SlashGear




ZTE Grand X dual-core smartphone launches in UK
ZTE Grand X handset delivers great video and gaming with a fast dual-core chipset and large high-quality screen - available from Phones 4u and Virgin Media

18 July 2012, London, UK – ZTE Corporation ("ZTE") (H share stock code: 0763.HK / A share stock code: 000063.SZ), a leading global provider of telecommunications equipment and network solutions, has launched the ZTE Grand X dual-core 4.3-inch screen smartphone in the UK, bringing high-end mobile video and gaming experiences to a wider audience.

The ZTE Grand X combines an NVIDIA Tegra 2 dual-core chipset with Android 4.0 (Ice Cream Sandwich) to deliver a rich mobile multimedia experience - a world of entertainment in one device.

The powerful processor delivers fast download speeds and video processing and, combined with the 4.3-inch 16 million colour Sharp screen (960x540) and cinematic surround-sound Dolby Mobile Sound technology, enables the Grand X to provide a compelling mobile entertainment experience.

The NVIDIA Tegra processor means games run fast and smooth, and one-touch access to the Tegra Zone gives mobile gamers quick access to the world's best mobile games.

The ZTE Grand X incorporates a variety of connection capabilities including Bluetooth, WiFi and DLNA which enable users to share content across multiple devices such as TVs and displays, printers, cameras, and other mobile and multimedia devices. The smartphone also allows users to capture, play and share content using the HD video capability.

"ZTE Grand X brings high-end mobile video and gaming within the reach of a whole new audience," said Mr. He Shiyou, ZTE EVP and head of the Terminals Division. "It provides a world of entertainment in a single device – combining high quality and a wide range of functions for a great mobile multimedia experience."

Using the NVIDIA Tegra chipset, the ZTE Grand X is able to provide consumers with best-of-class graphic quality for watching movies, browsing online and photo sharing.

Gaming on the handset delivers authentic and sharp images; the lens is dynamic, and content is rendered for a high-impact interactive experience delivering console-quality on all games.

"With ZTE's Grand X handset, buyers have the best of both worlds: an amazing, high-end user experience at a cost that will be noticeably lower than handsets with similar specifications. With the Grand X, you have all the benefits of a powerful processor combined with a large, high-quality screen and high-end design," said Scott Hooton, Chief Commercial Officer, Phones 4u.

Jamie Heywood, director of mobile at Virgin Media said, "We're enjoying a great partnership with ZTE, having already launched two handsets with them this year, and their latest phone, the Grand X, is a fantastic addition to our extensive smartphone range. Coupled with our best ever 'Premiere' tariff* from just £27 a month and boasting unlimited data as standard and inclusive insurance at no extra cost**, Virgin Media customers can stay connected on the go all day every day without worrying about hidden costs."

Other features of the Grand X include Facetones which shows friends' latest social media updates and photos when they call; and Evernote which enables users to save voice notes, memos, photographs and music in the cloud so they are always accessible.

The ZTE Grand X is a class-leading, feature-rich handset and will be available on contract through Phones 4u and Virgin Media stores across the UK from beginning of August at highly competitive monthly tariffs. Availability will be announced near the time.

Specifications:
Processor: NVIDIA Tegra 2, Dual-core (AP20 Dual Core 1GHz)
Display Size: 4.3" – 16M QHD (960 x 540)
Modem: NVIDIA i450 (HSDPA Cat14, 21Mbps)
Weight: 110g
Dimensions: 127mmx64.6mmx9.9mm
Connectivity: Bluetooth 2.1, WiFi, DLNA
Camera: Dual Camera 5MP AF Flash/0.3 MP
User Memory: 4GB + up to 32GB Micro SD
RAM: 512 MB
Storage: 4GB, expandable to 32GB (Micro SD)
OS: Android 4.0 (ICS)
Battery: 1650 mAh Li-Ion
Others: Dolby Mobile Sound / HD Voice / HD video capture and playback / Facetones / Evernote / Documents to go / Tegra Zone (Gaming Marketplace)

'Premiere 08' includes 500 mins to 0800, 0845, 0870 & 0808 numbers per month
**Our insurance is arranged and administered by NEWAsurion Europe Limited, who are authorised and regulated by the Financial Services Authority (no. 502545), registered address: Chiswick Place, 272 Gunnersbury Avenue, Chiswick, W4 5QB. The Insurer is Liberty Mutual Insurance Europe Limited, who are authorised and regulated by the Financial Services Authority (no. 202205), registered address: Third Floor, 2 Minster Court, London, EC3R 7YE

Virgin Media will offer the ZTE Grand X on prepay for £189.99
Phones 4u pricing and tariffs to be confirmed.

About ZTE
ZTE is a publicly-listed global provider of telecommunications equipment and network solutions with the most comprehensive product range covering virtually every telecommunications sector, including wireless, access & bearer, VAS, terminals and professional services. The company delivers innovative, custom-made products and services to over 500 operators in more than 140 countries, helping them to meet the changing needs of their customers while growing revenue. In 2011, ZTE's revenue increased by 29 per cent to USD13.7 billion. Its overseas operating revenue grew 30 per cent to USD 7.4 billion during the period, accounting for 54.2 per cent of overall operating revenue. ZTE commits 10 per cent of its annual revenue to research and development and has leadership roles in several international bodies devoted to developing telecommunications industry standards. ZTE is committed to corporate social responsibility and is a member of the UN Global Compact. The company is China's only listed telecom manufacturer that is publicly traded on both the Hong Kong and Shenzhen Stock Exchanges (H share stock code: 0763.HK / A share stock code: 000063.SZ). For more information, please visit www.zte.com.cn.