ZTE Blade X2 Max coming soon to Cricket Wireless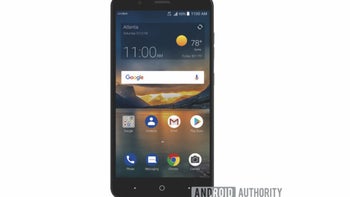 The
Blade V9
is not the only smartphone ZTE plans to introduce in the United States this spring, but it might be one of the few high-tier devices coming from the Chinese handset maker.
It appears that a mid-range Android phone that goes by the name of ZTE Blade X2 Max will be available in the US via Cricket Wireless, though details about release date and price remain a mystery.
In fact, aside from a picture of the device that was obtained by
AndroidAuthority
, no other information about the smartphone was made public. However, we expect this one to be a mid-range phone since it's the sequel to the
Blade X Max
, which made it to the market last year.
The Blade X Max is a phablet that boasts a huge 6-inch display with full HD (1080p) resolution and a not so powerful
Snapdragon 450
processor, paired with either 2 or 3GB of RAM.
ZTE Blade X2 Max could pack similar specs inside, although we expect some slight improvements to the chipset. Price-wise, ZTE's smartphone should cost less than $200, but we'll have to wait for Cricket Wireless to actually announce it.