Accessory turns your Google Home Mini smart speaker into Mickey Mouse
3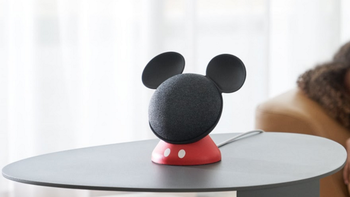 How would you like to turn your Google Home Mini smart speaker into a 90-year old rodent? Now listed in the Google Store is a base for the Home Mini that turns the device into Mickey Mouse with his signature big black ears, red shorts and tail. The accessory is produced by a partnership between Disney and OtterBox, and is the first Den Series product made for the Google Home line of smart speakers.
Found in the new accessories section of the redesigned Google Store, the price of the Home Mini base is $19.95. That might seem steep for a smart speaker that costs $49, but you'll find it well worth the cost just to see the expression on your kids' faces.
The full name of the product is the OtterBox Den Series Base featuring Disney Mickey Mouse for Google Home Mini, and it is coming soon. With little touches like this, Google might be able to hold on to its spot above category creator Amazon when it comes to global smart speaker market share. According to Canalys,
Google had a leading 32.3% share of the smart speaker market
during the second quarter, topping Amazon's 24.5% slice of the pie.
If you're interested in bringing a little Disney magic inside your house, click on the sourcelink below.