Report: Global Google Home shipments rose 449% in Q2 to grab the top spot from Amazon
16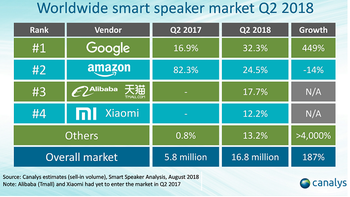 A few days ago, we showed you Strategy Analytics' look at the global smart speaker market during the second quarter,
which showed Amazon on top with its Echo devices
, followed by Google. According to the research firm, Google had a spectacularly strong three month period with year-over-year growth in shipments hitting 420%. But SA still had Amazon on top.
Today, Canalys released its look at the global smart speaker market for the second quarter, and it too had Google racking up amazing growth year-over-year. But this report showed that a 449% growth rate in shipments of Google Home units from April through June propelled Google into the top spot, overtaking category creator Amazon. Canalys' data shows that Google had 32.3% of the market during the quarter, up from the 16.9% it owned during the same time last year.
Amazon, on the other hand, saw its 82.3% share of the smart speaker market decline to 24.5% according to Canalys. The company shipped 14% fewer units during the period compared with last year's figure. Alibaba and Xiaomi, both of which had no presence in the industry last year, had Q2 global market share of 17.7% and 12.2% respectively. Apple, which Strategy Analytics pegged for fourth place with shipments of 700,000 HomePods in the period, was part of the "Others" group in the Canalys report. That group saw its hold of the smart speaker market rise from .8% in Q2 2017 to 13.2% in this year's second quarter. That was a growth rate in excess of 4000%.
Canalys says that the low $30 sales price available at times for Google and Amazon's low-end speakers (the Google Home and Echo Dot) helped the industry deliver 16.8 million units worldwide from April through June. That was up 187% from the 5.8 million units shipped in the same quarter last year.