You can watch Microsoft's 2014 Build conference livestream here
11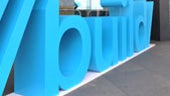 Microsoft's yearly Build developer conference kicks off today, and we expect to see some big news come out of there, including probably the biggest update to Windows Phone - version 8.1. The conference kicks off with a keynote and will continue with various developer sessions, but it's the keynote that should break the most important news. Luckily, you should be able to watch a livestream of the event over at Microsoft's channel 9. The link for the stream is not yet live, but we expect Microsoft to turn the cameras and the stream on at around 8:30AM PDT | 11:30 EDT.
Of course, expect appearances from Windows Phone head Joe Belfiore, Microsoft's new CEO Satya Nadella, and many others, that should walk us through all the new stuff that Redmond has cooked in the past few months.
In addition to that, Nokia, the largest Windows Phone partner for Microsoft, will also hold an event later today, so we expect new Lumias to get unveiled shortly after the first presser.
In the meantime, you can take a look at our
round-up of all you expect from Windows Phone 8.1
, as well as the
new Lumias that are expected to arrive soon
.
Finally, here is the link where Microsoft's 2014 Build conference should stream live, bookmark it and take a look back at 8:30AM PDT | 11:30 EDT: