You can now "like" shared pictures, videos and albums in Google Photos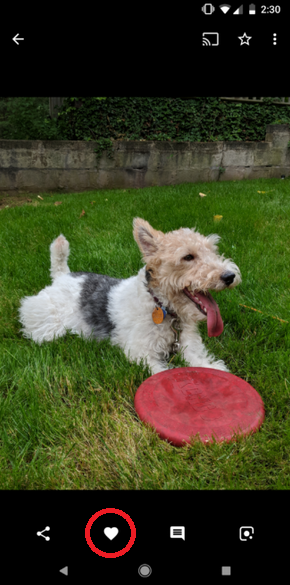 Tap the heart icon to like a shared photo, video or album
Google has started pushing out a server-side update that allows Google Photos users to "like" a shared picture, video or album in the app. If you're the recipient of a shared image and like it, really, really like it, you can tap the heart icon at the bottom of the screen. Similar to tapping the heart on a tweet, the person sharing the images will receive a notification informing them of your feelings. In addition, others receiving the same shared photos, videos and albums will also be able to see your "like."
The heart icon is appearing on new images shared after the Google Photos app on your phone received the update containing this feature. Some Android owners started to report seeing this capability late last month, so if you don't have the heart icon now, you should receive it soon.
Google Photos gives you free unlimited storage of photos for free (16MP and in 1080p HD). This allows you to free up space on your device by deleting the photos stored on your phone or tablet. The app includes 14 filters to help you personalize your photos. And you can share your photos to any email address, phone number, or contact directly from the app.
Available for Android and iOS, install Google Photos on your device by clicking on the appropriate link: (
Android
|
iOS
).