Executive says that Xiaomi will be updating its hot selling wearable sometime in 2019
3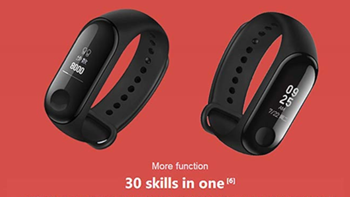 Because of its low price, the Xiaomi Mi Band fitness tracker has historically shipped in large volumes. For example, just 17 days after the Mi Band 3 was released last year, it already had been rung up over one million times. And when you have a product that is this successful, you'd be foolish not to update it, add some new features, push out a new model, and get consumers to buy the latest version. And that is exactly what Xiaomi will do with the Mi Band 4.

According to XDA
, Huami CFO David Cui says that there will be a Xiaomi Mi Band 4 launched this year. Huami is the company that is the exclusive source of Xiaomi's wearable products. So when the executive says that the Mi Band 4 will be out sometime this year, there is no reason not to believe him. David notes that the Mi Band 3 is still selling like hotcakes without any price cuts, which means that Xiaomi probably won't be releasing the Mi Band 4 for a few months yet.
"For Mi Band 4, it's going to be in this year. It will be in 2019. But I'm not sure, [if] it's going to be in March and April. But, it is going to be in this year. Each generation we learn something, we always do better. And [for] Mi Band 3 — you can take a look at 2018's volume, right. So it's really much better as compared to previous version. So we expect Mi Band 4 will have similar trend. So once we launch Mi Band 4, we expect that product will sell well. Right now, Mi Band 3 is still hot sale — is still [selling] really, really well. The margin is not shrinking, the shipments are not shrinking. So we will work with Xiaomi to pick the right time to launch Mi Band 4 in the year."-David Cui, CFO, Huami
While it is not known what new features the Mi Band 4 might have, the Mi Band 3 tracks the duration of your exercise session, monitors your heart rate, tracks your sleep, and will remind you to get up and move if you've been sitting in one place too long. And when paired to a smartphone, the band will display the name and number of an incoming call. A long press on the Band's screen will disconnect the call if you don't feel like answering it. And the device is waterproof to a depth of 50 meters (164 feet)

The Xiaomi Mi Band 3 is currently available from Amazon in the U.S. for $33.53 with free shipping. For those who don't want to spring for a smartwatch, but do want to monitor some aspects of their physical activities and well being, the Mi Band 3 might be worth exploring. Or, you might want to wait to see what changes are coming with the Mi Band 4.