Xiaomi Mi Note Pro unboxing
13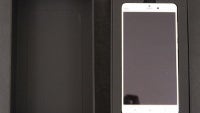 It's a rare occurrence for DHL to come knocking at our door asking for our signature for a package, but when that happens, we know that whatever it is traveled a long way to get to us. Well, that's the case today as we finally got in the super-spec'd Xiaomi Mi Note Pro – a phablet that challenges Samsung's long standing Note series. Over here in the US, its presence is hardly realized by consumers, but overseas, it's surely garnering momentum.
Right from the onset, we can certainly tell you that the box for the Xiaomi Mi Note Pro is ginormous. That's necessary, of course, when it's accommodating such a gigantic sized phone in the inside. There are no pictures or images of the handset in question anywhere on the box, but rather, there's only the small "MI" logo on the front – while the rear lays claim to a few of its notable specs.
Diving deeper into the packaging, there's nothing out of the ordinary from what it seems. It contains the usual suspect of things, so that consists of the documentation, microUSB cable, and wall charger. That's all! Even though some might find the included stuff lacking, we're not all to shocked because of it lower cost than some other similarly spec'd smartphones. What's outstanding is that the phone can be fetched for around $480, which is incredible given its high-end specs and all.
Beyond that, we'll be putting the Xiaomi Mi Note Pro through the usual barrage of testing we perform on all our phones, so you can expect our in-depth review soon!