Xiaomi Mi Note Pro Review
32


Introduction
The Samsung Galaxy Note5 has been making the headlines of late, garnering high acclaim from critics and consumers as being the phablet to beat. While the Note5 continues to relish on its success, the
Xiaomi Mi Note Pro
has been a phone on the outside looking in with such a glare over the
Note5
's popularity here in the US. Interestingly, this beastly spec'd phablet has been available overseas for some time, beating the Note5 to the punch in many markets. We've been using it for the last couple of weeks, so we're eager to tell you if it's a phablet that you should take into consideration as well.
The package contains:
Xiaomi Mi Note Pro
microUSB cable
Wall charger
Stereo headphones
Get start guide
Important information
Design
Glass meets metal, it turns out pretty well.
All things considered, the glass body and gold accented metal trim bezel go nicely hand-in-hand to give it an identity of its own – one that's impressively designed factoring its relatively low cost. The subtle curves around the back of the phone also help to comfortably allow us to wrap our hand over the phone with ease. Everything about its design does nicely to compete against the Note5, and it's nice to know that it's lighter than its rival.
Seeing that its pricing is constrained to meet such a low cost, the Xiaomi Mi Note Pro's is lucky enough to be accompanied with such a refreshing design. The low cost isn't evident here at all, so we have to give Xiaomi credit for being able to craft such a graceful phone that doesn't show any hint of compromise.
Its power button and volume controls are placed along the right edge of the phone, which is an ideal spot for them because they're readily accessible. What's a little different, though, is how they've placed the microUSB port on the bottom left corner of the phone, near the grill covering its microphone and internal speaker. Beyond that, it has the typical characteristics of an Android phone – like having a trio of capacitive buttons, noise-cancelling mic, and a pulsating notification light near its earpiece.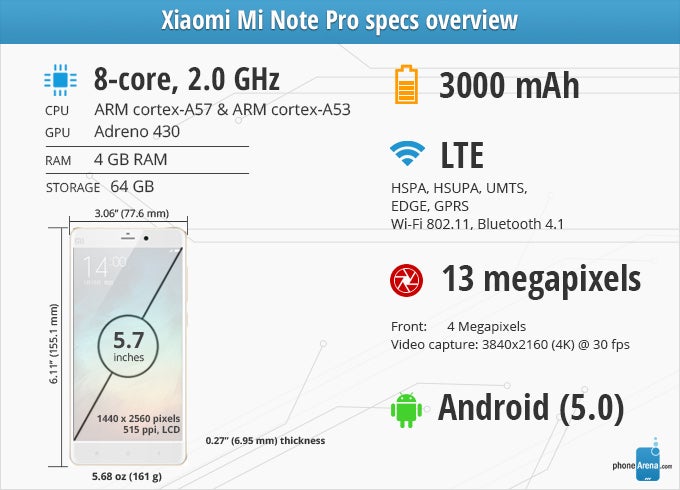 Display
It's a relevant player with Quad-HD resolution and has some pleasant qualities. It's a solid effort, but not as impressive as Samsung's Super AMOLED screens.
The Mi Note Pro doesn't seem to be messing around when it comes to its screen. This is evident by just looking at the specs of the display they've come up with. Keeping itself in good company, it's sweet to find that the Note Pro is sporting a 5.7-inch 1440 x 2560 (Quad-HD) LCD display, which delivers superb details with its 515 ppi pixel density.
Indeed, it's making itself a relevant player in the space by offering Quad-HD resolution, and it also has some other favorable aspects, as well as some areas that can be improved. Those areas of opportunity include its ~7600k color temperature (in standard color mode) and maximum luminance of 424 nits. Starting with the former, the screen exudes a slightly colder tone than natural. And with the latter, it's decent enough to view in most conditions, but when the sun is around, it can be quite a challenge.
Nevertheless, it does decently in color reproduction, which is evident in how it reaches many of the target values in the sRGB spectrum. It's not as accurate as the Note5's display, but it's still within reasonable liking.
Admittedly, all of these figures can change because we can change some of the display's parameters in the settings menu. In our testing, we set its colors to the 'standard mode' for a more accurate reproduction. There's also an option to choose what color tone the display favors, which includes warm, standard, and cool.
Display measurements and quality
Recommended Stories